Last month, Google wildly debuted Bard, its own Artificial chatbot. Soon after it was released, Bard—a competitor to the popular chatbot ChatGPT—was accused of being inaccurate.
Reuters called up the factual inaccuracy that Bard had committed in their introduction commercial. Then, a mistake throughout a press appearance in Paris caused Google to look really bad when a sample smartphone disappeared.
Earlier stories had also indicated that the release of ChatGPT had cleared the way for a 'code red' scenario at Google headquarters.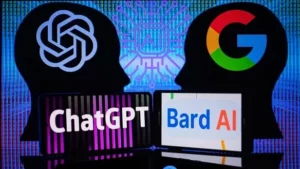 Google denies training Bard on ChatGPT data:
Additionally, the Information recently confirmed that Google trained Bard using the material from ChatGPT. But, the technology giant rejected these accusations in a response to the Verge.
According to spokesman Chris Pappas, "Bard is not trained on any data from ShareGPT or ChatGPT." It was stated that Google had received ChatGPT's data through a website named ShareGPT.
The Information's story further covered how Jacob Devlin, a former Google AI engineer, left the organization to work for OpenAI. According to sources, the ex-Google employee "warned Google to not use ChatGPT's data since it would violate OpenAI's service terms."
Also, an insider revealed Information that following the ex-employee's 'warnings,' Google discontinued using ChatGPT's material.
Bard rolled out for public testing:
Google recently published Bard for public testing in the meanwhile. Before, the general public was unable to utilize the chatbot. Google, however, just revealed that Bard will be given access for testing to a handful of people in the United States and the UK. The latest AI chatbot in the city needs users to sign up for the waitlist and wait to obtain access.
At the time of rolling out Bard to the public, Google wrote in its blog, "You can use Bard to boost your productivity, accelerate your ideas and fuel your curiosity. You might ask Bard to give you tips to reach your goal of reading more books this year, explain quantum physics in simple terms, or spark your creativity by outlining a blog post. We've learned a lot so far by testing Bard, and the next critical step in improving it is to get feedback from more people."
Bard is brand-new to the artificial intelligence field and is still undergoing development, so it will sometimes make stupid mistakes. In an email to members of staff, Google CEO Sundar Pichai also alerted workers of Bard's possible issues, according to a CNBC article.
"As more people start to use Bard and test its capabilities, they'll surprise us. Things will go wrong," Pichai wrote in the email sent to Google employees.
Comments
comments