According to studies by the Tech Transparency Project (TTP), Google seems to be more likely to target relatively low-income women in two significant US cities in states which prohibit the operation beyond six weeks, such as the contested lawsuit in Georgia, and 15 weeks for Arizona.
"Our investigation found that when a TTP-created Google account identifying as a lower- or average-income woman in Phoenix searched for information on how to get an abortion, more than half the search ads (56 percent) served by Google came from crisis pregnancy centers," the report said.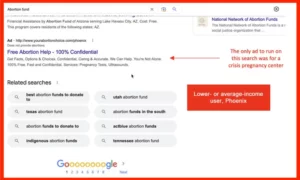 Crisis pregnancy centers are anti-abortion groups that act as trusted medical professionals. They aim to discourage women from having a procedure rather than offering any healthcare care for those wanting to end their pregnancy.
TTP created Google profiles for three women who were born in 1992 and live in Phoenix, Atlanta, and Miami for its latest study. The researchers assigned every one of the three accounts a unique family income using Google's customized ad configurations: average or lower earnings, reasonably high income, and high income.
TTP then conducted 15 abortion-related search queries for each of the 9 accounts, including "abortion clinic near me" and "I want an abortion," using a fresh copy of Google Chrome and virtual private networks to create the impression that the women were looking from Phoenix, Atlanta, or Miami. TTP documented all the ad campaigns that showed up on the initial five search results pages.
Similar to this, whenever the lower- or average-income Atlanta testing account looked for "Planned Parenthood Atlanta," Google only offered one result that read "Abortion Consultation for Free," with an advertisement leading to a crisis pregnancy clinic in Atlanta called Health for Her.
This advertising result, in addition to a number of others, did not contain the label "Does not provide abortions," despite the reality that many of the advertising outcomes in the Tech Transparency Program's research did; this goes against Google's own labeling policies.
Elissa Slotkin, a spokesperson from Michigan, expressed displeasure that the corporation, although in her numerous contacts with them regarding the matter, is still unable to control crisis centers on its site.
"Michigan has roughly 100 pregnancy crisis centers that explicitly do not provide abortions, and these clinics should not be listed among abortion providers," Slotkin said.
"We sent a second letter in November because Google was still failing to consistently apply disclaimers to misleading ads. Despite our action – and assurance from Google that they would only show verified abortion providers when a woman was seeking the procedure – these findings from TTP [Tech Transparency Project] prove there's clearly more work that needs to be done," she said.
Senator Mark Warner's office added: "Ads from 'crisis pregnancy centers' that reference 'Free Abortion Help' or 'Abortion Consultation' are obviously not in compliance with Google ads policies that forbid ads 'that deceive users by excluding relevant product information or providing misleading information'.
I urge Google to take action to prevent these deceptive advertising practices meant to trick users, especially low-income women."
An unidentified representative for Google answered The Guardian's Monday evening request for clarification.
"We don't allow advertisers to specifically target a 'low income' bracket with ads, and we have strict rules about how location can be used to serve locally relevant ads. It's important that people seeking abortion-related resources know what services an advertiser actually provides, so we require any organization that wants to target queries related to getting an abortion to be certified and clearly disclose whether they do or do not offer abortions. Last year, we updated these disclosures to make them more visible for users," the response said.