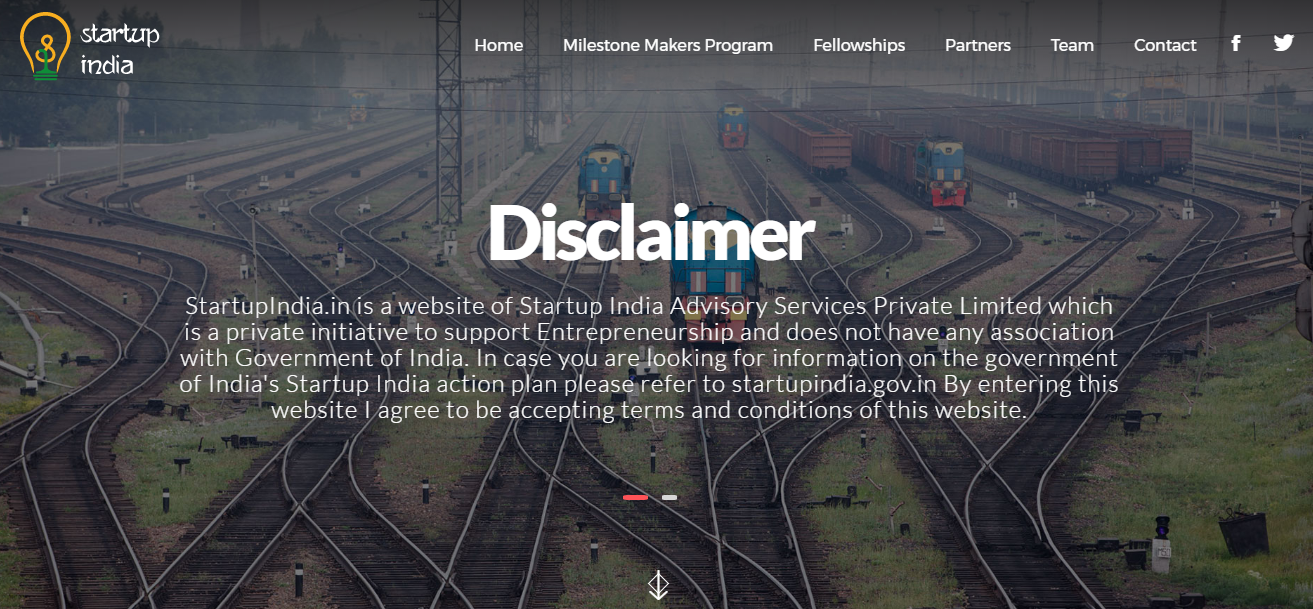 09 June 2017, India:
Delhi-based startup enthusiast has been asked to change the name of his domain startupindia.in as it could be mistaken for startupindia.gov.in which is the official website of Startup India as per the report by Money Control.
Surprisingly, The domain was registered in February 2014, way before the Government's Startup India initiative.  The team Yatin Thakur, Arjita Alka Sethi and Anshul Dhawan has put up multiple disclaimers on their portal. Startup India Advisory services educates people excited about entrepreneurship, mentor entrepreneurs to help them scale and grow and support them with the global network of expertise.
Disclaimer
"StartupIndia.in is the official domain name of Startup India Advisory Services Private Limited which is a private initiative helping and supporting entrepreneurs. StartupIndia.in or Startup India Advisory Services Private Limited does not have any association or affiliation with the government of India.
In case you are trying to get more information about Government of India's initiative called Startup India, kindly refer to http://startupindia.gov.in.
By entering the website, you agree to all its terms and are seeking more information about Startup India Advisory Services Private Limited."
Cyberlaw experts say that such a directive can be challenged legally and it may encourage entrepreneurs to book less of '.in' domains. "There is no government rule or regulation that nobody can have startupindia.in. The message coming out (from the government) is not very healthy. This person registered the domain much before the Startup India programme. Any government rule can only be prospective in nature, it can't be retrospective," said Pavan Duggal, cyber law expert and advocate, Supreme Court of India.
Related read- Do's And Don'ts In Domain Registration Checklist!
"Mostly people book private companies' names, not government ones. If they book government related schemes or names, they may not gain much in monetary benefit," said Dr. Govind, former chief executive officer of NIXI.
"If someone feels his name has been taken by an entity before or after, he can go through these arbitrators, and prove that his business will be affected if someone has taken their name," he added.
"If the government or private entity has not been able to book a particular domain name, then even the exact domain name of a new scheme or programme could be owned by a private entity. This is usually followed by some negotiation between the two parties," said Dr. Govind, who was instrumental in scaling up the '.IN' registry in India.
Also read- New Domain For Google; Calls It 'Domains.Google'