The clock is ticking for the majestic lift-off of the largest rocket ever built on Indian soil, the Geo-synchronous Satellite Launch Vehicle Mark-3 (GSLV Mk-III), scheduled to launch GSAT-19 satellite to orbit on 5th June 2017.
We have been a space faring nation for over fifty years, but we were relying on the European Space Agency (ESA) for launching our larger communication satellites (over 3Tons in mass) to Geo-Synchronous Orbit (where the earth rotates at the same speed as the satellite facilitating communication with the ground).
Now, with GSLV-Mk-III, we achieve self-reliance with the capacity to launch our heavy satellites and meeting our nations communication needs.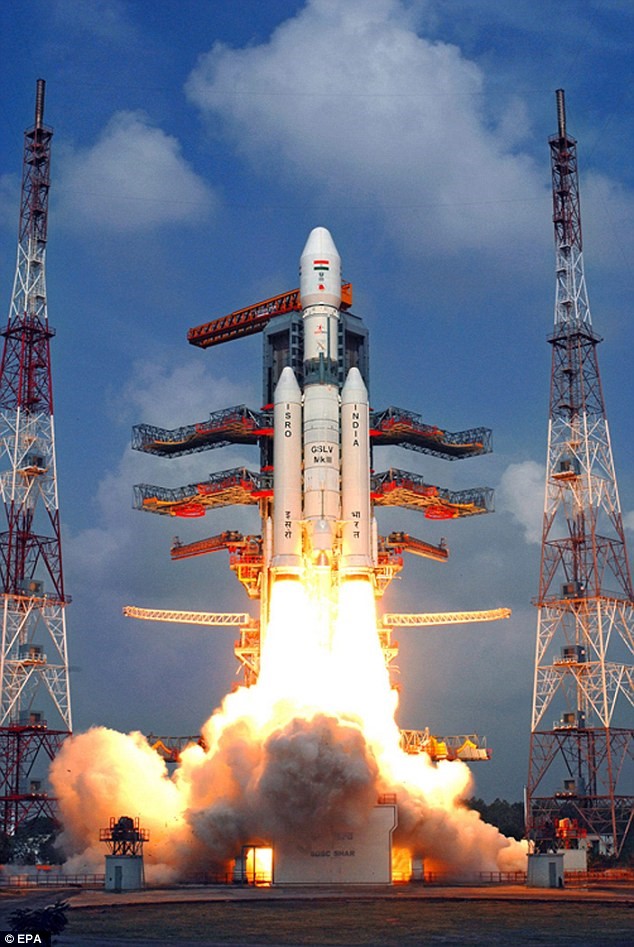 Successful experimental sub-orbital mission of GSLV-Mk-III, lifting off in December 2014
The GSLV-Mk-III is about the height of a 14 storeyed building (43 m) and weighs more than 200 elephants (640Tonnes). This mammoth of a vehicle has been in development for almost two decades and now ready to thrust its way out of earth's gravity to make every Indian proud again.
The vehicle systems have been built and tested for utmost reliability under harsh atmospheric conditions it has to sustain during the flight. The confidence level for the vehicle has increased with the successful launch of an experimental sub-orbital mission on December 2014, where the atmospheric performance of the vehicle was tested.
Another salient feature of this vehicle is that the two boosters on its left and right (called the S200s), are the third largest solid rocket propellant boosters in the world. The vehicle also hosts a large indigenously built cryogenic engine running on liquid Hydrogen and oxygen. This engine was built from scratch by our scientists, the success of which would demonstrate our capability in complex propulsion technologies of the future.
Owing its heavy lift capabilities, this vehicle could also power our nation to train and send our very own astronauts to space in the future. Let us wish all success to our space scientists who are working day and night to make this a successful mission and make our country proud again.
Related Read: The Companies Fighting For A Space In The Space Tech !
(Disclaimer: This is a guest post submitted on Techstory by Pawan. All the contents and images in the article have been provided to Techstory by the authors of the article. Techstory is not responsible or liable for any content in this article.)