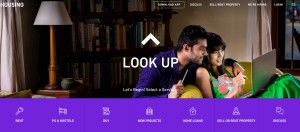 June 07, 2016:  Housing.com plans to expand its buy-and-sell discovery platform offline and offer end-to-end fulfilment to a buyer in the next one year, chief executive officer Jason Kothari has said.
"Nowhere in the world have real estate transactions happening online. To collect brokerages, one needs to stitch the offline piece," said Kothari. "We are already selling premium products to brokers and developers, including premium listing, risk content, brand products and customised marketing solutions."
"(Next) we plan to build the offline piece, or acquire a company focused on that and own end-to-end fulfilment," he said.
Housing has cut costs by two-thirds over the past eight months, sharpened its business focus and is on track to be profitable by end of 2017. Last week, the company had announced its plan to hit a $10-million revenue run rate by the end of the year according to Kothari.
"We have laid down the blueprint for the company and are on track to be profitable," he said. Housing is also in talks to raise a new round of capital from strategic as well as financial investors by the end of the year, Kothari confirmed.
Housing investors have roped in an experienced top management after the ouster of its founder Rahul Yadav , which then restructured its business to focus on home buying and selling, and shut high-burn investment areas, including listings and rentals, commercial properties, short stays and land businesses.
Mumbai-based Housing has been growing 200 per cent month-on-month since January and the platform has monetised about 5 per cent of its listed developers and brokers. At the same time, the company has expanded its sales teams across the top seven cities to 250 people and continues to employ about 300 people in its data science team. The company is focussed on Mumbai , Delhi , Pune , Bengaluru, Hyderabad , Chennai and Kolkata .
Housing has raised over $100 million in capital from investors, including SoftBank, Nexus Ventures, Falcon Edge, Helion Ventures, Nirvana Ventures, Qualcomm, DST founder Yuri Milner, Viacom 18 cofounder Haresh Chawla and Snapdeal founders Kunal Bahl and Rohit Bansal, among others.
Under the leadership of new CEO Kothari, Housing has revamped its top management to get more experienced talent on board ever since its 12 cofounders quit the company to start their own venture.
The company has made numerous additions to its leadership team, including naming Mani Rangarajan as the chief financial officer, Nikhil Rungta as the chief marketing officer, Nandini Mehta as the general counsel, Abhishek Hota as the chief of staff and Keerthi Kiran as the head of real estate managements.
Comments
comments