Jio's entry into the network provider sector a few years ago has heightened rivalry among the various networks. By introducing some extremely appealing rates, tariffs, and free incentives, Jio has been drawing a significant number of customers from other prominent networks to the Jio domain.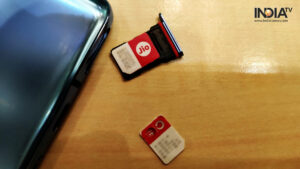 If you're a Vodafone customer who wants to switch to Jio, follow these simple instructions. By the way, porting is the process of transferring your existing phone number to the new network you've chosen. As a result, you may continue to use the same phone number on the new network.
To begin the SIM porting procedure from Vodafone to Jio, send an SMS from the phone number you want to port to 1900. Type PORTspace>your 10-digit mobile number> in the message box.
The Vodafone network will send you an SMS with information such as the UPC number (Universal Product Code) and the expiration date.
After that, go to the app store and get the MyJio app for your phone. To generate a Jio discount code, open the app and follow the instructions.
Pay a visit to any Reliance Jio/Digital/Dx small retail outlet in your area. You must have your smartphone, UPC code, and Jio discount code with you at all times.
You will be asked to produce evidence of address and identification by the store employees. You may use any of the permitted papers to do this. You will also be required to provide passport-size photos.
At the shop, your Jio connection will now be enabled.
If you're a Vodafone post-paid customer, make sure you've paid off all of your outstanding debts before commencing the porting procedure.
The porting procedure from Vodafone to Jio would take around 7 working days once these stages are completed. You can continue to use your Vodafone number till then without interruption.
Comments
comments