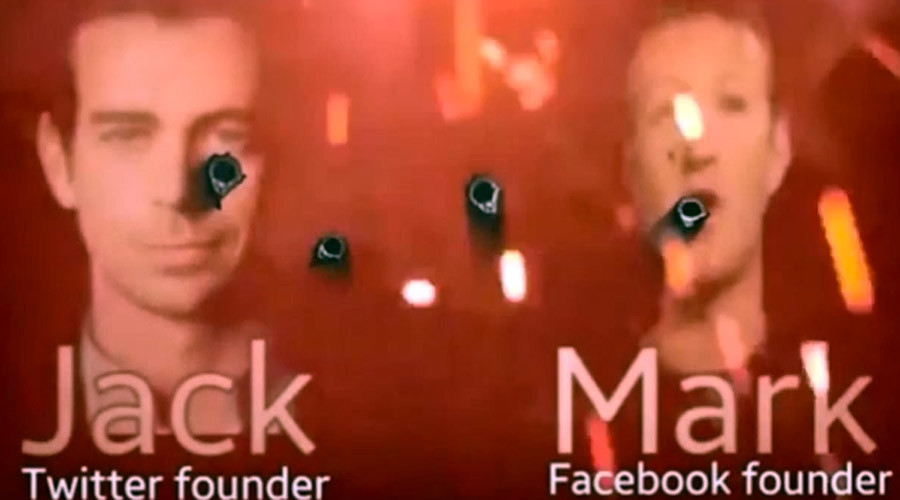 26 February, 2016, Wahington: After taking down the citizens of USA, UK and many other countries, terrorist group of Islamic State (ISIS) now shifts its radar to social media giants Facebook and Twitter. In a recent incident, the group has released a video in which they have threatened the CEOs of both the companies to not to take down the pro-IS accounts.
According to the report presented by Engadget, the video posted by "Sons Caliphate Army" and authenticated by Storyful, a news agency that verifies content online, has images of Mark Zuckerberg and Twitter's Jack Dorsey riddled with bullet holes.
Apart from that, the video also displays a banner right at the end of it which states, "To Mark and Jack, founders of Twitter and Facebook and to their Crusader government. You announce daily that you suspended many of your accounts, and to you we say: Is that all you can do? You are not in our league."
Informing about the future action of the group, the video elaborates that the group is actively working on its plan and it will take down 10 accounts for every one that Facebook or Twitter shuts down. With this, it plans to totally rub of these sites from the online page.
"Like most people around the world, we are horrified by the atrocities perpetrated by extremist groups. We condemn the use of Twitter to promote terrorism and the Twitter Rules make it clear that this type of behaviour, or any violent threat, is not permitted on our service," Twitter said in a blog post.
Also Read-
Facebook To Launch Its Instant Articles Program
Facebook Gets 3 Months Notification From France
Time For Algorithmic Timeline; Twitter Releases Its New Face Today