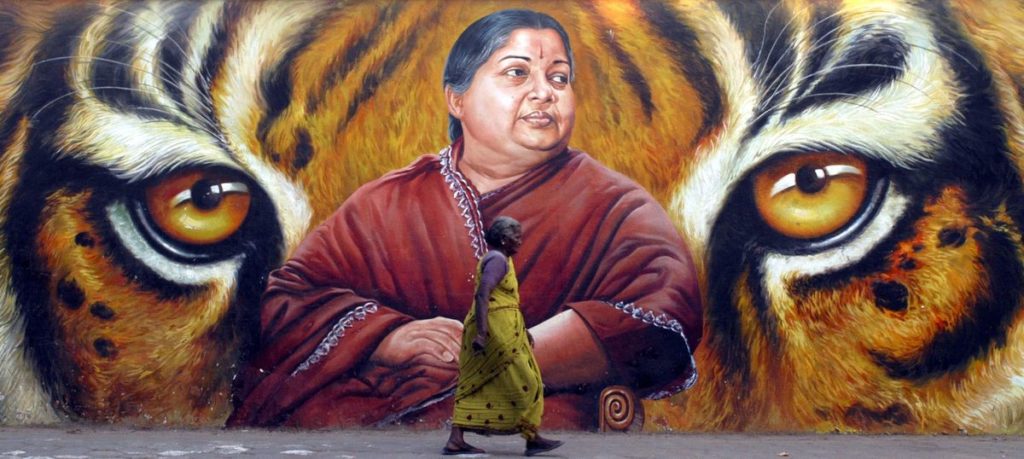 What happened last night was not a heartbreaking news just to Tamil Nadu, but to the rest of India as well. Tamil Nadu's Chief Minister J. Jayalalithaa or popularly known as 'Amma' demised after several attempts to save her life due to poor health conditions. The people of Tamil Nadu lost their leader and the nation had lost a brave woman who had challenged the rules of the game time and again.
Turning The Tide
It is no secret that she was an actress and became a politician during the reign of another legendary actor- turned-CM M. G. Ramachandran, but what not many realise is that the transformation was not so easy for her, at least after the death of the then leader of the party M.G.R. The entire party was stumbled left without a leader when he passed away in 1987, and she was humiliated by both the opposition and ruling party.
The Iron Lady, as she is proudly remembered as, never backed down and it was her relentless passion to serve her state that made her truly what she is.  She successfully united the party in 1990, became the first woman leader of the opposition party and what happened since then is in the history.
A Politician By Instinct
In politics, she did not follow the established rules of the game, but what she did was create her own rules that would change the game for the rest of the state to play. Opposition had to stay on their toes to predict her next move, or at least react immediately when a decision was made.
Also Read: Dear Women, Empowerment Comes From Within !
She had proved her political skills time and again. Even after losing her Chief Ministership because of the legal cases and accusations of corruption charges against her, she had staged dramatic comebacks to rule the party once again. During all these critical times, it was the support of her followers and the rest of the state that made people believe in her leadership skills.
Charisma
Her charismatic and oratorical skills has been mind-blowing to many. Following her disproportionate asset cases, she made a bold move to dress simple since then. People don't see her adorned with any piece of gold jewelry, but the elegance and charisma she brings in her presence was purely enchanting. She was fluent in major south Indian languages and her command over English was praised by many.
Despite knowing many languages, she never mixed up any of the languages in her presentations. In all of her interviews she stuck to the tone and the language of the natives of the channel and her bold interview with the BBC is still viewed by millions as inspiration to never bog down in the face of hard hitting questions.
Decision Maker
It is said that she had originally desired to pursue law in her early days, but after being pushed into acting by her mother who was a struggling actor herself, Jayalalithaa did not realise that one day she will be enforcing the law herself. Some of her decisions though seemed aghast to general public at first turned out to be for the betterment of the state in the long run.
Some notable bold moves that gave her the title 'Iron Lady' include strategically timed power cuts in the state to save energy for the long run, increase in the price of public transport rates, hunting down infamous Veerapan, promise to bring Veeranam water to support water shortages in Chennai, mandatory rain water harvesting system, among many others in the list.
Brand 'Amma'
Although she has been given many names like 'Selvi', 'Puratchi Thalaivi' and 'Iron Lady', it is the word 'Amma' that she will be fondly remembered as by many. She had done too many good deeds under this title and it resonated well with the people of Tamil Nadu.
Even though giving free bicycles and laptops to students, television and other kitchen gadgets to the household was a political move, the statement that "Amma gave them" added a slight personal touch to the message being spread. Her Amma mess though not highly functional now, was a need of the hour for many during then. There were also many other products that came under the brand Amma and some popular ones include the Iodine salt (not so popular now) and the much needed 'Amma' water.
She has done major stuffs to add to her list of accolades and she has been a part of many controversies as well. But what one cannot even remotely disagree with is the fact that she is a brave leader who made bold decisions which set the foundation for many woman (not just politicians) to follow in Tamil Nadu.
Also Read: The Strategic Path Of Indra Nooyi From Being A Newbie Of Corporate World To Leading PepsiCo Globally !!
(Disclaimer: This is a guest post submitted on Techstory by the mentioned authors. All the contents and images in the article have been provided to Techstory by the authors of the article. Techstory is not responsible or liable for any content in this article.)
About The Author:
Prof. R. Kanagalakshmi has been a learner of the language and has been passionately educating, training and motivating students for over two decades now. She has presented her thoughts in many national and international conferences and truly believes in the thought that students are the pillars of the nation. She can be reached at knglakshmi8@gmail.com