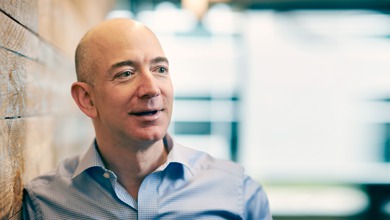 30 March 2017, USA:
Founder and CEO of Amazon Jeff Bezos is now the second-richest person in the world. He jumped to the second spot after overtaking Warren Buffett of Omaha-based investment conglomerate Berkshire Hathaway.
Buffett, who's added $1.7 billion in 2017, has shed $4.7 billion since his fortune peaked at $79.6 billion on March 1. Ortega is up $2.1 billion year-to-date. Bezos remains $10.4 billion behind Microsoft co-founder Bill Gates, the world's richest person with $86 billion as per the report by Bloomberg.
Jeff Bezos had the best year as he added $27.6 billion, At number four is Amancio Ortega followed by Facebook CEO Mark Zuckerberg.
Microsoft co-founder Bill Gates remained the world's richest person and topped Forbes' annual list with an estimated net worth of $86 billion, up from $75 billion in 2016. But looking at the speedy growth of Bezos, It won't come as a surprise if he overtakes Bill gates for the number spot. (Image- Forbes)
Comments
comments