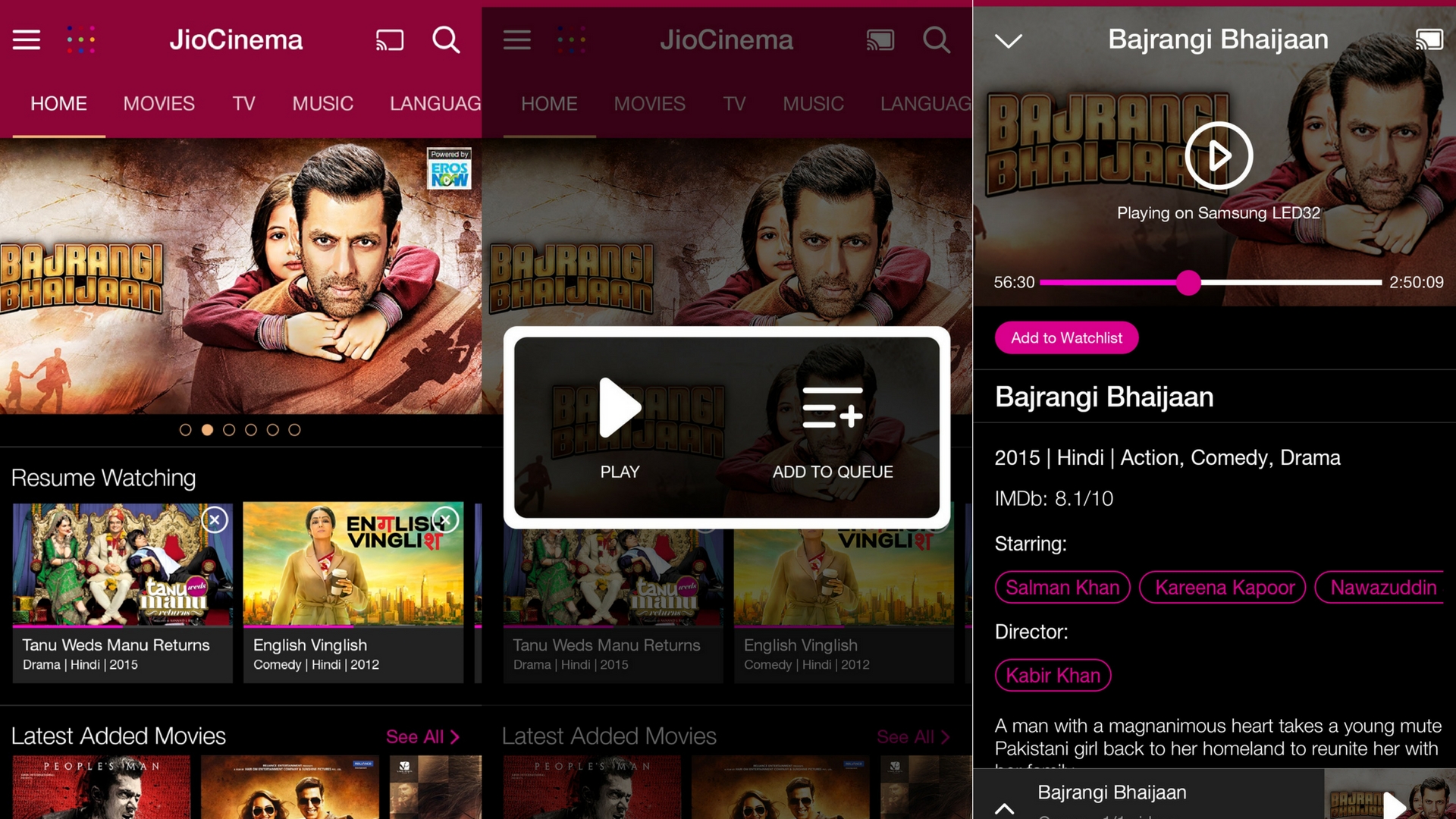 Video on demand has been the buzz word for the internet savvy. Popular video on demand sites like Netflix, Amazon Prime among others have already kickstarted the market and one of the latest entrants with an app only approach was Jio Cinema.
When Jio Cinema was first launched, one common question that was right on top of people's mind because of its app only approach was 'does it support Chromecast?' To answer that question, Jio Cinema announced recently that it supports Chromecast.
In order to cast the movie in your television screen, get both devices on the same network, preferably your JioFi device for a smooth watching experience. Connect the chrome cast to Jiofi and hit the cast icon on your JioCinema app.
For users without Jiofi, they can connect their chromecast to the home network and use their Jio mobile data to access JioCinema on television. With over 1 lakh hours of video content, JioCinema can now entertain you with seamless viewing experience on big screen.
JioCinema has a vast library of content by accessing Movies, TV Shows, music videos, short videos and trailers section from the navigation panel(left navigation panel in iOS and Top-centre navigation panel in Android) . You also have the option to browse content by Language & genres.
Other features of Jio Cinema include Resume Watching, Watch List feature, Auto Play TV Series, Dock Player Function, Voice Search and Bitrate section to adjust the streaming quality.
If you don't know about the big eco system of Jio apps then see following to know more about all the Reliance Jio Mobile apps and Download them from Google Play Store if you own a Android Phone and Apple App store for iphone.
It is time to connect your JioCinema to Chromecast and enjoy the movie experience in a big screen.
Also Read: 
Jio Or Airtel – Who Will Win The LTE Battle ?
Flipkart Cannot 'Discount' Its 'Prime' Competitor