Kelley Blue Book (KBB) is a California-based vehicle valuation and automotive research company. This year they announce Electric Vehicle Best Buy as Ford Mustang Mach-E stating that the vehicle "is landing some of the best punches in the EV battle," The extensive review contains more details about the vehicle evaluation.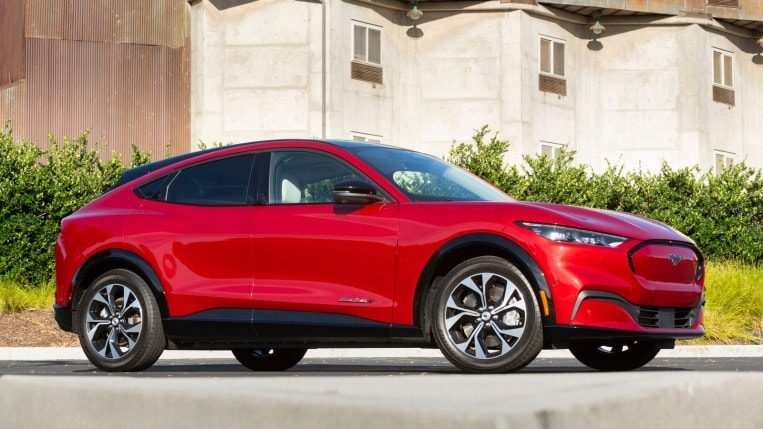 In the extensive review of Mustang Mach-E, KBB wrote, "As the electric vehicle (EV) market starts to heat up, the 2022 Ford Mustang Mach-E is landing some of the best punches in the EV battle. Available for sale in all 50 states, the Mustang Mach-E brings some of the best plug-in style, tech, and performance available among (relatively) affordable electric cars. Its SUV-leaning shape and fresh attitude also contribute to the Mach-E's value to both Ford and to the emerging EV landscape."
Ford never deviated from the traditional typical sporty look for its signature vehicle Mustang. However, for the electric version of the vehicle, the company decided to do something different. It does seem to have worked well for Ford, as Mustang is known to be the fourth best-selling EV in the US in 2021. By the end of the year, the sales are expected to push the vehicle to be the third best-selling EV defeating Chevrolet Bolt.
Ford EV lineup
Furthermore, Ford is planning to launch two more electric vehicles by next year. Ford F-150 Lightning and E-Transit van. On multiple occasions, the F-150 was highlighted this year, and the vehicle is known to have nearly 200,000 pre-orders. For now, Ford officially closed the pre-orders option and will be opening the order option by next year.
While automakers are having supply chain challenges, it is suspected that Ford may not be able to deliver all vehicles as early as next year. However, Ford CEO Jim Farley stated that the company is going to expand its capacity. So it is likely that the Mustang Mach-E will become the best buy in 2022.
KBB's evaluation of Mustang Mach-E has stated – the value is too good to refuse. "$43,895 may seem like a high board to dive from at first, but the 2022 Ford Mustang Mach-E is well worth it. The Ford EV SUV is eligible for the maximum $7,500 federal EV tax credit, plus any other state and local incentives in your area. And if you've been pricing electric vehicles lately, you know that they command a premium over non-EVs," KBB wrote. Additionally, the Mach-E strikes off "the two classic pillars of automotive appeal — performance and style."