Jaarvis Accelerator & CoworkIn present 'Legal Gyaan For Startups' to aid the entrepreneurs in the Delhi startup ecosystem. The event will be comprised of four sessions, out of which the first three sessions will be handled by Shubhra Mishra (Legal Counsel, Jaarvis) on why legal intervention is essential for startups, IPR importance and key aspects to look out for while signing a contract and the final session will be open to the entrepreneurs for Q & A.
Have a look at the event agenda
Introduction to Jaarvis Accelerator (11 AM to 11:15 AM)
Session 1: (11:15 AM to 11:45 AM)
Why legal intervention is essential for startups- General Introduction
Description: When starting a business one of the initial decisions that a startup and/or its founders need to make is to decide on the legal status of the company. This will affect how the company runs its business and will have implications for how the company pays its tax and records its accounts. Very often than not startup founders focus only the business idea and tend to ignore the legal implications which are a part and parcel of successfully running any business.
Session 2: (11: 45 AM to 12:30 PM)
Why a startup must own its IPR- Startup and its IPR.
Description: The early stages of a new business can be a whirlwind. Building the team, structuring the company, attracting investment and developing the product, key partnerships, sales channels and marketing plans are typically all-consuming tasks for the founders. Amid all this essential activity, intellectual property (IP) sometimes takes a back seat. The key asset of any startup is its IP and the founders who understand patents, trademark and copyright and how they fit into their business are mostly successful in securing funding.
Snacks Break (12:30 PM to 1 PM)
Session 3: (1 PM to 2 PM)
What to look for when signing contracts-Key aspects of contracts/agreements.
Description: Startups mostly are driven by their passionate ideas which leads to an informal working environment. As a result sometimes contracts and agreements of any kind among the founders, employees and vendors, investors are executed incorrectly which defeats the whole purpose thereof. It is imperative to carefully analyse and examine how each provision of the contract will affect the startup and whether all the details mentioned in the contract are correct.
Related Read: 4 Legal Aspects To Look Out For Before You Sign Any Contract !
Session 4: Q & A (2PM to 3PM)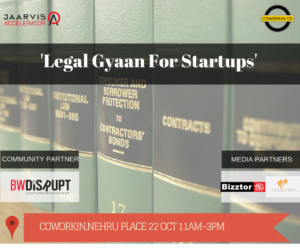 Venue: CoworkIn, Nehru Place
Date: 22nd October, 2016
Time: 11 AM to 3 PM
Ticket Price: Free