Black Friday Sale 2023 is all set to start, and for this sale, we have got you covered with some great steal deals for gamers. For people looking to buy a new gaming console, the Asus ROG Ally gaming console is now receiving a huge discount for sale.
Asus ROG Ally Gaming console comes with a great set of features on the hardware side that can align well with gaming needs.
To give you a glimpse, the gaming console comes with the latest Z1 Extreme SoC onboard, which is combined with a great display on the front side, and if you are looking for a handheld device specifically, this is the right choice for you to go with.
Best Black Friday Deals for Gamers – Asus ROG Ally 7 Selling for Huge Discount
Asus ROG Ally 7 (Z1 Extreme Processor): $699.99 
Black Friday Deal Price: $619.99
Asus ROG Ally 7 comes with a great set of features onboard. The usual selling price of the ROG Ally 7 handheld device is around $699.99, but with the Black Friday Sale being announced right now, you can get this handheld device for a price slash of $80.
Right now, the pricing of the Asus ROG Ally 7 handheld device is $619.99, or you can buy it via the self-financing option starting at $34.45 per month for 18 months. 
Asus ROG Ally 7 (Z1 Processor): $599.99 
Black Friday Deal Price: $449.99
If you want the Z1 Processor variant, you can get the Asus ROG Ally with the Z1 Processor for $449.99. 
You can also buy this handheld by self-financing with a pricing $37.50 per month for 12 months. The only difference is on the chipset side. However, the performance difference in both devices is slight. You can buy the handheld via the Black Friday Sale announced by BestBuy. 
Also Read: Black Friday Deals – Buy LG C2 OLED Smart TV for $700 off
Asus ROG Ally 7 Handheld – What's the Specification and Features You Get?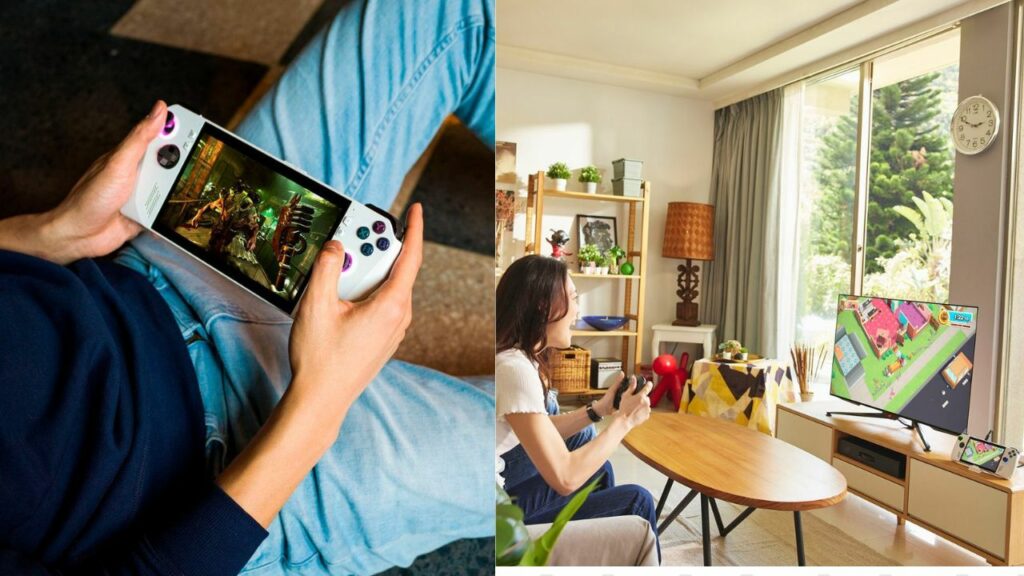 Talking about the specification side of this, you get the nostalgia from the PSP controllers from the past but with a lot of power!
By power, we mean it! The Asus ROG Ally 7 Handheld comes with a bigger and widely spread 7-inch panel on the front side, a 120Hz faster refresh rate panel, and an excellent gaming feature.
You also get the support for FreeSync Premium for better image quality and action.
The display promises to offer a 7ms Response Time and the best protection; here, you will get the Gorilla Glass Victus combined with GorillaG Glass DXC Coating.
If we go inside, the handheld device comes with the latest Ryzen Z1 Processor, which AMD developed. AMD's flagship processor offers better graphical capabilities with their RDNA 3 architecture and 4GB VRAM.
However, you do get the option to choose between the Z1 Extreme and regular Z1 Processor.
This processor has been designed under the Zen4 architecture, developed under the six cores and twelve threads process.
Also Read: Black Friday Deals on Asus ChromeBook and Lenovo Gaming Laptop
To make things smoother, the gaming handheld devices come with the latest LPPDR5 RAM, which is 16GB of RAM. You also get a faster NVMe PCIe 4 M.2 SSD storage of 512GB, like found in premium gaming laptops today.
This internal storage will be enough to store your favorite games and load your games quite snappy. Over and above this storage, you can upgrade and replace it with another M.2 2230 SSD storage. If you want more storage, insert an additional UHS-II MicroSD card within the built-in slot.
The handheld device also offers a ROG 65W HDMI Adapter, which can connect with the TV, connect to your device, and then play with your friends; you can enjoy playing your favorite games from the 7-inch panel. You can also add a keyboard and mouse to make the handheld more like a Gaming PC.
To keep things cooler, you also get the support of a dedicated Cooling system. This ROG Ally comes with a duo of house fans combined with dust filters and heat pipes, which work all together to sustain during period gaming.
You also get support for Biometric fingerprint readers and a 5.1.2 channel audio output, packed with support for Dolby Atmos Technology.
On the battery side, the handheld has a bigger battery and supports a faster charging of 65W, which can be charged via a USB Type-C port. With this quicker charging, the handheld can charge from 0% to 50% in 30 minutes.