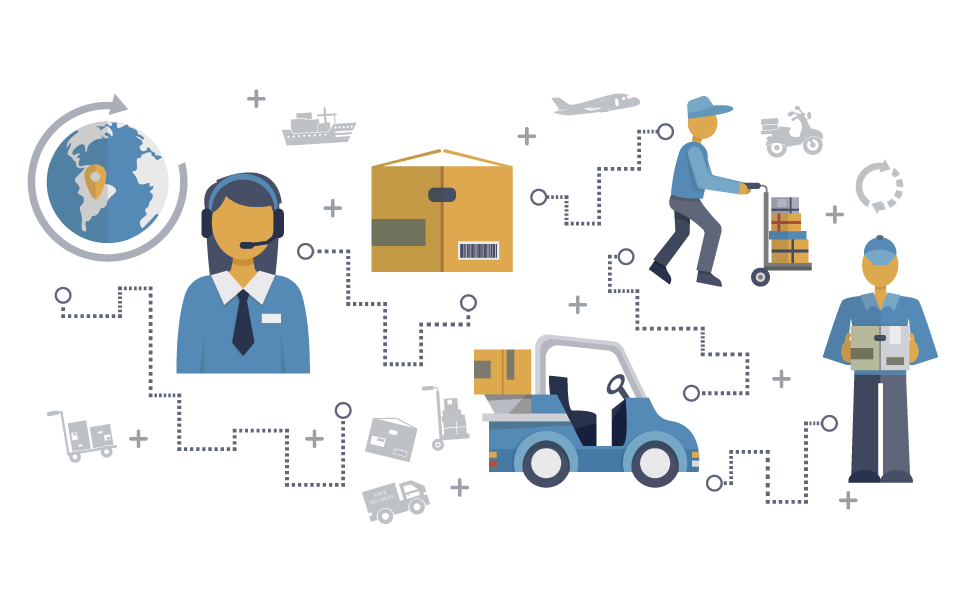 Locus is an intelligent logistics automation platform. It helps enterprises in courier, e-commerce, food delivery, FMCG and other verticals to optimize their logistics. It enables on-demand businesses to dispatch, track and manage their on-field workforce.
Let's Ramble Through Their Journey
Locus was founded in 2015 by Nishith Rastogi and Geet Garg.
Nishith and Geet realised the importance of real time tracking when food tech companies started adopting RideSafe (the women safety app launched by them), to track their delivery fleet. They were able to analyse the importance of technological innovation in logistics and how it could re-define the end customer experience.
Hence, Locus was launched, initially in stealth mode to create a platform that worked seamlessly on ground considering real time conditions and limitations. Shortly after that, Urban Ladder came on board as their first client.
Locus is the intelligence behind logistics which helps optimize operations and deliveries to provide Consistency, Efficiency and Transparency. It is a state-of- the-art ​decision making platform for logistics ​that helps companies manage their logistics better and results in significant savings in that area.
It includes features like automated smart dispatches, tracking, fleet visualization, proprietary geocoder and proprietary route deviation engine. Locus recently introduced a unique product – 3D packaging, an engine which gives the best packing solution as an output.
Currently, Locus' technology has been adopted by clients from various industries. Locus has several other clients in the pilot phase modelling their logistics operations. Some of their clients include Urban Ladder, Quikr, Lenskart, Licious, etc.
Locus is a 35 member team with highbrow knowledge and experience, constituting a team of engineers led by ex-AWS platform engineers, PhDs from Carnegie Mellon University and Tata Institute of Fundamental Research. Their business development team is led by their seed round investor, an account manager for Google and multifaceted deployment team with immense operational execution experience.
Here's What Gives Locus An Additive Edge Over Others

At present, India's logistics industry is worth $300 billion. The Indian logistics market is expected to grow at a rate of 12.17% by 2020 driven by the growth in manufacturing, retail, FMCG and e-commerce sectors. The Indian logistics market currently accounts for around 14% to 15% of India's GDP on various cost incurred in logistics and transportation operations. This cost incurred, is substantially higher when compared to other developing nations, which is around 8% to 10% of their GDP and developed nations which is around 7% to 8%.
The logistics sector in India has recently been through a transformation and is steadily evolving to address new challenges in the industry. As the economy expands today, the logistics industry has assumed an essential role to improve efficiency and increase competitiveness.
With the advent of constant technological advancements, infrastructure and newer types of services associated with this industry, players can now take conscious steps in reducing costs while having complete visibility to their operational chain and eventually providing efficient services.
Locus works with clients to provide them with a suite that comprises of propriety route deviation engine, order dispatch automation, field user app, route optimizations, scheduling, tracking for end-customer, and predictive analytics.
The common platform serves everything from instant dispatch to next day deliveries. There are players in the industry who offer Enterprise Resource Planning solutions which either solve the 'knapsack' problem (load balancing) or the 'traveling salesman' (route planning) problem. Locus solves both of these together and separately to provide the best possible solution for the challenges faced by the logistics industry.
The key product differentiators are:
Route planning engine: Creates highly optimized routes while respecting constraints like time, volume, etc, taking into account several variables, including real-time traffic conditions. This helps in reducing the number of manual steps involved, resulting in consistency, transparency & efficiency of operations.
3D Packing: Efficient packing configurations for loading cargo into containers which ensure vehicle optimisation. We honour stipulations like stacking and orientation constraints and packing arrangements like Last In First Out.
Proprietary Geocoder– Locus uses a double check process to geocode addresses to improve accuracy.
Some key learning during the journey so far
From Ridesafe to Locus! Every use case that Locus has solved has given sapience to constantly learn and has provided the company a wider platform to continue to innovate. The acceleration in demand for Locus' products shows that there is a great need for optimization in this space.
Locus has built a strong team that shares a very diverse set of skills which include data scientists who were working on HIV vaccine development, computational neuroscience and genetics. They are now using their experience and academic knowledge to build cutting-edge algorithms which are inspired by nature.
Future Fuels
Locus is constantly innovating and building improvised products that help solve challenges in the logistics space. Over the course of time, Locus' clients have experienced an immense value add in intra- city movements. Locus has also now commissioned their platform to service intercity operations as well.
The transportation is the largest unorganized sector globally. In India, the freight industry is estimated at $100 billion and contributes to 6 per cent of the GDP. And a bulk of this is inter-city logistics. Understanding the primary problems that the logistics industry faces- under-utilization of volumes and fleet which leads to budgeting concerns, Locus has been working towards solving the same.
Locus wants  to automate deliveries using drones and self-driving vehicles. By 2020, Locus aims to automate all human decisions in dispatching a package from Point A to Point B.