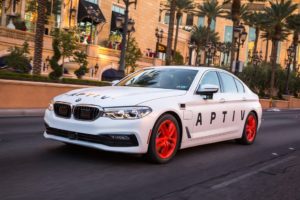 The ride-hailing app Lyft has said that they have completed 5000 rides using their small fleet of driverless cars in Las Vegas. Lyft launched its self-driving ride service in January this year in Las Vegas through a partnership with high-tech auto-parts supplier Aptiv Plc (APTV.N), which provides the autonomous technology to Lyft.
Passengers who are travelling to and from some 20 different pick-up and destination spots around the city's casino-laden Strip get a choice of riding in a self-driving BMW. The service is open to all the passengers who are covered in that area, however, Lyft asks for passengers' permission before sending an autonomous car.
The cars, equipped with Aptiv's autonomous technology also have two safety drivers in each to take over the controls in case of any technical failure. Lyft says that the passengers are satisfied with the quality of the ride and the average rating of these rides are 5-star. 96% of those passengers have said they'd be willing to take another ride in an autonomous car while 20% of the passengers have already don multiple rides.
Lyft is reportedly developing its own autonomous technology too, but having started late in the game, it may deliver after the big players in the game like Google's Waymo, Apple, Tesla, and Uber takeover the market.