Meta, Apple and Google like big tech giants are competing for the metaverse.
The metaverse, as Microsoft Corp. and Facebook parent Meta Platforms Inc. would have us call it, raises a remarkable prospect: For the first time, all of the technology giants are going to compete over the same turf.

Facebook's parent company, Meta, is investing $10 billion this year alone in creating "the metaverse." In the coming years, the company expects to increase that investment.
Though no such market for a "metaverse" exists just yet, Meta is already sizing up the competition: "As we invest in the metaverse, we know that we face fierce competition from companies like Microsoft, Google, Apple, Snap, Sony, Roblox, Epic, and many others at every step of this journey," Company official said.
"We believe the metaverse will be the successor to the mobile internet," Zuckerberg said. "We'll be able to feel present, like we're right there with people, no matter how far apart we actually are."
He went on to show a variety of examples of this future virtual world, with everything from virtual board games to virtual board meetings.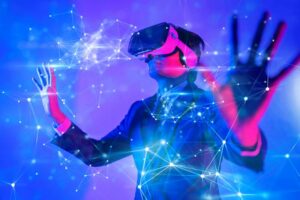 It's a vision of the future that resembles modern online gaming worlds going back decades, from "Second Life" to "World of Warcraft" to VR chatroom apps. As such, it's no surprise that Zuckerberg sees the likes of Sony, which makes PlayStation, and Microsoft, which makes Xbox, as part of the group posing "fierce competition" in the still non-existent metaverse marketplace.
One reason for the runaway success of Amazon.com,  Apple, Meta, Microsoft, and Google parent Alphabet is that they've managed to avoid destructive battles with one another. Sure, Apple Inc. and Google compete in mobile operating systems, but the iPhone maker continues to dominate the premium smartphone market, where it generates most of its profit. The cloud computing business is big enough to enrich both Amazon and Microsoft, as is online advertising for Google and Facebook.