The most recent in a series of crazy openings for US small-cap listings was MGO Global Inc., which owns the fashion and leisure business of pro football player Lionel Messi. Its valuation had previously more than tripled.
Following the $7.5 million generated from MGO's initial public offering, shares increased 232 per cent within the first 90 minutes of trade. The shares, however, had entirely reversed the increase by early afternoon and had sunk far below the $5.00 opening price. During the turbulent session, 14.2 million shares were traded, and the share settled down 7%.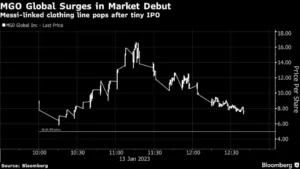 Small-cap listings have witnessed a rise in the number of sensational launches like MGO. In reality, regulators and stock exchanges issued an alert about alleged fraud in response to the series of pops and following price declines that happened last year.
Meanwhile, Matt Michel, CEO of InvestorLink Financial Markets, believes that the possibility for quick profits is likely to attract major retail attention, similar to the meme-stock craze of the latest years.
"Unless and until you have a good balance of institutional and retail capital around a transaction, you can get volatility like this because there's no one sticking around saying 'I've done the work and I'm here for the long term.'"
An attempt for clarification from an MGO representative went unanswered.
Based on the IPO registration, Messi, the key player in Argentina's World Cup victory last month in Qatar, is not a declared shareholder in MGO and instead collects royalties, which account for 12% of net revenue. MGO lists Rosario, his homeland, as well as other well-known fashion centres like London and Barcelona as supporters.
The business was founded in 2018 and its flagship Messi Brand was introduced in 2019. According to the statement, it had $880,000 in turnover but a significant loss of $906,326 in 2021.
Ginny Hilfiger, the eldest child of fashion designer Tommy Hilfiger, co-founded the company. After the industry's IPO, the documentation reveals that she now owns around a 30% ownership stake in the company.
The stock offering was supported by Boustead Securities and Sutter Securities.