A modified Saleen shop's Ford F-150 Lightning appeared at the Kind of the Hammers off-road event. The event has quickly gained prominence in the off-roading world and is a prominent location for manufacturers. Various performance shops also show off their newest projects and the modified Forf F-150 Lightning caught the eye of many due to various reasons.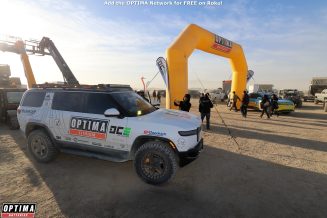 While the event has mostly been dominated by gas and diesel trucks, that is beginning to change as electric trucks, like the Ford F-150 Lightning, have entered the mix. Saleen wasn't exactly keen on sharing the details on their newest electric truck, but the modifications seen on the F-150 Lightning test vehicle seem incredibly extensive, leading many to call it a new Raptor competitor. Immediately apparent is how the truck has been dramatically lifted to increase ground clearance and articulation in the challenging rocky terrain of California. Further, the electric truck has a new set of off-road tires and requisite fender flares. Many have also hypothesized that the performance brand has included more underbody protection to ensure rocks and debris don't damage the battery. Still, at this point, those estimates are pure conjecture.
Other modifications
It remains unclear if any performance upgrades to the motors or battery have been done to make the Lightning quicker off the line. Still, thanks to its already adequate 580 horsepower and 775 pound-feet of torque from its dual-motor system, it may not need any. Ford wasn't the only brand represented at the King of the Hammers event. A strong contingent of Rivian R1Ts and R1Ss shows that owners are staying true to the "adventure" ethos of their electric truck brand. And while the Rivians at the event were potentially less modified than the Saleen seen at the event, they were no less impressive.
According to event sponsor OPTIMA Batteries, "More than 40 EV owners cast aside their range anxiety and made the trek out to Hammertown, where OPTIMA had several chargers waiting for their arrival. OPTIMA Brand Ambassador, Tanner Foust, helped pace the group in a very capable Volkswagen ID.4, and a poker run took place at three runs." But perhaps most surprising was the appearance of a modified Tesla Model Y that was tackling the dunes right alongside its more off-road-y counterparts. With Ford's history within the offroad performance truck market, there is no doubt that a higher performance off-road ready variant of the Lightning is on its way.