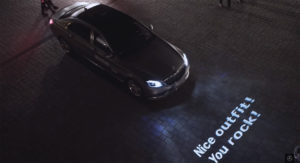 No, we aren't talking about any sci-fi movie, nor are we joking. Mercedes-Benz has taken the headlight technology to the next level that now they can compliment people passing in front of it!
Mercedes-Benz has just released a video showing a parked S-Class Maybach displaying compliments on the road through its headlamps. That little touch was just for fun though. These new headlights can do much more serious and useful stuff as shown by the German company.
This digital light system works on the basis of the projector LED lights fitted with a chip that has over a million micro-reflectors that projects light in certain patterns. By varying these patterns, it can create any letter, shape, or even illustrations.
Apart from the cheesy compliments, this digital light shows many useful signals to the driver like navigation, turn signs, speed limits, etc. It also syncs with car's camera and sensor-based assist technologies like lane-keep assist, blind-spot detection, and rear-end collision and warns the driver by showing warning signs.
Talking about the Digital Light, Ola Kallenius, Member of the Board of Management of Daimler AG, Group Research and Mercedes-Benz Cars Develop said, "With a resolution of over one million pixels per headlamps, Digital Light not only creates ideal light conditions for every driving situation but also extends the visual support from our driving assistance system."
Source: Mercedes-Benz