It was January 2014, two Indian boys, with keenness in their eyes and passion in their hearts, were about to present their dream in front of tech influencers for the first time in their lives. The stage was set, boys looked nervous but were determined. You could see hope in their eyes – A hope of getting through this stage and a step closer to the dream.
The presentation kicked off with a fumble,  and the two felt a kind of heartache you can feel in your bones! By looking at them, you could see the desperation, eagerness of seeing their dreams take life. As the presentation went ahead, the boys started to gain confidence in themselves, their product.
The judges seemed content with the flow and the later part went smoothly, not according to the plan, but yeah, smooth! The boys- Rohildev Nattukallingal and Arvind Sanjeev showcased their product- A smart ring!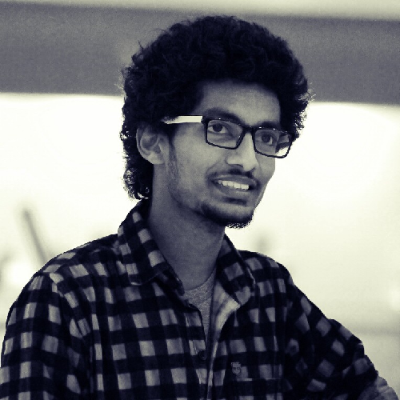 This is the story of Rohildev Nattukallingal, a guy who made a mark on the tech world at the mere age of 23! He was a computer geek right from the age of 13. Usually, kids fight with each other, watch cartoons, some even adult films! But this guy was different, he belonged to a middle-class family in Kochin.
His dad was a small business owner and his mother was a housewife. The kid dreamt of making it big, he wanted to make a mark and hence worked hard towards his goal. It all started from building a futuristic smart ring called 'Fin'.
His vision was to make a product which will be helpful to anyone including kids, students, athletes, music enthusiasts and even visually impaired individuals. Rohildev completed B.E. in Computer Science and Engineering and founded a startup 'RHLvision Technologies' (Robotic Human Logic) in 2012. He researched for two long years, experimented with different products, tested out various ideas before arriving at the game-changing idea of 'Fin.'
Fin – Getting Crowdfunded and Growth
Fin is a Bluetooth-enabled device which helps one to control any smart devices by moving his/her thumb over other fingers. One can assign each activity of the connected devices such as smartphones and TVs to each segment of his/her fingers which can then act as hot keys.
For instance, one can swipe his finger to control TV sets, music systems & A/C inside the car without moving his/her hands off the wheels, take photos and share files. Fin is a rare kind of product that evolved from a technology that aims at natural human-machine interaction.
"People in today's world are becoming busier, but still they are wasting a lot of time interacting with their smart devices, " Rohildev Nattukallingal, founder of RHL Vision Technologies, the startup behind Fin, told Mashable. "Fin removes this interaction gap by allowing users to quickly interact with those devices."
Rohildev finally made the prototype after spending sleepless nights. So far everything went according to the plan, except one- Money! To convert that prototype into an actual product what he needed was resources, money to present his product in front of legitimate people.
Sadly, he didn't have the money to support his ambition. He needed to raise funds but it was unlikely that investors will put their resources and faith in a newbie.  Moreover, he was not having the right contacts. So he chose to go the crowdfunding way.
Crowdfunding is the practice of funding a project or venture by raising monetary contributions from a large number of people. It is a form of crowdsourcing and alternative finance.
Rohildev wanted a good promotional video and pictures to define his smart ring prototype so that people will look at his product. WowMakers Digital Media Studio took care of making a promotional video and marketing it on Indiegogo.
San Francisco-based Indiegogo is an international crowdfunding website founded in 2008 by Danae Ringelmann, Slava Rubin, and Eric Schell. It is one of the first sites to offer to crowdfund. Indiegogo allows people to solicit funds for an idea, charity, or startup business.
Rohildev and his colleagues commenced a campaign on Indiegogo to raise $100,000. The product received a massive response and raised $202,547 from 1610 backers! It was like a dream come true for the young aspirant. Rohildev stated, "We got 400 Distribution Offer from all over the world. 40 Investment Offer from VC's and Angel Investors and 3 OEM Partnership Offers post the Indiegogo campaign!"
Things started to look extremely positive for Rohildev post a successful crowdfunding campaign. This was the time when Rohildev and Arvind went to TechCrunch Hardware Battlefield 2014. RHLvision was one of the top 15 companies at the Battlefield that took place in Las Vegas and the only Indian startup to be selected for the Pioneers Festival, a prominent startup festival in Austria as per the report.
Rohildev also made it to the Mobile World Congress in Barcelona, Spain in February 2014, as one the speakers. The mega event was attended by 4,300 CEOs across the globe. He stated, "It's a big moment for the Team RHL Vision. I hope that the invitation to address the world-class event is also in recognition of the tremendous interest that Fin could generate in the global startup scenario."
Post the crowdfunding, the backers were promised a complimentary Fin- smart ring.
It was now that things started going downhill for Team RHL Vision. They couldn't keep up to the promise and started stalling the smart rings. Backers kept their patience… at first !!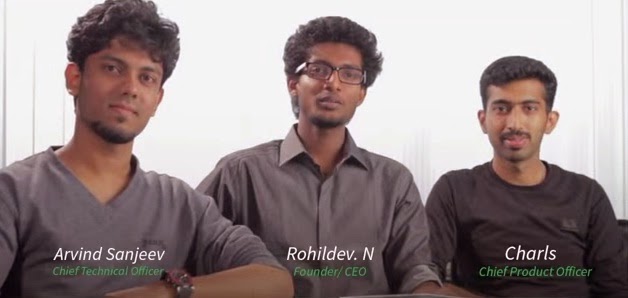 Rohildev addressed the issue, "In the course of creating the next Big Thing in this world we did undergo a lot of refinements after the deeper understanding of this product space. We believe that rather than hurrying up with namesake delivery of the product, we want to come up with a high-quality product which will be your interaction companion redefining the whole traditional interaction concepts with the connected devices."
He addressed backers saying, "We will be launching the promised product with all its features as v1 by the mid of May 2015. We strongly believe that this is the ideal time required to make all the integration in place for Fin so that you just need to wear it and have fun.
We will constantly update you with the progress in the product development. Apologies for making you wait a bit longer but it's inevitable for the delivery of a quality product. Thank you so much for your understanding and support."
Meanwhile, RHL Vision raised their funding of $2 million from the VC firm Kalaari Capital. Kalaari Capital is a high profile Venture Capital firm with investments in e-commerce companies such as Snapdeal, Myntra etc.
So now, RHL Vision was at a point where the Fin was a renowned product, business was expanding, funding was right in place! Everything was going great. The reason of Fin being delayed was a technical flaw in the Fin.  The product had two access points for gestures, on the surface and in the air.
All the gestures done for both models, but accuracy for air gestures was averaging between 60 and 70 percent without angle incline etc. What Rohildev was aiming for was 90-95 percent accuracy.
Fin Becomes Neyya – A Supposedly Better Version of the Product
One fine day- 17 November 2015, it was announced that Fin wearable has changed into a bigger, better version called "Neyya." The team too became stronger and lots of new members were added. The backers received the mail informing them to stay calm as Team Neyya promised to send the newer, better version of the ring soon. Neyya was priced at $139/£129 in a titanium finish or $179/£159 in gold plate.
This is the full systematic review of the Neyya ring
Team Neyya's representative, Charls Vincent acknowledged the backers saying,  "We would like to reiterate that our original design for the ring has changed.  Instead of being worn only on the thumb, the ring can now be universally worn on any finger. Having done extensive studies and testing on the hands as well as collaborating with physicians and specialists, this new design addresses all of the modalities and removes the limitation of a specific finger and area of the palm.
Our ring is designed to have maximum comfort from both a physical and ergonomic sense. Most recently we were pleasantly surprised when Apple announced the possibility of bringing a smart ring to market with a design that feels very close to ours. This has really validated our concept and design, as many of their conclusions are similar to ours."
He further said, "Your Neyya rings are currently being shipped and that means we are doing our very best to have these arrive at you before they are on general release in the market towards the end of November."
Here is @soniahunt #neyya's President at the @CES #Pepcom event showing off our smart ring pic.twitter.com/PdpGZkM68Y

— neyya (@MyNeyya) January 11, 2016
Sonia Hunt headed the new team that went through a partial pivot, redesign and rebranding after realising their original concept was not going to pan out as they'd hoped.
While talking to TechCrunch she said, "After the crowdfunding and the prototype that we showed at the battlefield in Vegas we did some more work and we realised a couple of things. We had brought on some specialists and even physicians, in terms of placement of the ring, and we did a lot of work on metrics of the hand.
The ring is now recommended as such that you're wearing it on your index finger, with your thumb controlling the smart surface… It makes sense from a tap and swipe perspective when you're using your thumb on that smart surface."
"When we raised that Indiegogo round as well we did realise that we needed to build a custom battery, certain custom components, so we did raise funding," she adds. "What we realised then after launching [the crowdfunder] was that we really did need to spend more time to rethink certain parts of technology. And we didn't want to put something out just to put it out.
We don't need to keep putting out devices, just for the sake of putting them out. So we've always been very focused on core feature functionality in the workspace and on the play side — which is why this doesn't have a screen, which is why it doesn't have tonnes of feature functionality; it's very focused.
So we kind of, after battlefield, really had to regroup and think about was it the right product, and if not how are we going to make it better. To really be a product that people could use and it could enhance their life."
Donna Karan wearing @myneyya at Urban Zen event in NY. pic.twitter.com/s95ElHAYkj

— rohildev (@rohildev) November 20, 2015
Rohildev Gets Fired From The Project, Backers Never Receive Their Rings!
The change from Fin to Neyya did change the fortune of Rohildev and his vision as it hit the rock bottom! I guess the fairytale was soon over.  You see no matter how intelligent you are! But, not everything goes according to what you plan – that is one of the hardest parts of being an entrepreneur!
The World just turned upside down for Rohildev and his dream project.Funds were raised, the rings were manufactured, it received huge praise from everybody- Initial shipment of 7,500 units was set- the money was invested in it.
BUT, some people in the company had some other intentions and all the support for manufacturing and shipping was taken away from Rohildev and he was fired from the project.  Close to 5,000 Neyya rings worth $695,000 (approx Rs. 5 crore) were held at the company. Rohildev lost the control of his own project, money and the shipment!
This was the mail sent by Rohildev post the entire incident-

One of the backers Rick Yazwinski said, "To be honest, not sure that they were ever made or whether he just pocketed the money and ran. At some point, I just gave up the chase and wrote it off as a bad gamble."
He further added, "Generally I think crowdfunding is a gamble. I believe that most people are honestly looking to fund something they're passionate about and have a good probability of bringing to the market. Unfortunately, as with anything that relies on trust and good faith, there are those who will prey on people's good nature for their own gain.
I've funded probably 20 projects and only been let down 3x. Twice product never shipped, once shipped but was so terrible it may as well have not shipped. Is Fin and example of something that was a scam from the start? I don't know and have no way to really ever know."
Here's the e-mail conversation between Rick and Rohildev-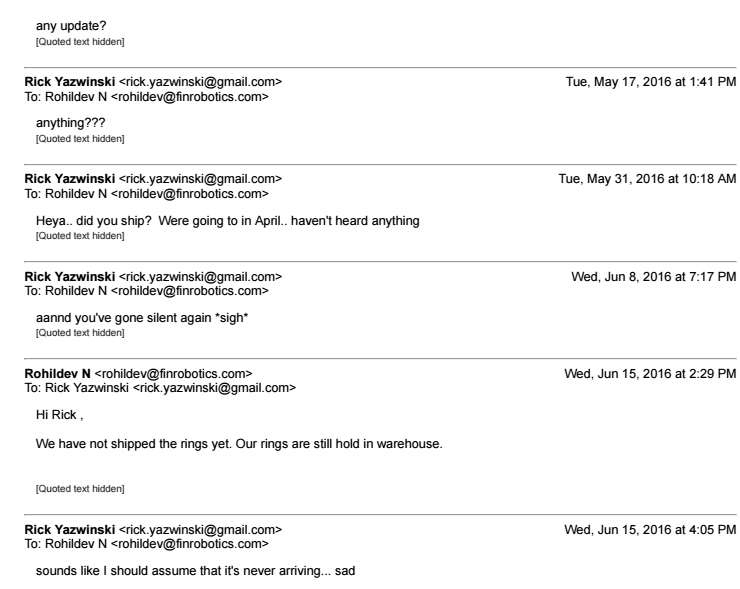 One more backer on condition of anonymity said, "I was one of the backers of Indiegogo campaign, it did get delayed but finally, I received it. Great packaging, but the ring was very different than originally promised in the campaign video. Earlier I was very active crowdfunding backer, projects like Oculus, Lima, magBack and Fin etc.
I think there is an underlying risk but I usually back a project where I was driven by possibility and not assured. I did have some concerns about teams ability to deliver, but then again I was impressed by their execution of idea and campaign till that point.
As it has got little easier to hire great video team and put together the visual package for crowdfunding, I think I will start watching out for these signals more often now. I will put more focus on teams ability to deliver."
Here's another backer in conversation with Rohildev on Twitter-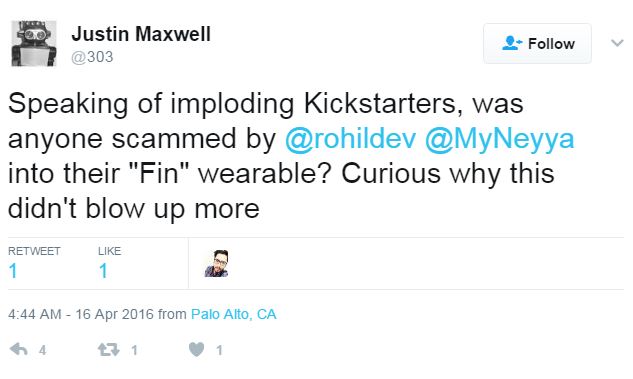 Rohildev is the perfect example for all those who aspire to be successful and never give up. But, not everything goes according to your will, there are always ups and downs in your path, obstacles that you need to break through and rise like a Phoenix.
In the case of Fin or Neyya the stage was set perfectly right – a perfect product, a fantastic crowdfunding campaign, getting funded by investors and actually manufacturing the rings. However, for some reason that no one seems to state clearly, the final product has never been shipped. A story that could have been a huge success seems to have gone completely in the other direction.
As Gilda Radner has rightly stated,
"I wanted a perfect ending. Now I've learned, the hard way, that some poems don't rhyme, and some stories don't have a clear beginning, middle, and end. Life is about not knowing, having to change, taking the moment and making the best of it, without knowing what's going to happen next. Delicious Ambiguity."
Also Read:
Crowdfunding Success Stories Of Startups!
Wearable Devices That Will Be Essential Part Of Our Lifestyle!