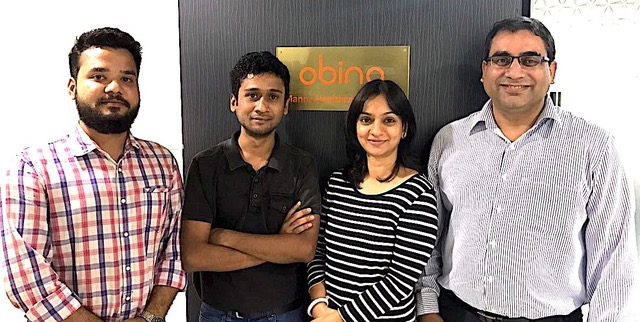 20 February 2017, India:
Mumbai-based Manna Healthcare Pvt Ltd, the company behind health & weight loss coaching app Obino, today announced the acquisition of Fitard, a rewards-based fitness mobile app startup also located in Mumbai.
This acquisition disrupts the health and weight loss industry by placing greater emphasis on user experience and tighter product-market fit, in place of the typical route of customer acquisition in the sector through deeper discounts and arbitrary pricing models with no focus on health outcomes.
Obino's users are currently able to track their daily steps & food intake as well as be coached by experts in a high-touch, high-retention model based on giving strong metric-based health outcomes. With the competencies brought in by the Fitard team, they will soon join a gamified ecosystem that recognizes and rewards their health and fitness initiatives. Obino intends to tap the latent power of successful users to serve as points of inspiration & motivation for other users, therefore turning fitness into a fun-based learning experience and making it a more inclusive and community-driven experience.
Commenting on the acquisition, Ritu Soni Srivastava, Founder & CEO of Obino, said: "At Obino, we focus on motivation as the cornerstone to a fitter & healthier life. The philosophy of Fitard was completely in line with our own, of owning the health and weight loss journey, right from providing not just the tools and the expertise but also the motivation. What we want to establish with this move is that losing weight and getting fitter doesn't have to be a hard, uphill task full of sacrifices but a positive, life-affirming, transformational journey of becoming the person you always dreamed of being…both physically and mentally. We firmly believe that anyone at any time can choose to begin again. And we want to help them achieve that."
Shubham Goyal, Co-Founder, Fitard, shared, "We had noticed that a large part of the reason that most people don't meet their health or weight loss goals was because they found it difficult to stay motivated and we were keen to solve that problem. By partnering with Obino, we will come closer to our goal of providing a holistic ecosystem to anyone who wants to get healthier. Both the teams are aligned on the understanding that the ultimate reward is to see a happy client, who is at the end of their weight loss goal, but at the beginning of their fitness journey for life."
Obino is a health & weight loss coaching app, that uses one-on-one virtual coaching via calls and expert chat, revolutionary app-based tools and an intuitive user experience to provide Health & Weight Loss Coaching services to Indians globally. Launched in August 2014 as a convenient and affordable alternative to the traditional options of weight loss coaching like gyms, diet and slimming centers.
Comments
comments