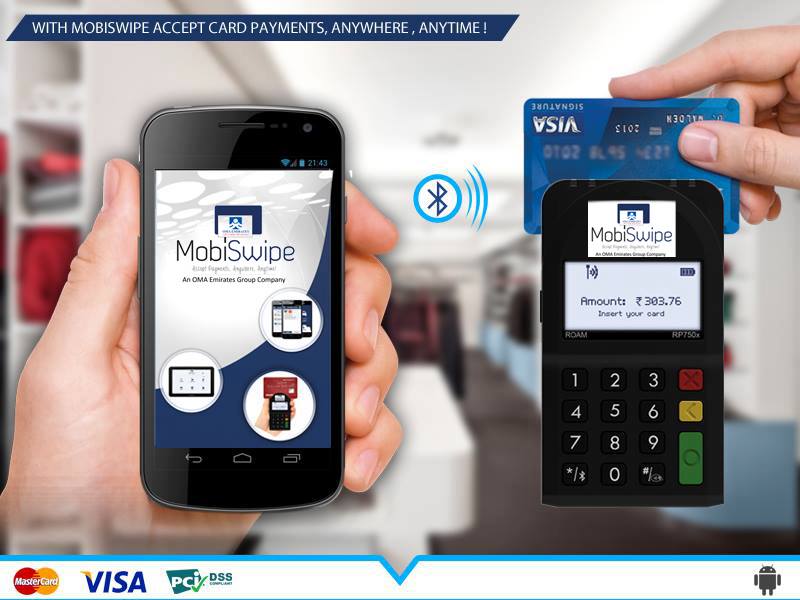 UAE-based payments solutions provider OMA Emirates has acquired home-grown startup MobiSwipe Technologies Pvt. Ltd for an undisclosed amount. With this acquisition, OMA Emirates aims to expand its services to the Middle East, Eastern Europe, and the Asia-pacific regions.
Launched in 2011 by Harmeet Singh Arora and Suresh Santhanaramakrishnan, MobiSwipe is a payments enabler for merchants to facilitate payments via credit and debit cards through its mobile application.
Mobiswipe's technology works with an mPOS device which enables card payments. Merchants can accept Credit and Debit Cards by using their Mobile Phone that gets connected to EMV Certified Card Reader via Bluetooth. An mPOS can also be cost-effective, allowing a small business owner to conduct transactions without having to invest in an electronic register or pay someone to support the software. Users can authenticate their cards via PIN inputs and receipts are sent over email and SMS.
Suresh Santhanaramakrishnan, Director and Joint CEO, MobiSwipe said, "With the recent demonetisation announcement by the Government, India is swiftly moving towards a more cash free payment environment. The mobile payment market is witnessing a surge and Mobiswipe's acquisition by OMA Emirates will definitely give it the right impetus of growth. Alongside, this acquisition will ensure that MobiSwipe makes the right international progress."
OMA Emirates is a technology-centric company, committed to providing cutting edge technology solutions in the area of Card Personalization, Payment issuance and payment acquiring systems.
Commenting on the acquisition, Niranj Sangal, Group CEO, OMA Emirates Group said, "There is an increasing acceptance and growth of mPOS solution over the last few years with many of our customers having shown interest in the solution. At OMA Emirates we believe that it is important to take note of our customer and market needs and for us to be positioned to provide them with the right solutions and services. Having acquired MobiSwipe we are now able to extend the mPOS offerings and we are confident of a larger portfolio. Knowing the mobility, portability and ease of use of such a solution, we see a huge potential in MobiSwipe not only in India but also beyond its boundaries."
Over the past few years digital payments, especially with mobile phones, are increasing exponentially in India. After demonetization of certain currency notes, the Government of India is promoting a cashless economy. This has further accelerated the mobile payments and the industry in India is projected to reach $500 Bn by 2020 as a per a recent report by Google and Boston Consulting Group.
Also Read: Mergers And Acquisitions 101: Reasons, Challenges And Future of M&A !