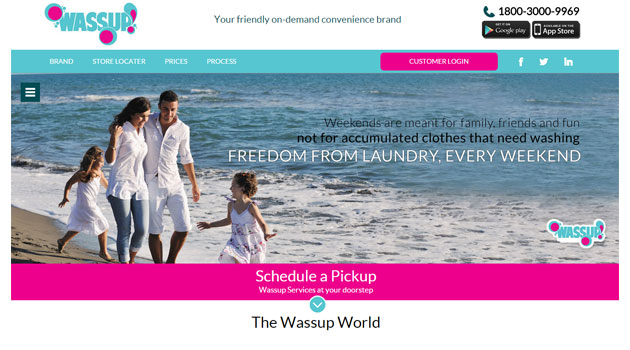 Wassup, a Chennai-based on-demand laundry services startup secured $3.2 Mn in Pre-Series A round from Anil Jain (MD at Refex Energy), HNIs from India and the Middle East. The company will use the investment to build a strong management team and to expand its business operations. "We would also utilize the funds for improving the tech interface and increase our customer base through acquisitions of smaller companies and organic addition of customers," said Balachandar R, co-founder, Wassup as per a report by Times of India.
Founded in 2011 by Balachandar R and Durga Das, Wassup is an on-demand service provider which currently offers services like laundry, dry cleaning, shoes, and bag refurbishments at users' doorstep in 7 cities- Chennai, Bengaluru, Delhi, Gurugram, Pune, Mumbai, Hyderabad and Cochin.
With 1000 plus orders per day, Wassup eyes for a pan-India expansion. Wassup also has 30 hyperlocal hubs/retail stores and plans to expand it to 60. Wassup is looking to scale up its business through consolidation, franchising and aggregation. While most on-demand laundry startups are failing, Wassup is surviving and making profits owing to its hybrid model of B2B and B2C customers. Their current list of customers in B2B sector include Taj Vivanta, Raddison, The Oberoi, IIT Madras, VIT, Indian Navy and Mahindra WorldCity to mention a few.
In April 2016, it acquired another on-demand startup Ezeewash to expands its operations in Hyderabad. Prior to that in November 2015, it acquired Chamak and announced its foray into Mumbai. In May 2015, Jabong's founders Pravin Sinha and Arun Chandra Mohan invested in Wassup.
Also Read:
GoBumpr Raises $300k In Funding From The Chennai Angels, Keiretsu Forum
Netree E-services Private Limited Raises Funding Of Rs. 3 Crores From The Chennai Angels