Every passing day, we are realizing the importance of mobile money and plastic money. Currently, with the demonetization of Indian currency, we all have been bound to depend, on some level or other, to these methods of money transactions.  After all, in this growing world of technology and urgency, it has become the most convenient method of payment. One such emerging Fintech Payment and Transfer startup of India is Paydeck.
Started recently, in February 2016, Paydeck is a Kolkata based Fintech company. It solves the problem of moving money in a quick, convenient and secure way while empowering people to pay for any good or service on a credit card, regardless of acceptance. Paydeck provides you with credit card payment choice, even if the seller does not accept cards. The sellers are paid with their chosen method of payment.
The startup mostly focuses on empowering credit card holders. It can solve your everyday problems, like paying your landlord or your local grocery store, when you are low on cash but they don't accept cards.
It is very easy to operate Paydeck. You can do it too, by following the given steps.
A. Provide payment details and Submit your payment
Simply sign in to your Paydeck account, specify who you'd like to pay, and submit your payment using the card of your choice. A service fee of 2.5% will be automatically calculated and applied to your payment total. 
B. Paydeck Sends the Card Payment via NEFT 
Once your card payment is submitted, Paydeck will process and send it to your recipient in their bank account by NEFT. No approval, registration, cost, etc. is required to receive Paydeck payments by the receivers.
C. Final Notifications
Once the card payment will be processed it's sent to the recipient through NEFT within 24-48 hours of submission. Standard delivery timing for electronic transfers apply. Once the payment is accounted to the receivers account, an notification is being sent to the sender.
Paydeck is not a wallet. It lets you pay any business or individual through credit card. While the average ticket size of a wallet is Rs 10- Rs 500, the average ticket size of Paydeck is Rs 10K- Rs 15K.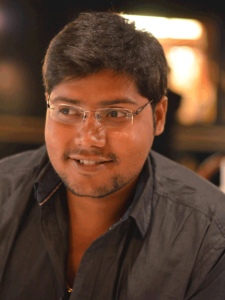 The startup was founded by Saurabh Suman, an IIIT graduate with a 10 years experience in IT and entrepreneurship. The idea of the startup came into his head when he himself was struggling to pay his landlord the rent, as he was having financial issuess and wanted to use his credit card. Frustrated by his own experiences, he built a startup to help every credit and debit card holder of India. The company has four people currently, and plans to hire 5-8 more for PAN India projects. Tarang Agarwal is the Financial professional of the startup.
Check out their startup journey here
Paydeck is an emerging company of financially tech-savvy India. It is looking for good business investors. It has plans of increasing product offering and value additions on the top of it. In the coming months, it will definitely hold a good market positioning.
Also Read:
4 Benefits Of Availing Online Financing Through Fintech Companies !