If in-car TikTok feature was the only thing you thought was missing from your Audi, you need to stop worrying. The Volkswagen Group is the newest participant in the in-car app store, and it's going all out.
It also offers as a sneak peek at the firm's expansive ambitions for a centralised in-car software platform that will manage how its vehicles function for many years to come.
The second-largest automaker in the world revealed today that an app store for its extensive range of automobile brands will shortly go live. Drivers will discover well-known third-party applications within that have been modified for use in cars.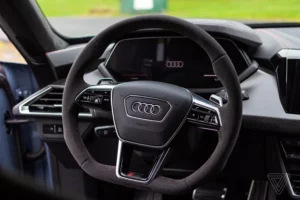 TikTok, Spotify, Yelp, and numerous other popular apps that have been specially tailored for in-car use as well as made to function from an infotainment system panel are all included in the initial release.
The application store will debut this year with a select number of new Audi models and eventually expand to include Porsche, Lamborghini, and Bentley vehicles.
By doing this, Volkswagen Group contributes to the growing trend of smartphone-like experiences in automobiles. Mercedes-Benz also revealed last month that the 2024 E-Class is going to be the initial model to come standard with built-in applications for TikTok, Zoom, the Vivaldi web browser, as well as other services.
Many more functions are now being introduced in the Volkswagen Group's app store. The apps that are now accessible cover a wide range of topics, such as music and podcasts, video conferencing, weather, parking, EV charging, games, news, integration with smart homes, and more.
In the US, Canada, Mexico, and Europe, the app store will debut this summer alongside a large portion of the 2023 lineup from Audi, which comprises vehicles like the A4/A5, Q5, A6/A7, A8, Q8 E-tron, and E-tron GT.
Later in the year, an additional Audi vehicles will be released, and then more brands and automobiles will be included. (A US-based spokeswoman for the Volkswagen brand declined to comment on the potential release date of the app store for those cars in our market.)
The manufacturer claims that it showcases a brand-new infotainment stack called One, which will be totally different from the app store and won't be accessible via over-the-air upgrades on existing models.
Coming soon One.infotainment for all of its brands. According to the manufacturer, both of those and the system software that powers them will be based on Android Automotive. Along with Harman, the app store was created.
"It's a new level of digital experiences we want to show," said Dirk Hilgenberg, the CEO of Cariad, VW Group's in-house software division, on a call with reporters.
With regard to third-party app companies, "We can combine and leverage with each other creating an immersive experience, especially as far as gaming, relaxing is concerned," he said.
Hilgenberg stated that one aim was to provide "in-office functionalities" built specially to operate in a vehicle environment. Moreover, Volkswagen Group is in discussions to integrate Google Maps into the platform natively.
In recent times, the popularity of applications designed expressly for use in cars has grown as a growing number of drivers (and passengers) demand features and functionality comparable to those available in smartphones.
The native automotive tech environment is similarly largely bypassed by systems like Apple CarPlay and Android Auto, much to the frustration of manufacturers who don't want to hand over complete control to digital companies.
With forthcoming cars like the electric Porsche Macan and the Audi Q6 E-tron, the division expects to provide new software platforms and enhanced driver-assistance features this year, according to Cariad spokesperson Fabian Lebersorger.
"We have adjusted our roadmaps to more realistic time schedules," Lebersorger said. "2023 is the year of delivery for Cariad."