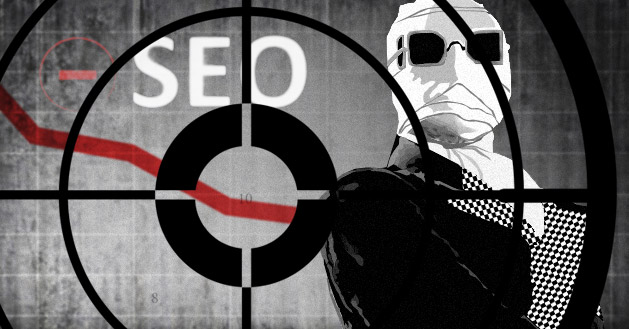 Every website wants to rank highly in Google, but your website could fall victim to negative SEO. You may unwittingly be making big mistakes on your website, or someone could be attempting to sabotage your ranking. If you want to effectively promote your website in the SERPs, you must protect your website at all costs, or suffer from deindexing or low rankings.
What is Negative SEO?
So, what is negative SEO? It is basically a mix of black-hat techniques designed to manipulate the search engines. You may unknowingly be the victim of hacking, with hundreds, or even thousands, of spammy links being sent directly from your website.
You may also have duplicate content on your website, or there could be numerous backlinks being directed to your website using keywords such as "Viagra" or "online poker".
How to Tackle Negative SEO
One way to stop harmful links from destroying your website is by using the disavow tool, which should only ever be used with caution and takes between 2 weeks to a month to take effect. It is recommended that you monitor your backlinks profile to quickly identify any damaging links so you can act immediately.
You can also set-up Google Webmaster Tool alerts that can inform a webmaster that their website has been attacked by malware, if a page has been deindexed or if you have suffered a manual penalty from Google.
Duplicate content can also harm your website, so double check you are featuring unique copy on Originality.AI, as someone may have published your articles elsewhere.
Many websites will often become a target for hackers, so you must secure your site as soon as possible. You can do so by installing a Google Authenticator plugin, creating a strong username and password, and regularly backing up your files and data.
Many web owners could also underestimate their website's speed. Google strive to provide their visitors with the best user experiences possible, and slow load times can reduce a search engine's confidence in your website, meaning you will be much lower in the SERPs. You must descale images, minimise HTTP requests and place stylesheets at the top of your website. Shared hosting could result in you fighting for load times with other websites on your server. You should therefore consider switching hosting plans or transferring to a more reliable hosting provider, like bestwebhosting.co.uk.
Don't Make Online Enemies
There are people online who have the knowledge and power to destroy your SEO efforts. You should try to avoid making enemies as much as possible, as people may target your website for revenge, to compete with you in the SERPs, or just because they can.
Black hat tactics will only result in deindexing. It is therefore essential you avoid any manipulative SEO tactics, whilst protecting your website from falling foul of hackers or disgruntled clients. By staying up-to-date on your website's changes, creating fresh content and boosting your website's speed, you could help your website avoid becoming a victim to negative SEO.
Also Read: From Seo To Social Media, Brand Awareness To Reputation Management And Influencer Marketing, Daljeet Kaur Learnt Everything At Fatbit Technologies !