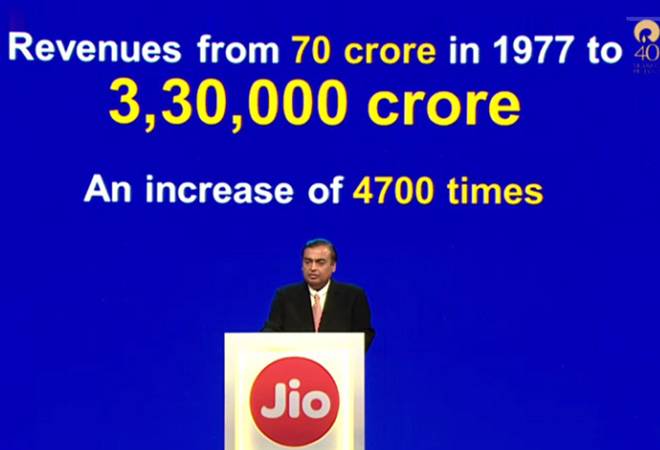 21 July 2017, India:
Reliance's 40th AGM set the mark when it comes to Annual meetings. The event was broadcasted live in 360 degrees VR and as many as 38,000 people owning a VR headsets and compatible smartphone watched it in Virtual Reality.
In a virtual reality environment, a user experiences immersion, or the feeling of being inside and a part of that world. He is also able to interact with his environment in meaningful ways. The combination of a sense of immersion and interactivity is called telepresence. Computer scientist Jonathan Steuer has defined it as "the extent to which one feels present in the mediated environment, rather than in the immediate physical environment." In other words, an effective VR experience causes you to become unaware of your real surroundings and focus on your existence inside the virtual environment.
So today morning when Mukesh Ambani, who ranks at the top when it comes to Forbes list of Richest Indians took the stage to announce the latest Jio phone that too free of cost, people literally felt as if they were at the event to see this historic announcement. The phone, targeted at 50 crore feature phone users in the country, will be available for pre-booking from 24 August on payment of a refundable security deposit of Rs 1,500. This deposit will be refunded after 36 months on return of the phone, he said, adding that the price of the phone will be "effective zero".
Also read- Jio Phone To Be Priced At Rs. Zero – Mukesh Ambani At Company's 40th Annual AGM
Related read- Top 5 Mukesh Ambani Quotes That Will Boost Your Entrepreneurial Spirit!
Watching it live on VR is altogether a different experience and this was the first time after PM Narendra Modi's galvanizing usage of the hologram technology to address 53 villages simultaneously at one point and got his 3D avatar into the Guinness Book of World Records.
The concept of virtual reality has been around for decades, even though the public really only became aware of it in the early 1990s. In the mid-1950s, a cinematographer named Morton Heilig envisioned a theater experience that would stimulate all his audiences' senses, drawing them into the stories more effectively. He built a single user console in 1960 called the Sensorama that included a stereoscopic display, fans, odor emitters, stereo speakers and a moving chair. He also invented a head mounted television display designed to let a user watch television in 3-D. Users were passive audiences for the films, but many of Heilig's concepts would find their way into the VR field.
Also read- Virtual Reality: The Next Big Thing?