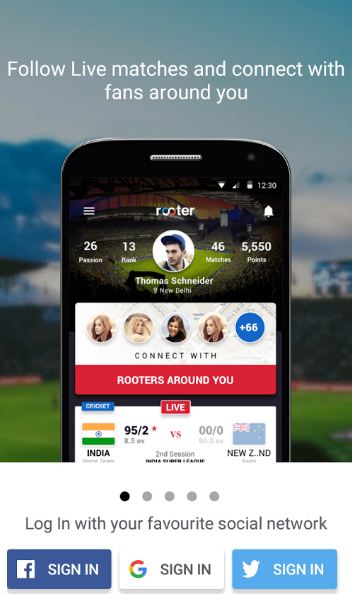 28 March 2017, India:
The world's first digital platform that connects, engages and helps sports audiences interact with each other on a real-time basis during sports events, Rooter has raised an undisclosed amount of funds from Intex Technologies.
The sports social engagement app earlier successfully raised funds from Boman Irani, Dhruv Chitgopekar and Prantik Dasgupta.
The fresh funds will be utilized to strengthen the tech team at Rooter, all the while maintaining a lean structure. It aims to also add more numbers to its Sales and Marketing team as well as to the content division to bolster the vernacular versions of the app. This round of funding will, in addition, help accelerate the platform's expansion into South East Asian markets and catalyze partnerships with sports teams and leagues all around the world.
Piyush, Founder & CEO, Rooter, said, "It gives us immense pleasure to receive funding from Intex, one of the most successful Indian IT devices and accessories manufacturers. Rooter is essentially a tech-based platform and we wanted to have an investor on board who could also be our strategic partner and help us evolve our product to fully realize it's potential. Intex's deep understanding of the smartphone world and its popularity in Tier-2 and 3 cities of India will help us to promote and develop Rooter's unique idea further, optimizing it to perfectly fit the needs of smartphone users everywhere."
Keshav Bansal, Spokesperson Intex, commented on the collaboration by saying, "Rooter has a great fundamental idea, and its recent numbers suggest that its popularity is zooming by the day. As sports are an extremely emotion-driven phenomenon and the sports fan engagement platform is a completely uncharted territory, Rooter has limitless scope for growth. We feel this collaboration will be a perfect synergistic match and will enable sports' fans to enjoy their favourite games like never before."
Rooter's ambition to carry out merchandising activities and possibly fan-player interactions will also get a boost besides allowing it to leverage the superlative tech infrastructure of Intex.
Comments
comments