If you want to increase your overall storage capacity, now is the time to do it not only to your laptop but infact your new PS 5 gaming console too. With the new Samsung 990 Pro 2TB SSD, which is currently available for a staggering price, you not only get the best hardware in the industry in combination with the fastest speeds, but you also get the chance to increase your overall storage to a whopping 2TB of memory.
To give you a brief overview of the product, the Samsung 990 Pro SSD heatsink edition is one of the best gaming SSDs you can buy.
It offers you great features like incredible speeds and the best heat-diminishing features, which has made Samsung's SSD quite popular and widely used among PC enthusiasts.
Currently, one of the best-selling SSDs for PC enthusiasts is the Samsung 990 Pro 2TB Heatsink version.
The Samsung 990 Pro 2TB SSD heatsink edition is a special edition SSD that is appropriate for customers who want to carry out some extremely demanding jobs, such as programming, gaming, and video and photo editing.
Because of its incredible heatsink, which is constructed of an effective thermal coating, it may be one of the few SSDs that have a specific heatsink that aids in a general reduction of heat when reading and writing data with your PC.
The SSD may be kept cooler and have the potential to provide constant high data rate rates for a long time with the help of the heatsink, which can decapitate the overall heat generated during the read and write times.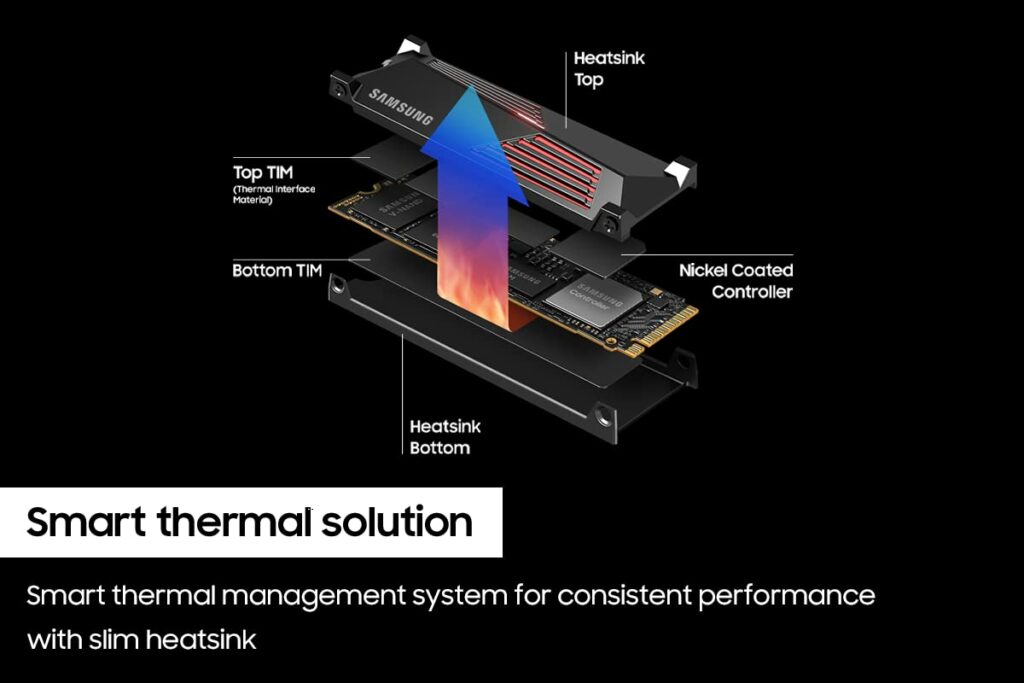 Also Read: Deal Alert: Samsung Pro Plus 512GB microSD Card Available Now for $34
As we have already discussed the data speeds, let's now discuss the precise speeds. For this Samsung 990 Pro 2TB SSD heatsink edition SSD, you will receive a maximum 7450 Mbps read speed, which is again combined with a 6900 Mbps write speed, making it one of the most potent and quick SSDs in this price range.
Not only that, but this SSD also supports PICe 4.0, which will result in some incredible speeds. Additionally, you get some incredible RGS LED lighting, which gives this SSD a very futuristic appearance overall.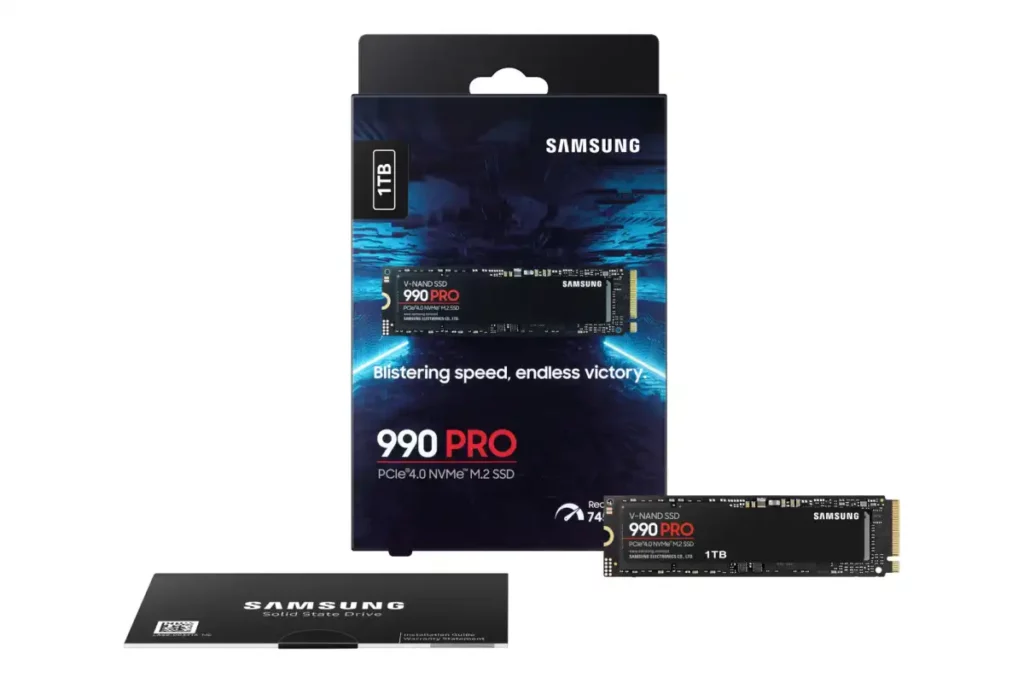 There must be a lot more happening here. Because of the extremely high read and write speeds and the dedicated heat sink that removes heat and even has an RGB lighting arrangement, some readers may wonder how much power this SSD uses.
Well, guess what? Even in this area, Samsung has highlighted a positive, claiming that this new SSD provides even better and improved power performance when compared to its flagship 980 Pro Plus SSD. Samsung has also asserted that this SSD is 50% more efficient.
Also Read: Ice Universe Shares Leaked Specification for Samsung Galaxy S24 Ultra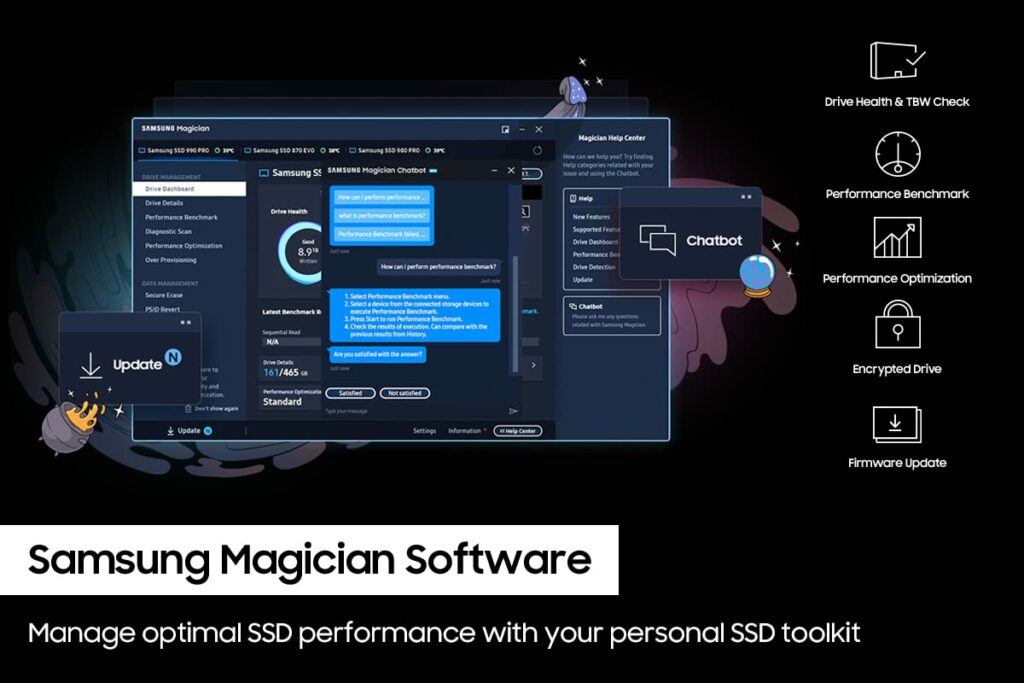 With this SSD, Samsung has raised the bar by allowing user-side customization. You can use the "Samsung Magician Software" to optimize your Samsung 990 Pro 2TB Heatsink edition SSD and even toggle the performance settings.
You can also keep an eye on the SSD's general health and the security of your important data. Using this software, you can modify this SSDS to include more colors according to your preferences. For your SSD, Samsung Magician Software is more akin to an "SSD Toolkit".
Also Read: Tech Giants Apple, Samsung, Nvidia, and Intel Set to Invest in Arm's Public Offering
Samsung 990 Pro 2TB Heatsink Edition – Discounted Price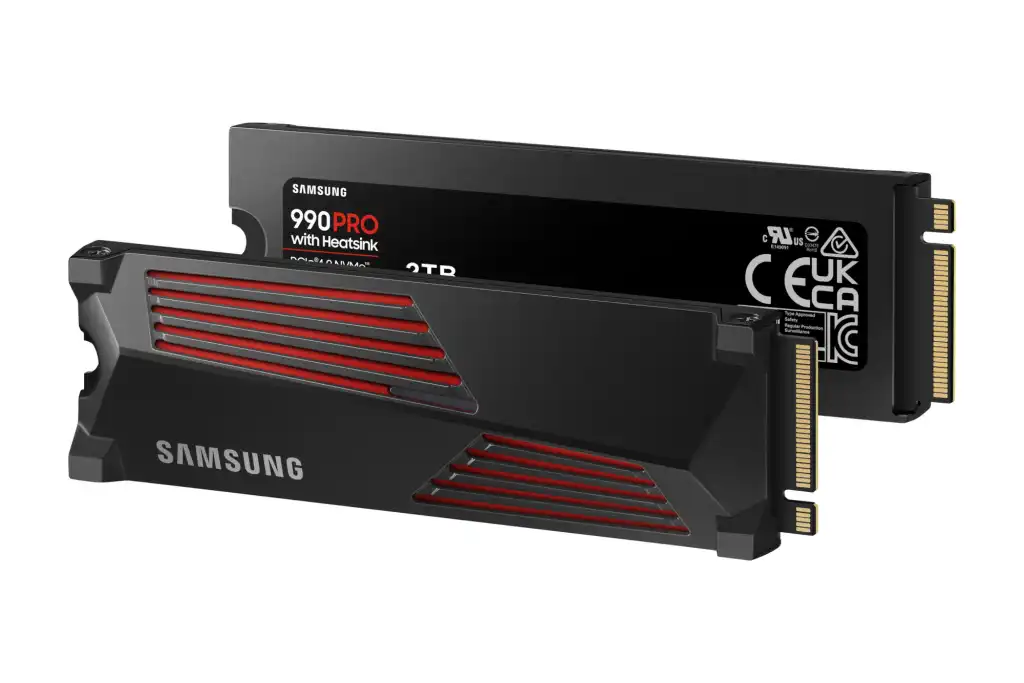 Let's move on to the pricing section. Here, you will find incredible prices for the 2TB SSD.
Regarding cost, the Samsung 990 Pro with Heatsink SSD 2TB is currently available for a fantastic price reduction of $20, bringing the price from $169 to just $149.
Considering the price and the characteristics, we can undoubtedly conclude that this new SSD is a fantastic value to behold. Not only this, but Samsung's incredible, long-lasting 5-year warranty covers you with ongoing assistance.
You can buy this new Samsung 990 Pro 2TB Heatsink edition SSD via Amazon, BestBuy, and Newegg.