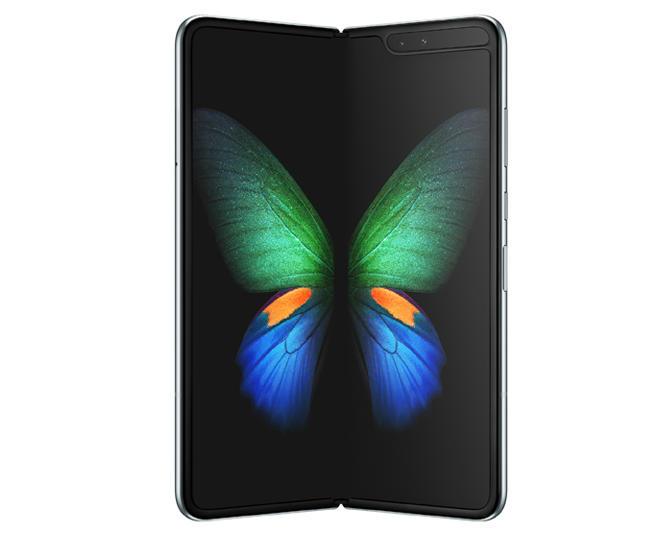 21 February 2019, India:
Samsung has launched it's foldable smartphone – Samsung Galaxy Fold. The smartphone will be available in both LTE and 5G variant.
The company claimed that in Galaxy Fold, the screen does not merely bend, but it folds.
When folded in, the display of Galaxy Fold is 4.6 inch HD+ Super AMOLED display which has screen aspect ratio of 21:9. This display panel has the resolution of 840×1960 pixels. The screen density is 420 dpi.
When folded out, the display size increases to 7.3 inch. The main 7.3 inch display has QXGA + Dynamic AMOLED panel (as the company likes to call it). It has the screen aspect ratio of 4.2:3. This display panel has reolution of 1536×2152 pixels with screen density of 420 dpi.
The Samsung Galaxy Fold has 12 GB LPDDR4x RAM and 512 GB (UFS 3.0) Internal Storage. There is no MicroSD card slot.
The Galaxy Fold has 4380 mAh battery. The company has put two batteries to get this capacity. The smartphone supports Wireless Charging. It supports fast charging on both Wired and Wireless Charging.
The Samsung Galaxy S10 Fold has six cameras in total. The cover screen (when folded in) has a 10 MP camera with f/2.2 resolution.
The smartphone has triple rear camera combination which includes 16 MP Ultra Wide Camera with f/2.2 resolution, 12 MP Wide-angle camera with Dual Pixel AF, 12 MP Telephoto Camera with aperture of f/2.4. The telephoto camera offers 2x optical zoom. The wide angle camera has aperture of f/1.5 and f/2.4.
The there are two front cameras (when the smartphone is folded out). The two front camera consists of 10 MP camera with f/2.2 aperture and a 8 GB RGB Depth camera with f/1.9 aperture.
The six camera system gives versatility to smartphone, so it does not matter which way you hold or fold the smartphone, a camera will be ready to capture the scene.
The smartphone has Qualcomm Snapdragon 855 processor.
DJ Koh, President and CEO of IT & Mobile Communications Division, Samsung Electronics, said, "Today, Samsung is writing the next chapter in mobile innovation history by changing what's possible in a smartphone. Galaxy Fold introduces a completely new category that unlocks new capabilities never seen before with our Infinity Flex Display. We created Galaxy Fold for those that want to experience what a premium foldable device can do, beyond the limitations of a traditional smartphone."
The smartphone will be available in four colours – "Cosmos Black", "Space Silver", "Martian Green" and "Astro Blue".
The Samsung has introduced App Continuity feature on Galaxy Fold. So, if you open and close (or fold and unfold) the smartphone, the apps will automatically show up where you leave off.
Samsung claimed that they have worked with Google and Android Developer Community to ensure that apps and services were available for Galaxy Fold.
The fingerprint scanner is on the smartphone's side.
The Samsung Galaxy Fold supports triple app multitasking. You can interact with three apps simultaneously.
The smartphone runs on Android Pie
The pricing of Samsung Galaxy Fold starts from $1980.
(Image – Samsung)