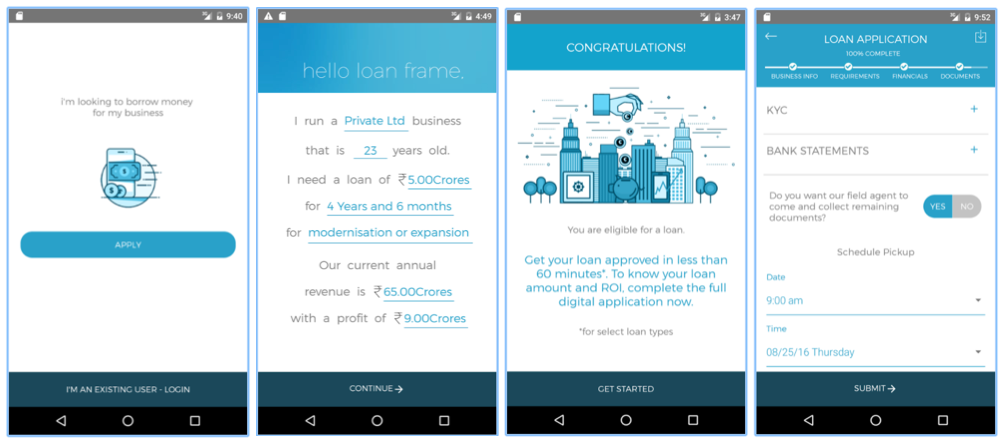 Small and Medium Enterprises (SMEs) are the growth drivers of socio-economic development in the country. There are nearly 51 million small businesses in India that make up for 45% of the country's manufacturing output and roughly 9% to the country's GDP.
However, a major constraint in the growth of SME sector has been lack of easy funding options. Non-availability of quick business loans has indeed hurt the development of SME sector in the country. Not all SMEs find favour with traditional banks when it comes to loan eligibility due to lack of experience, absence of collaterals and infrastructure, non availability of healthy financial record and small ticket size of business loans.
Enter Loan Frame
Small businesses usually have two ways of connecting with the lenders today – walk into one of their branches or connect with a Direct Sales Agent. It happens that both these mechanisms of acquiring customers are very expensive for the banks and that cost is passed back to the borrower.
Unlocking much needed finance in the form of alternate lending will help these SMEs accelerate growth, in turn creating new jobs, products, services and additional wealth. Further, with the advent of fintech companies, online platforms for securing business loans have also proliferated in recent times.
These offer a convenient service for both lenders and small businesses in terms of loan origination costs and other benefits. However, more often than not, such companies do more harm than good. They share the loan enquiry with multiple banks simultaneously in a scattershot strategy and each financial institution begins to process the enquiry to convert you into a borrower.
This indiscriminate spreading of your loan application then leads to multiple pulls of your credit report. Banks are also very wary of lending to someone whose credit report shows multiple enquiries in the recent past which adds to your woes as a small business owner.

To cope up with this scarcity in business funding, Loan Frame has emerged as a leading FINTECH company focused on SME lending and finance in India by building the country's largest technology enabled SME lending marketplace.
Loan Frame seeks to improve availability of business loans, whether secured or unsecured, by providing access to multiple lenders. Loan Frame's approach to SME lending is oriented towards leveraging the growing trend of supply chain consolidation in various industries.
The team believes that the platform provides advantage on both origination and underwriting. Considering the sound business framework, Loan Frame has received funding by leading global venture capitalists.
Loan Frame's process offers a far better experience than conventional methods. This includes minimal submission of documents, easy documentation, ability to submit and extract information electronically, fast turnaround time and a single point of contact even while accessing multiple lenders.
This is achieved through an accurate and quick information collection process during the documentation stage. Loan Frame analyses credit worthiness of the SMEs using analytics and scans other metrics digitally such as sales transactions.
This method of digital evaluation of a SME significantly reduces the disbursement time. The complete process takes a maximum of 7 working days and the borrower can get business loans ranging between Rs. 10 lakh to Rs. 10 Crore with interest rates ranging from 9 – 22%.
Loan Frame offers as many as 50 debt-financing products to SMEs that address their varying needs such as Working Capital, Business Expansion, MSME financing, Purchase of Equipment and Research & Development.
SME sector has been suffering under the burden of inadequate access to credit even while the same is indeed affecting the growth in the economy. Since, banks and other financial institutions cannot meet this requirement on their own, new emerging players in the FinTech industry like Loan Frame are trying to bridge this gap and contribute to the growth and development of the economy.
Related Read: Fintech Forging The Future For Cashless Economy