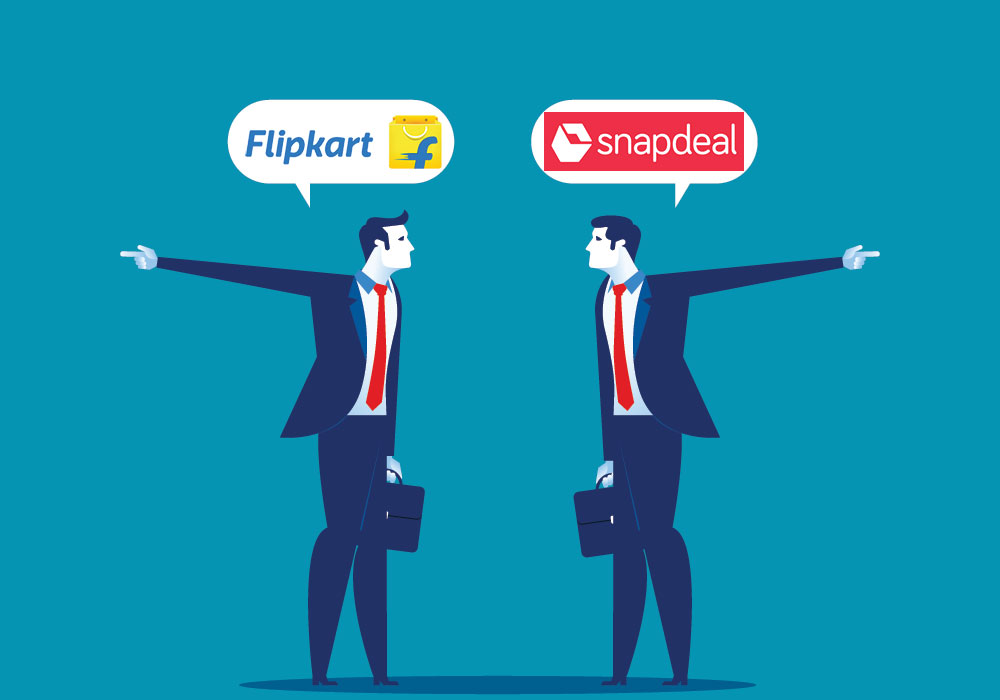 31 July 2017, India:
Two of the biggest names in the Indian e-commerce sector, Flipkart and Snapdeal are having a hard time to match up to each other's terms. As per the latest development, Snapdeal-Flipkart merger has torn apart as the meetings between the representatives scheduled today and tomorrow were canceled.
Law firm J Sagar Associates and banker Credit Suisse, which are representing Snapdeal in the negotiations, were to meet with their counterparts representing Flipkart — Khaitan & Co and Goldman Sachs — in a bid to close the transaction. But the talks have now been canceled, as per the report by ET.
The merger talks are going on since last 6 months and the only hope is Softbank, as it won't let those 6 months go in vain. Founders Kunal Bahl and Rohit Bansal are playing the villains as they are not backing the deal and want Snapdeal to have a separate entity post the merger. "The two co-founders have said they will vote in favor of Snapdeal going forward as a smaller, but independent entity, terming it 'Snapdeal 2.0'," told one of the sources to ET, on the condition of anonymity.
Related read- Axis Bank Acquires Freecharge
Getting a nod to the deal from shareholders is important as it is part of the clauses in the deal agreement. "Flipkart wants all the shareholders to agree to the deal. If that does not happen, then the e-commerce player might decide to not move ahead with the deal," a source close to Snapdeal board. It still awaits the final approval from PremjiInvest and Ontario Pension Fund.
Some of the investors include SoftBank Corp, ru-Net Holdings, Tybourne Capital, PremjiInvest, Alibaba Group, Temasek Holdings, Bessemer Venture Partners, IndoUS Ventures, Kalaari Capital, Saama Capital, Foxconn Technology Group, BlackRock, eBay, Nexus Venture Partners, Intel Capital, Ontario Teachers' Pension Plan, Singapore-based investment entity Brother Fortune Apparel and Ratan Tata.
Meanwhile, TVS Logistics, Gati,  and Peepul Capital are keen to acquire the logistic arm of Snapdeal- Vulcan Express. Also, Private sector lender Axis Bank has sealed the deal and acquired Freecharge for $60 Millon. Freecharge was at its peak in 2015 with a valuation of $400 Million. It hit a roadblock last year when it failed to capitalize demonetization. Rival, Paytm went in all guns blazing and its fortune turned overnight as the company scaled new heights. (Image- Inc42)
Also read- Ratan Tata, Temasek In Favor of Snapdeal-Flipkart Merger, Premji Invest Yet To Agree