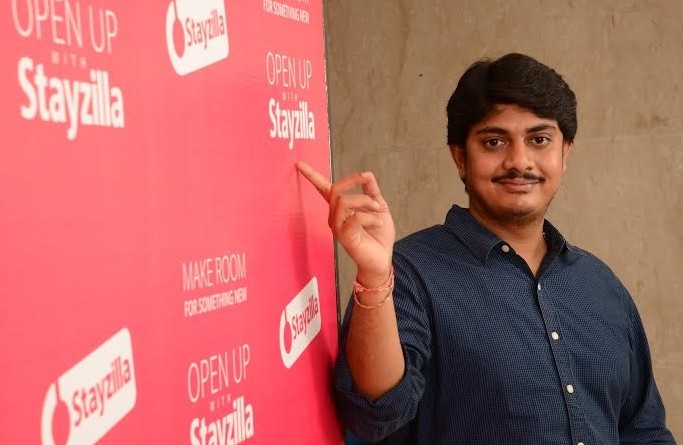 15 March 2017, India:
Stayzilla CEO Yogendra Vasupal was taken to the magistrate at 10pm. An advertising agency, Jigsaw Advertising filed a cheating case against him over unpaid dues of around Rs. 1.72 crore. Jigsaw Advertising filed a complaint under the penal code section on cheating. A bail application would be moved when Vasupal was produced before a magistrate, his advocate, Muzzafar, said.
As per the latest update, Minister IT & BT Priyank Kharge tweeted saying, "Spoke to Tamil Nadu IT Pr Secretary Mr. Ramchandran on Stayzilla issue. Have asked his intervention on the merits of the case & do the needful."
Working to see how we can sort out @stayzilla issue with my counter part in Chennai. Will be reaching out to him soon.

— Priyank Kharge (@PriyankKharge) March 15, 2017
But there's more to the story!
"Help! I need everybody…
If you are seeing this line, it means that the pre-saved draft was published without the time to remove a line. Likely, because I am under duress with no time to edit," These are the words by Yogendra Yasupal. He wrote a blog post on Medium clarifying everything possible.
He further mentioned, "Here are the facts on 2 cases. The first case is against a politician who was our Landlord. We have video and audio proof of an assault and then a verbal threat to kill. The second case is against us from a media agency with whom the company had a dispute over deficiency of services and to whom we had asked to take it up in court. The stark difference in the approach taken by the police in these 2 cases should tell you something important."
Yasupal stated, "Over multiple meetings he (landlord) started getting even more agitated demanding immediate payment (for which he had accepted a post-dated cheque of March 7th) and became violent. He assaulted my admin staff in front of me threatening to kill him with the revolver in his car."
Here's the video-

The next case is about a media agency stats Yogendra, "I was told that there is a case against me by somebody from Chennai for cheating, intimidation and etc. I recognized the name of the complainant and informed them that there was a dispute between 2 companies and we had asked the other company to take it up in the court. I don't personally owe anybody money and I am wondering how can they get confused on such a basic matter as this was a clear civil case. I also pointed out that we have been asking the other company to take it to court if they felt they were wronged as we felt within our right. I also pointed out that my company is also owed close to 7 crores from various debtors but I am not going around filing false criminal cases against them."
Rupal Yogendra, Yogendra's Wife and Co-founder of Stayzilla stated, "He was taken to the magistrate at 10.00 PM though courts do not function after 6 PM. His whereabouts from when the cops took him into custody today from 11.am to 6.00pm where not known and the lawyer and our family had to go from one station to another looking for him. This shows how money and influence can supersede true and thorough investigation in a country which talks so much about start-ups and culture."
Sanchit Singhi received some scary dolls with his son' photo on it. It looks like some sort of black magic doll meant to threaten his son's life.
Call it a coincidence or what, but just a month back this was posted by Aditya who represents Jigsaw Advertising. The screenshot was shared in one the tweets by Ashish Mishra.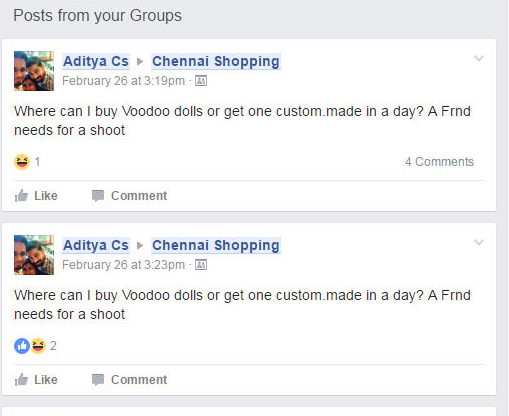 According to an email sent by co-founder Sachit Singhi, Sanghi asked investors of the company to help Vasupal who went 'missing' or out of contact after Vasupal last confirmed his location at the commissioner of police department after which sent a message to Singhi saying 'they have snatched his phone,' the email said. ET has a copy of the email. "We need immediate help. Not sure what's happening with Yogi and we have not known his whereabouts for last 3 hours for now. And, I think even I'll be in custody soon," Singhi wrote.
Good folks on Twitter. Folks in Chennai. Can you help with this please? @YogiVasupal of @stayzilla and his family is under duress. pic.twitter.com/cbYJbi0TJy

— Ashish K. Mishra (@akm1410) March 14, 2017
Family friend Balachandar R said, "Stayzilla dispute with Jigsaw should not be a criminal case. The original issue was for a payment amounting to 8 crores, for which 6.5 crores was already paid and 1.5 crores was still being debated upon between both the parties. TOI's reports on Yogi's confession is false which he has stated in the blog as well. We are trying to get a FIR and apply for bail since morning."
Founded in 2005 by Yogendra Vasupal, Rupal Yogendra and Sachit Singhi, Stayzilla was one of the largest platforms for verified homestays and alternate stays. It had more than 55,000 stay options across 4000 towns in India. Stayzilla recently shut down operations in February to rethink its business strategy.  The company that had raised about $34 million across four rounds of funding, counts Matrix Partners India and Nexus Ventures Partners among investors. (Image-myventure.in)