Twitter CEO, Elon Musk and former president of the United States, Donald Trump's strategist Steve Bannon are mostly alike when it comes to talking about political ideas. However, both men don't seem to like each other. 
Steve Bannon was recently asked by a right-wing podcaster, Tim Pool to comment on Min Liang Tan, CEO of Razer to further encourage the CEO of Twitter Elon musk to purchase the failed Silicon Valley Bank. The bank collapsed on Friday which marks the second-largest bank failure in the history of the United States.
Mr. Musk replied that he was "open to the idea". Bannon scoffed at the idea, to which Mr. Pool called it "a bit silly", and started a conversation about Elon Musk's Tesla allegations of Beijing.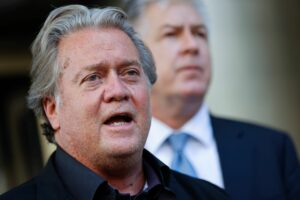 He further claimed that Musk has declined to reinstate the Twitter accounts of "true" anti-Chinese government personalities after he took over the platform and tagged him as being owned by the Chinese Communist Party (CCP) 
"Really?" Congressman Matt Gaetz, who was also on the episode, asked, apparently shocked.
Bannon added that the "only thing of real value" that Musk possesses is Tesla and also that Shanghai's plant is "100% controlled" by the communist party.
Musk is "owned" by the CCP, Bannon said. "He's owned by the Chinese Communist Party. What are you talking about? Tesla, the only thing of real value is Tesla. He uses it for margin loans. He sells the stock," Bannon said.
"The Shanghai joint venture is a hundred percent controlled by the CCP. This is why he never goes after the CCP. This is why he always backs off. This is when they had the protest, they had the protest about the lockdowns of Covid. He will not do it."
"Elon Musk is a total and complete phony," Mr. Bannon said. "He is owned — lock, stock, and barrel — by the Chinese Communist Party, and he acts like it."
Tim claimed that Musk may have been pressured by the government of China to stop promoting the "lab leak" story that led to the origination of coronavirus in 2019.
As noted by Mr. Bannon, Elon musk had not removed his original tweets and also didn't add any new tweets after being pressured by the Chinese govt.
Mr. Gaetz recorded the portion of the interview where Mr. Bannon made fun of Mr Musk and shared it on Twitter, tagging the CEO of the company, and asking him for his thoughts.
Mr. Musk made it obvious he had no warm feelings for Mr. Bannon either. "I used to think Bannon was smart & evil, but now I realise I was wrong about the first part," Mr. Musk wrote in response.
Comments
comments