Limited to two motors and $600, mechanical engineering students from the University of California, Davis designed and built this shoe-tying machine.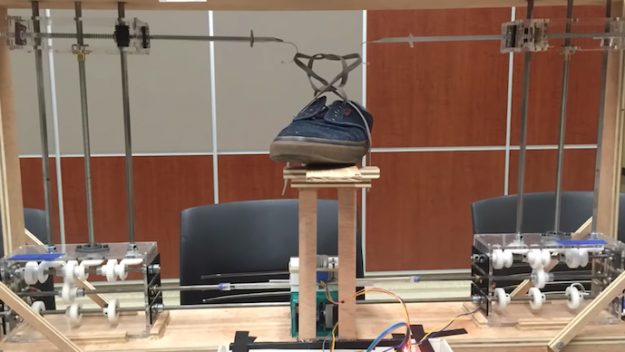 14 August, 2018
Over, under, around, and through: Students at the University of California, Davis, engineered a robot capable of tying a shoe.
And it cost far less than any state-of-the-art android.
"This machine," according to a video published by team member Andrew Choi, "was designed and manufactured with the limitations of only being able to use two motors and a $600 budget."
Neither compact nor speedy, the device, which uses the Ian Knot ("world's fastest," according to its creator), is certainly not going to be part of IKEA's winter catalogue.
And while DARPA could probably build something faster and sleeker—that also climbs stairs and pulls people from burning wreckage—this contraption is clever, innovative, and, perhaps most importantly: cheap.
Initially reported on Reddit—posted by UC Davis lecturer Jason Moore (moorepants)—the shoe-tying robot has received a lot of attention since its construction for an annual design competition with Meijo University in Japan.
"We, the professors, come up with machine design challenges," Moore explained in a statement to Geek. "Student groups in Meijo and UCD work on the machines for about five months independently, and then they come together in Davis to compete.
"The challenges are designed to test the students' ingenuity, let them make use of their new engineering skills, and to help them learn some about how culture affects machine design," he continued. "This group did excellent work. It is the only fully functioning shoe typing machine we've been able to find on the Internet."
If this is what a group of five novice engineers can do with $600 and two motors, imagine the possibilities given more money and equipment.
The team includes Choi, Gabriela Gomes, Jacklyn Tran, Stephanie Thai, and Joel Humes.
UC Davis has a history of interesting robots: Biologist Gail Patricelli, of the Department of Evolution and Ecology, recently developed robotic fowl, capable of flirting its way into the hearts of male sage-grouses. The study aimed to learn courtship tactics and analyze coupling decisions.
(Image:- geek.com)