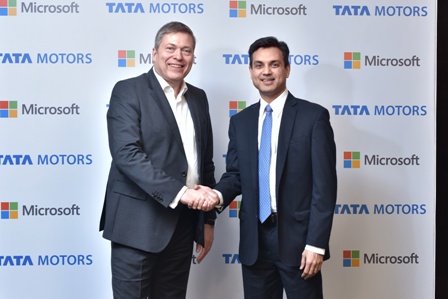 16 February 2017, India:
Tata Motors and Microsoft India today announced a strategic agreement to redefine connected and personalized driving experiences for Indian customers.
Tata Motors will leverage Microsoft's connected vehicle technologies that bring together artificial intelligence (AI), advanced machine learning, and the Internet of Things (IoT) capabilities on the global hyper-scale Azure cloud, to traverse the digital and physical worlds and create a highly personalized, smart and safer driving experience across the digital life of a vehicle owner.
Guenter Butschek, CEO & MD, Tata Motors, said, "With the aim to develop innovative and technologically leading products that excite customers, we at Tata Motors, understand the need for a connected ecosystem that can integrate into the digital lives of customers. We are using Microsoft's connected vehicle technologies on Azure intelligent cloud to bring the digital lives of our customers into the cars they drive. Making the most the fast-paced innovation cycle that Microsoft has to offer, we will create a fully connected and seamless driving experience for our customers."
Commenting on the association, Anant Maheshwari, President, Microsoft India said, "We are excited to partner with Tata Motors as they embark on a new journey of innovation with Microsoft Azure cloud. Using IoT, AI and machine learning technologies, we will provide vehicle owners in India and across the world with a safe, productive and fun driving experience."
In addition, Tata Motors' recently launched ring-fenced vertical, TAMO, will act as an open platform to foster innovation through a startup ecosystem and develop vehicles with on-the-go connectivity. In its first phase, the advanced offerings will incorporate technologies such as cloud computing, analytics, geo-spatial & mapping and increased human-machine interface, creating a new benchmark in the industry for connected vehicles. TAMO will provide a digital eco-system, which will be leveraged by Tata Motors to support the mainstream business in the future.
In the future, Tata Motors vehicles will offer drivers and passengers a highly digital driving experience. Microsoft Azure cloud computing technologies will allow advanced navigation, predictive maintenance and vehicle-centric services, remote monitoring of car features, external mobile experiences and over-the-air updates.
Comments
comments