Renting in the Bay Area often entails making compromises; many individuals opt to share apartments and forgo desired amenities in order to manage costs. However, tech professionals in downtown San Francisco have taken this compromise to an extreme.
Reports indicate that startup founders are paying $700 monthly to reside in bed "pods" — compact, semi-open structures designed to accommodate a single twin mattress, standing at just 4 feet tall. These pods, constructed from steel and wood and equipped with a blackout curtain at one end, are arranged in a two-high, 14-long configuration. Residents in this setup share access to five bathrooms and a few communal areas, but they don't have a complete kitchen or laundry facilities.
The company behind this innovative housing solution is Brownstone, which not only designed these pods but also manages their rentals. CEO James Stallworth stated that the company is in the process of setting up the space in San Francisco's SoMa neighborhood. The first customers moved in during June, expanding Brownstone's presence across the Bay Area; they offer pod rentals in Palo Alto ($800 a month), San Jose ($650), and Bakersfield ($500).
Pod Living: An Affordable Housing Alternative in San Francisco
Living in a 4-foot-tall rectangular prism comes at a steep cost, but Stallworth mentioned that all 28 beds at the SoMa location will be occupied in October. These pods provide utilities and flexible month-to-month contracts and don't require a security deposit. The high housing prices in the Bay Area are a significant factor driving this demand. According to Zillow, the median rent for studios in San Francisco is $2,205, which is $655 more than the national median. Given this expensive housing market, many budget-conscious renters in the city choose to live with roommates, share rent with a partner, or search for more affordable options on platforms like Craigslist or Facebook Marketplace.
Interestingly, the rise of artificial intelligence (AI) also seems to be attracting individuals to opt for pod living. Stallworth mentioned that while they don't categorize potential residents based on their professions, there's a notable presence of renters interested in AI. Stallworth noted, "Going into the house, we just knew there were a lot of reasons to be in San Francisco. It turns out AI is currently what a lot of people are doing."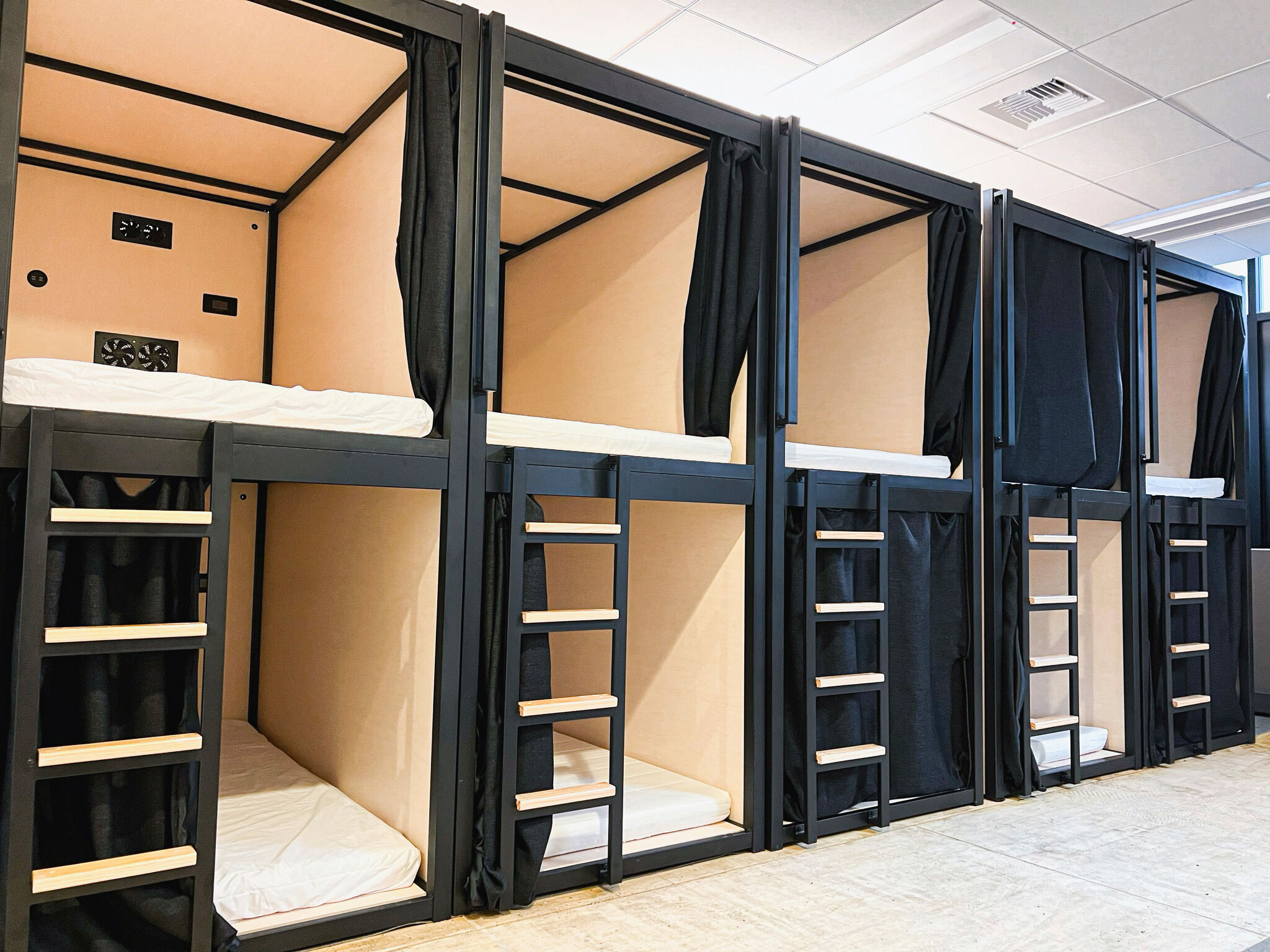 Christian Lewis, the founder of the emerging AI company Spellcraft, shared his experience of living in one of these pods on a social platform. He expressed his desire to reside in the city without the burden of paying exorbitant rents or compromising on safety, referring to the pod as an innovative and cost-effective solution.
Lewis informed ABC7 that he had recently relocated from Illinois. Within a few days of being in the shared living space, he had the opportunity to meet individuals he considered to be exceptionally intelligent. This was the primary motivation for his move and his decision to continue residing in a pod.
Optimism for the Future of Office Spaces
When ABC7 presented a photo of the living space to Mayor London Breed, she seemed to appreciate the minimalist approach.
Breed stated, "You make the best of the situation when you know you have a product that can help you avoid permanent residence in such conditions."
Breed, along with prominent business leaders in San Francisco like Salesforce CEO Marc Benioff, remains optimistic that AI startups will encourage a return to office spaces in the city. Recently, Anthropic secured a substantial $4 billion investment from Amazon. The AI firm has plans to sublease a 230,000-square-foot office from Salesforce, as reported by the San Francisco Chronicle.
Regarding the future of Brownstone, Stallworth expressed hope that other housing providers would adopt the company's design and model to address homelessness. They are actively improving the SoMa location and considering a slight rebranding due to concerns about the negative associations with 'pods' from science fiction.
"I think 'private beds' is a better descriptive term," he added.