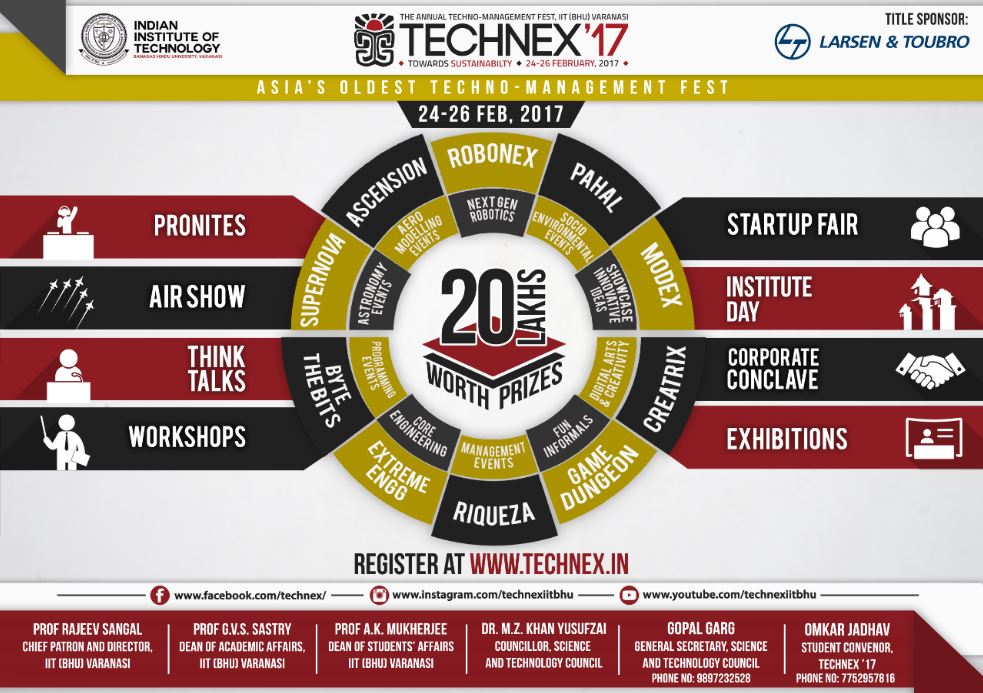 Technex, the wagon of one of the most promising technical event of the nation is back! Get ready to witness one of the best gatherings of renowned technologists. It has emerged as the oldest technical cum management fest which holds a plethora of events hailing from different areas of technology and management.It has been organised in last February or early March of every year.
It provides a huge platform to all participants from all over the nation, nurturing their brain's core with an enhanced knowledge. This three day annual extravaganza brings the most creative ideas and encourages to compete in various avenues of technology. The events that make up Technex are:
Ascension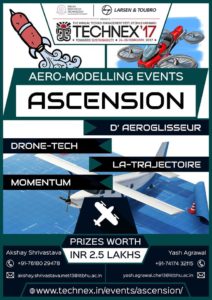 From the earliest times on Earth, mankind has gazed upon the sky with wonder and awe. Ascension has always been a symbol of freedom. This year rise to the skies with your own project at Ascension. Ascension aims to provide a platform for you to innovate, compete and learn by designing and fabricating different models to flaunt your work and exhibit their capabilities.
Stay Sky High with Ascension, the Aero-modelling extravaganza at Technex'17!
This category includes events like :
DRONE-TECH – Radio controlled multi rotor event.
D'AERO-GLISSEUR – A remote controlled wireless hovercraft event.
LA-TRAJECTOIRE – A wireless electric IC/RC airplane event.
MOMENTUM – A water rocket event.
Robonex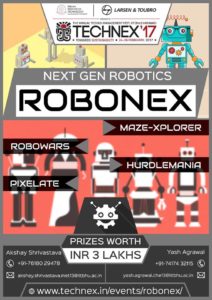 Robotics is a concrete and tangible way to build and strengthen cognitive development. Brought to you by the Robotics Club at IIT BHU, Robonex gives you a platform to delve deeper into robotics and learn programming, creating and controlling your own bot.
Experience the next level of robotics with Robonex, the robotics mega event at Technex '17.
This category includes events like :
ROBOWARS – Combat robotics.
MAZE-EXPLORER – Autonomous grid solving robotics.
HURDLEMANIA – An endurance robotics race event.
PIXELATE – Image processing autonomous robotics.
Extreme Engineering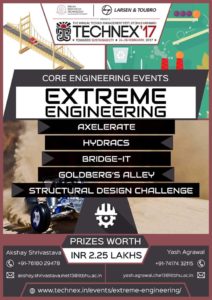 Let loose the creative bug within you and dive into the engineering world in an outré fashion with Extreme Engineering. Events herein present you with challenges that force you to look at basic engineering in an eccentric way!
This category includes events like :
AXELARATE – A wireless IC engine race-car event.
GOLDBERG'S ALLEY – Designing a goldberg's machine event.
BRIDGE-IT – Construct a bridge using popsicles.
HYDRACS – Hydraulic robotics.
Riqueza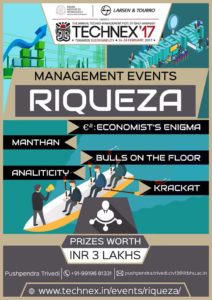 With an eye on the cut-throat competitions in the corporate world, this Technex we give you a chance to polish and shine your managerial skills in this one of a kind amalgamation of numerous business application focussed events. From the stock market to that crazy big idea, we have an event for everything in Riqueza that your inner businessman wants.
This category includes events like :
ECONOMIST'S ENIGMA – Economic awareness and anylitical skill test.
MANTHAN – A business study competition.
KRACKAT – Mock CAT examination.
BULLS ON THE FLOOR – Virtual trading event.
ANALYTICITY – A data analytics war.
Modex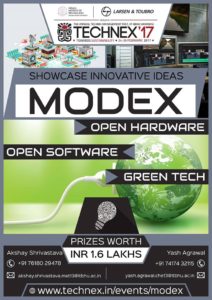 Innovation is the backbone of technology and the key to change. Modex is for those who have an itch for innovation. This event exhibits innovative solutions to intricate social or industrial problems. Modex is the event for the next big thing! Modex is a distinctive exhibitions event with innovative genres. Modex is home to many groundbreaking ideas and designs as participants come up with unique ways to provide intricate solutions to highly complex problems.
This category includes events like :
OPEN SOFTWARE – Revolutionary software solutions.
OPEN HARDWARE – Creative hardware models.
GREENTECH – Application of green technology.
Creatrix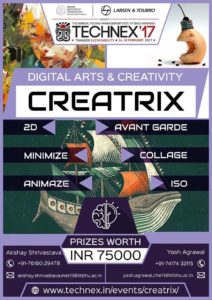 There is an artist inside all of us which we let die as we grow up, so stop subduing your passion, set free your inner voices and re-discover the artist within you this Technex at Creatrix. Creatrix demonstrates ingenuity at its best. It's time to turn your imaginations into reality with competitions involving animation, design, documentary and photography. So let your mind flow free and come up with a masterpiece.
This category includes events like :
2D – Anmation event.
ANIMAZE – 3D modeling and rendering event.
AVANT GARDE – A digital visual arts competition.
ISO – Online photography competition.
COLLAGE – Short film – making event.
MINIMIZE – Minimalist poster design contest.
Pahal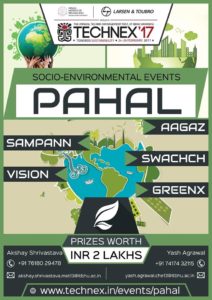 The world is realizing and accepting the need for environmental reforms and this is one of the fields that's posing new challenges everyday. One of the signature events of Technex, Pahal intends to nurture a new breed of socially conscious technocrats with the skills and temperament to face off against these challenges to make our society and this world a better place to live in by providing innovative engineering solutions to its problems and dilemmas.
Join us as we launch a Pahal against environmental problems.
This category includes events like :
AAGAZ – Waste management innovations.
SAMPANN – Energy and water conservation.
GREENX – Campus development.
VISION – Social entrepreneurship for society upliftment.
SWACHCH – Cleanliness and green economy.
Supernova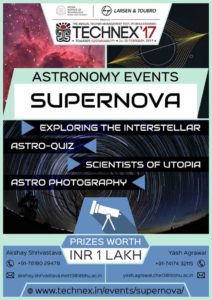 The endless space poses endless questions to the human mind. With Supernova, it's time to go beyond the horizons and explore the interstellar in a quest to unveil the universe's mysterious truths.
Technex, IIT BHU Varanasi brings to you exotic quizzes and sky gazing events that judge your knowledge about the star-studded canvas above us all.
This category includes events like :
EXPLORING THE INTERSTELLAR – Constellation mapping and Telescopy event.
ASTROQUIZ – Astronomy quiz competition.
ASTROPHOTOGRAPHY – Astronomy photography competition.
SCIENTISTS OF UTOPIA – Case study event.
Byte The Bits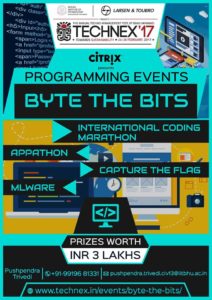 Today the essence of every technology lies in the program put into it. Code is what makes it possible for us to create computer software, apps and websites. Citrix presents Byte the Bits, the programming fiesta. Set free the coder in you and find out your true potential as you face the toughest challenges alongside the toughest opponents.
This category includes events like :
CAPTURE THE FLAG – Hacking event.
APPATHON – Developing android applications.
INTERNATIONAL CODING MARATHON – Solve algorithmic challenges.
MLWARE – Machine learning event.
Game Dungeon
Reload your guns and get ready to K.O . because we're back with the BIGGEST LAN GAMING event of INDIA! The stakes get higher and higher as each year the participation increases, so grab your gear and let's GO !!
In this year's edition of CLUTCH ( gaming event ), be ready for the thrill, fun and action.