The world is awash in fitness apps and trackers. Nike Plus, Fitbit, Under Armour's Healthbox, and more—they're all based on the idea that tracking and monitoring your health and athletic performance will help you understand your routine, inspire you to carry on, and ultimately improve your performance. But there are some technologies that are being developed to make athletes better some of them are discussed here.
Puma Beatbot
Now Puma has taken this idea to a new level by going beyond wearable to raceable tech. Meet the Beatbot.
The BeatBot is a programmable, self-driving, line-following robot made to push runners by giving them a real visual target to beat. If you tend to run faster when competing against someone rather than just the stopwatch, this one's for you. Runners can enter the time and distance of the race they want, put the robot on the starting line next to them and go. The BeatBot paces out the programmed race, allowing runners to race against their own best time, their rival's best time, or even Usain Bolt's best time, because the robot can match the world-record holder's a top speed of 44-km/hour.
JWT New York executive creative director Florent Imbert says there wasn't a specific academic insight that led to Beatbot. "We found a lot of anecdotal evidence that head to head competition raised performance levels, even a few studies that showed an uptick performance," says Imbert. "But, to us, it felt like a human truth. Running against an invisible clock will never be as motivating as running against someone—or something."
The BeatBot scans and follows the line on a track using nine infrared sensors, while wheel revolutions measure both speed and distance. That data is processed in real-time, to make more than 100 maneuvers per second to stay on the line, navigate bends, and cross the finish line at the pace you've programmed. It's outfitted with rear LED lights so you can see the BeatBot in your peripheral vision, and GoPro cameras on the front and back allow you to review your run after the race.
Check it out in action
Imbert says that while line following robots are commonplace, building one that could reliably stay on a line and around corners at 44km/h was a few orders of magnitude more complicated than they initially expected. "We went through over eight prototypes, and interrogated every aspect of the robot, from the weight of the car, to the lag between the Arduino and servo. We even enlisted the expertise of a NASA robotics engineer and three MIT grads."
Usain Bolt may like it, but chances are you won't be racing BeatBot anytime soon. Imbert says right now it's only available to Puma-sponsored athletes and teams. "While the cost of the current model makes it prohibitive for the average consumers to train with," he says. "The plan is always to develop new models, products and ideas to inspire every athlete."
Adidas Laceless shoes
Certainly not shy about experimentation, Adidas has taken another big step forward in footwear design, this time coming up with its first-ever laceless soccer shoe – the ACE 16+ Purecontrol.
While obviously a boon for those who haven't yet mastered the art of tying shoe laces, Adidas actually designed them with top soccer players in mind. Forwards, midfielders, and defenders alike all know how knots and flapping laces create uneven shoe surfaces that can sometimes lead to botched plays (that's their excuse, anyway), so these laceless alternatives allow players a much more controlled, and hopefully more accurate, kick of the ball.
In its own words, Adidas says the new design offers "a glove-like fit and the cleanest possible strike using a larger surface area to generate more power and accuracy."
That glove-like fit comes courtesy of a thermoplastic polyurethane cage that secures the upper part of the foot, important if you don't want the shoe flying off after a shot on goal. Further security comes by way of its knitted upper and an "internal knitted techfit locking system."
While these aren't the first laceless soccer shoes to hit the market, they're certainly the snazziest we've seen yet. Fancy your own pair of ACE 16+ Purecontrol shoes? It'll be easier if you're in Europe, as a limited number of pairs will soon be available in flagship Adidas stores in London, Manchester, Barcelona, Paris, and Marseille, price currently unknown.
Nike Mag
If laceless design is a concept of its own the self lacing is pure technology marvel. Self lacing is not new as an idea, it started out early when people witnessed some really cool adaptive technologies in "Back to the future".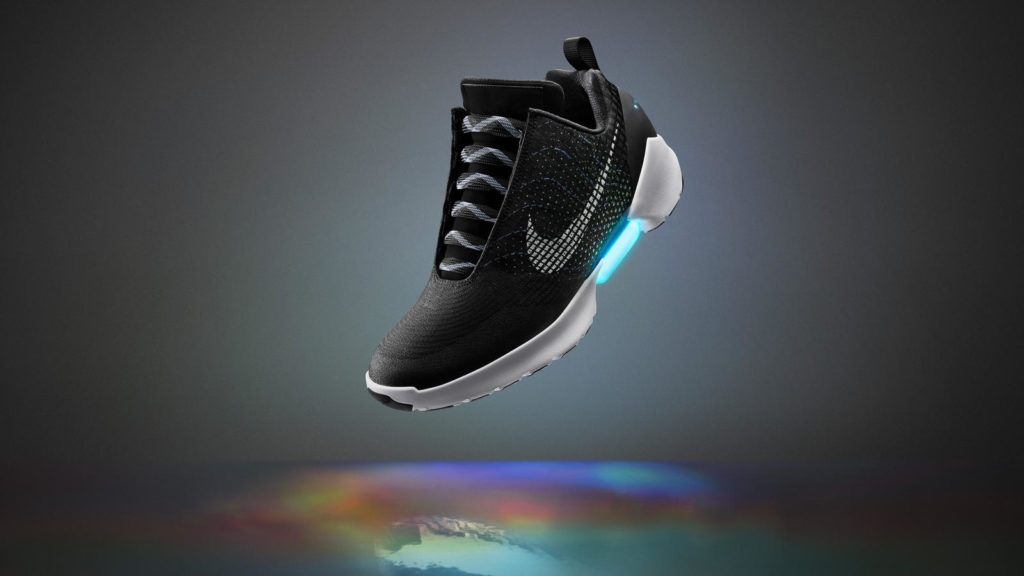 According to the company, the shoe translates deep research in digital, electrical and mechanical engineering into a product designed for movement. It challenges traditional understanding of fit, proposing an ultimate solution to individual idiosyncrasies in lacing and tension preference.
Also Read: 
Indian Company Creates High End Wearable Device For Football Players In India !
Rio Olympics 2016: Big Data Helps In Preventing Sports Injuries To Athletes !