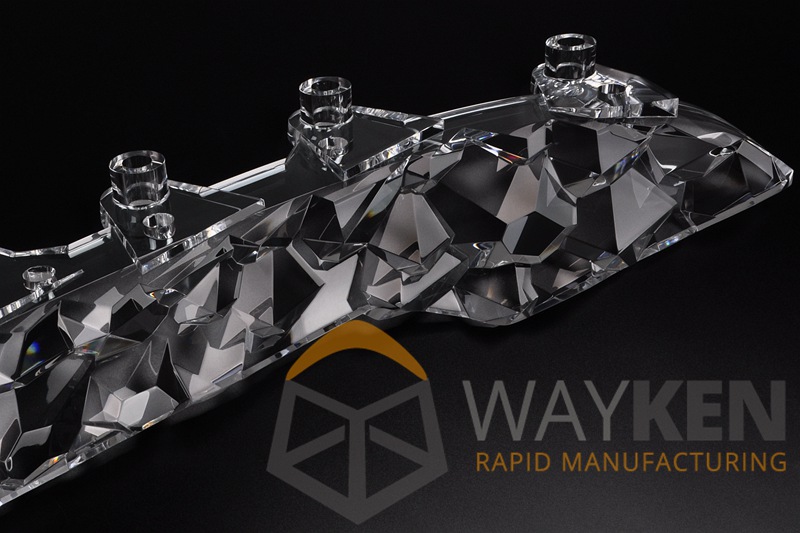 When developing a product, you will inevitably encounter the task of manufacturing clear transparent parts as they are often met in a wide range of different products. This task may pose some difficulties if you don't have enough experience or specialized equipment for the job.
Clear transparent parts are mainly made of PMMA ( or acrylic glass or plexiglass) and polycarbonate (PC). To get the initial form of the part, vacuum casting or rapid injection molding processes are used for maximum efficiency, however, CNC Machining the part from a solid piece is frequent as well. After getting the form right, an even more important job is to process the part in a way that ensures no blemishes are left.
This can only be achieved by a correct high-quality polishing process that is often manual and performed by a highly skilled professional.
CLEAR ACRYLIC (PMMA) PROTOTYPE MACHINING, CNC MILLING & HIGH POLISHING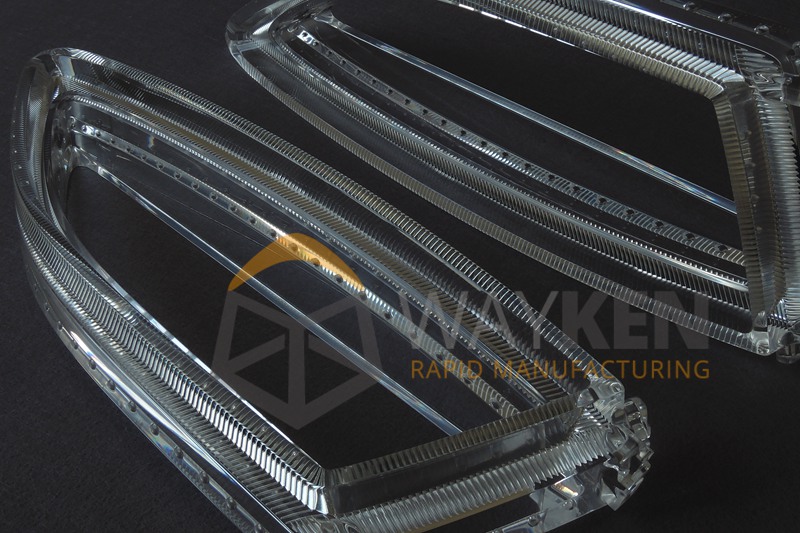 In order to achieve the surface finish necessary for a mirror-like surface finish, a specialized manufacturing technology is required. The average tolerance for a PMMA prototype optics part is +/-0.001″ (+/-0.025mm). That requires a machining radius under R0.005″ (R0.125mm). Such a delicate touch needs special equipment and skills.
Modern 3-axis, 4-axis, and 5-axis CNC PMMA machining centers with the highest degree of precision allow us to employ single Point Diamond Machining (SPDM or SPDT). It is a technique that uses a microscopic single point diamond cutting tool instead of a simple mill with a 5-axis machining center. The result is a clear acrylic prototype with completely clear freeform surfaces.
Another technique apart from CNC milling PMMA that can yield PMMA clear parts is acrylic polishing. This process does not change the dimension tolerance much but it can improve surface finish to a high degree. Polishing PMMA requires great skill and care since acrylic glass is quite brittle. Manual polishing takes more time because the master begins at the sanding paper with 400 grit, processes the whole surface, then moves to 600, 800, 1000 and finally to 2000 grit. Lastly, a polishing paste is applied to make the surface smooth and clear. 
Generally, acrylic milling with a combination of polishing will yield the perfect CNC manufactured PMMA parts.
PMMA acrylic parts also can be used for injection molding,  please check 
https://qmolding.com
 for more information"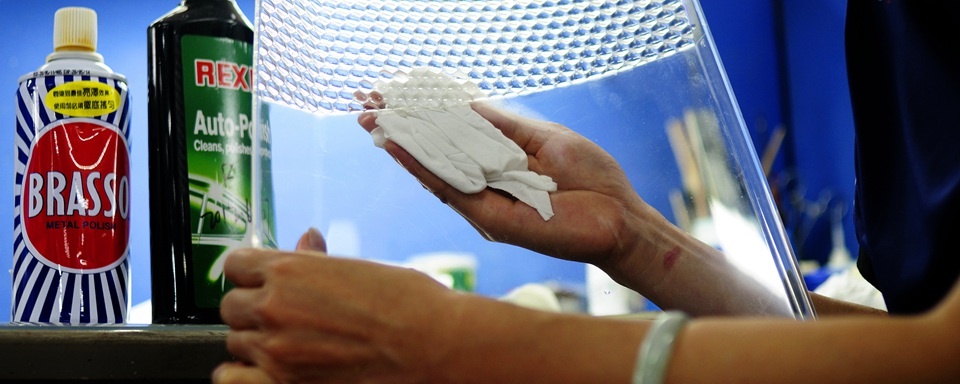 POLYCARBONATE (PC) CNC MACHINING & VAPOR POLISHING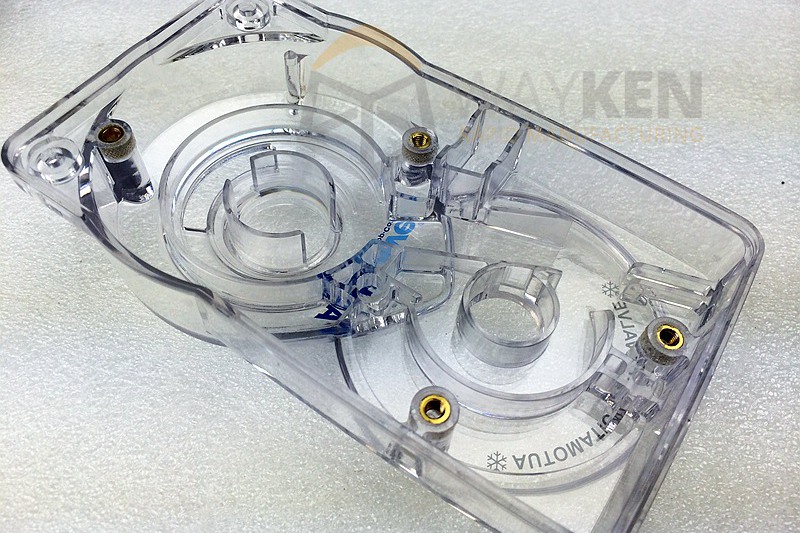 PC is the second popular material for prototyping optical components. It is almost as clear as the acrylic glass. Polycarbonate requires different treatment from PMMA. It is much stronger, harder and this harder to process.
In order to achieve the necessary precision and surface finish, a correct combination of machining, SPDM, and polishing with heat treatment is required. That is why developing the manufacturing technology for each PC clear part is a vital and complex job.  That is even more true for the polishing stage.
The process of polishing PC with simultaneous heat treatment is called vapor polishing.  The heat treatment enhances PC optical properties. It becomes as transparent as PMMA. The reason for that is the methylene chloride vapor that is poured over the part surface. It melts a thin surface layer of the PC, thus evening out its microscopic cavities and bumps. Applying additional polishing with the heat treatment enhances the surface finish improvement.
The polishing process itself is quite similar to the PMMA treatment. Sanding paper from 400 grit to 2000. It should be noted that methylene chloride is quite toxic. That is why the room should be well ventilated and the worker must wear protective equipment. Once the process is done, the part must be cleared and dried so that the vapor is gone.
CLEAR URETHANE CASTING FOR MAKING SMALL NUMBER PROTOTYPES
When we talk about clear plastic part prototyping or low volume manufacturing, Urethane vacuum casting comes into play. It is a rapid manufacturing process that allows you to create a number of identical clear optical prototypes if you have the master model. Vacuum urethane casting offers great surface finish and ensures there are no oxygen bubbles. However, in order to vacuum cast clear rapid prototypes, additional nuances must be referred to.
Before the liquid resin is poured into the silicone cavity, the form is sprayed with a special release agent so that the part can be removed easier. However, this agent leaves some marks on the part. They are unimportant for simple parts but those marks can make a difference when it comes to clear prototype parts. This can be countered to some degree by applying specialized silicones for the mold combined with special release agents.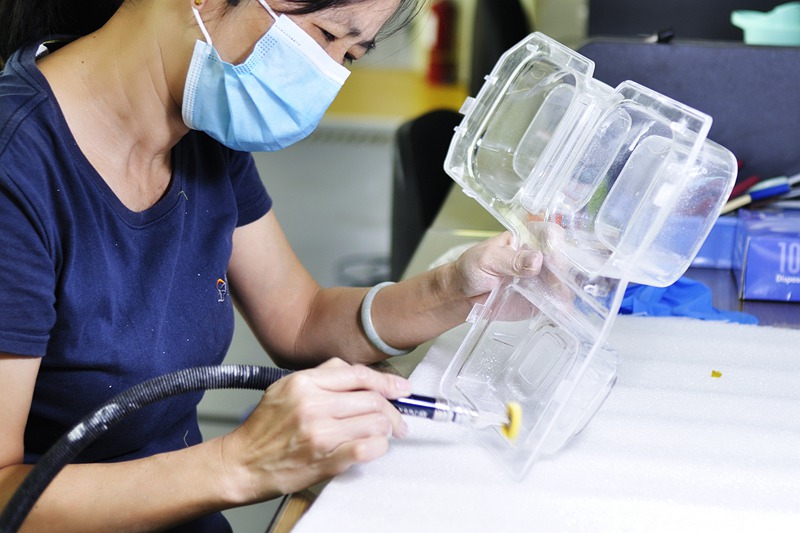 PROTOTYPE OPTICAL COMPONENTS OF AUTOMOTIVE LIGHTING LAMPS
Lighting clear prototypes are an important part of automobile development. They are vital in the car design and outlook. That is why manufacturing high-quality lighting prototypes that are as close to the final product as possible proves to be a valuable investment.
Lighting design can affect the way the car looks and what the driver sees during dark times of the day. In order to check whether the design works properly, physical tests need to be carried out, such as photometric tests. And for that, a prototype must be manufactured.
There are different types of lighting prototypes such as the outer lens prototypes, inner lens prototypes, reflector prototypes, light pipes and guides prototypes, flat guides prototypes, and massive guides prototypes in any complicated shapes. All of them require different 3, 4 or 5-axis machining strategies and the finishing operations with SPDM.PMMA machining results in a part that has the quality and transparency of real glass.
CASE STUDY 1: QUALITY LAMP LENS PROTOTYPES FROM CLEAR PMMA MACHINING AND POLISHING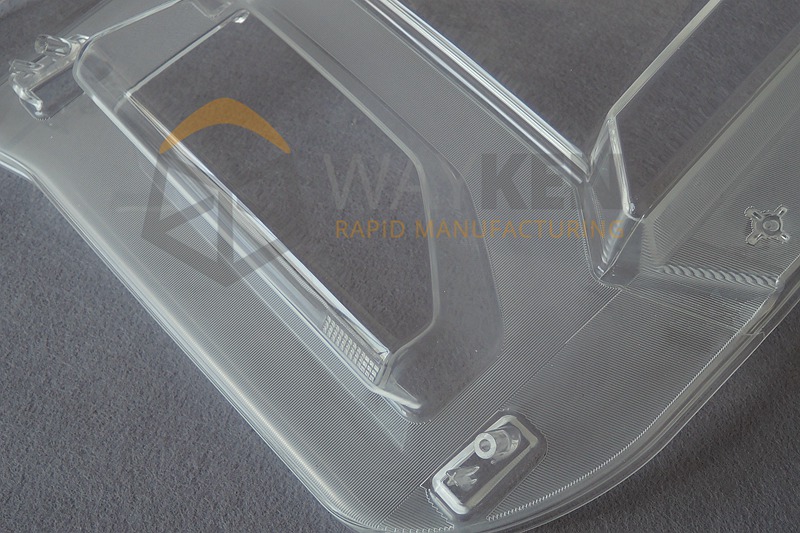 Lamp lens prototypes are usually large, so you can't make it from a single piece of glass, however, assembling them will result in a line where the two segments are joined. That will change the optic properties of the lens. This is why it is important to manufacture the part with as best joint as possible where the assembly line is covered.
We achieve that by moving the split line to the side of the lens as far as possible. Then, the joint is made once the machining is done with and the whole part is polished as one piece. That way, the line is not visible and the part retains its optical properties.
CASE STUDY 2: PRECISION MACHINED LIGHT GUIDES FOR PHOTOMETRIC DEVELOPMENT ENGINEERING TEST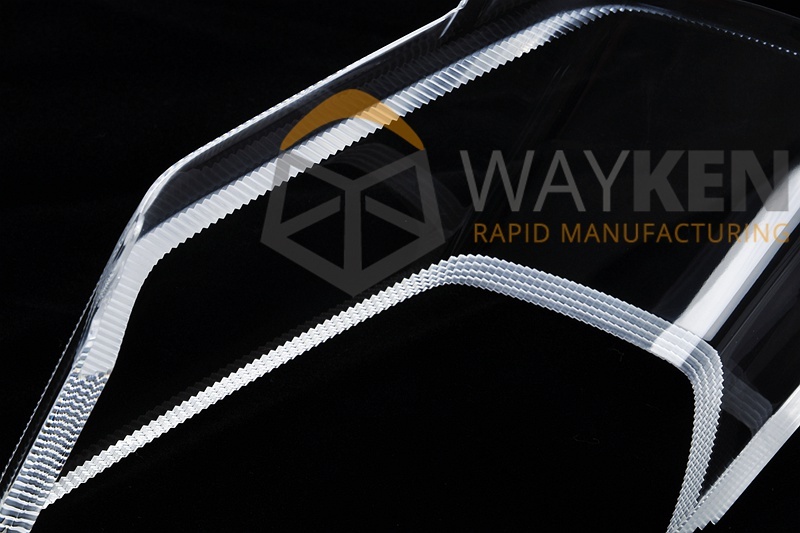 Light guides and pipes are specialized automotive lighting devices that largely determine what the final car will look like. Every notable car developer manufactures the prototypes of those devices to make photometric tests, which will show any design mistakes. So, it is better if the guides and pipes look as close to the final product as possible.
Usually, the guides are machined on a 5-axis CNC center until a high precision and surface finish is reached. The final runs are made with an R0.1 mm diamond cutter for the best mirror-like quality and the highest precision.
CASE STUDY 3: AUTOMOTIVE FUEL TANK PROTOTYPING IN HIGHLY POLISHED CLEAR PMMA FOR TRADE SHOWS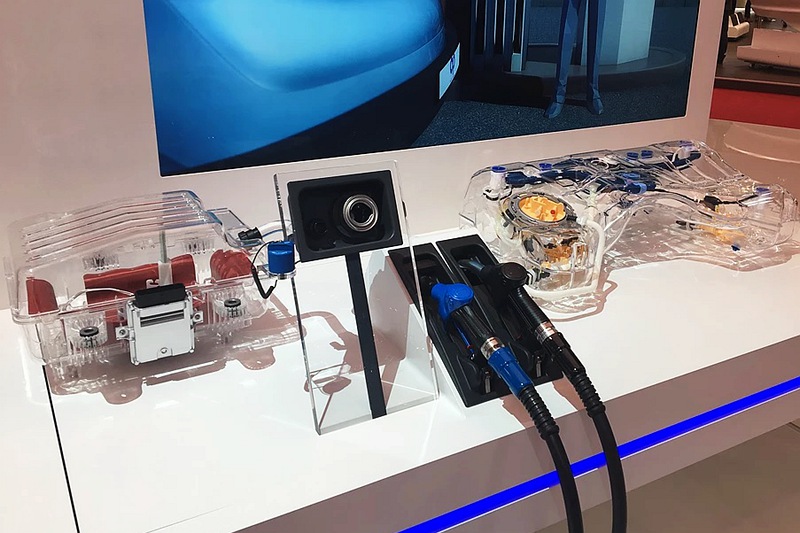 Design exhibitions offer great opportunities to show off your developments, attract investors and potential clients. Impressing them can prove a hard task with the modern rapidly developing technology. That is why showing impressive models is important.
One good way to create mockups is to make a segment of the product you develop made of the usual materials and another half made transparent with PMMA. After polishing the parts, you will get a great demonstration model that can show the viewers how the mechanism you've designed is supposed to work.
(Disclaimer: This is a guest post submitted on Techstory by WAYKEN RAPID MANUFACTURING. All the contents and images in the article have been provided by the author of the article. Techstory is not responsible or liable for any content in this article.)
Comments
comments