The popular video-sharing platform TikTok is China's "Trojan horse," according to Rob Joyce, chief of the US National Security Agency's cybersecurity division, and it presents a long-term, tactical cybersecurity threat.
Shou Chew, the chief executive of TikTok, was questioned by a United States House committee this past week as he attempted to defend his firm from a potential ban or forced sale because of concerns that the application would be a potential threat. (REUTERS)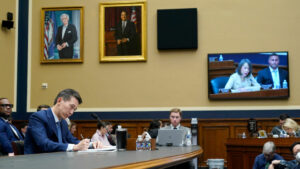 In order to prevent a security issue that would occur "five, 10 or 20" years from now as compared to an immediate, "tactical" danger, Joyce stated that it was crucial for the United States government to continue to keep an eye on TikTok's Chinese holding company ByteDance Ltd.
"Why would you bring the Trojan horse inside the fortress?" Joyce said Monday at the Silverado Accelerator Conference in Napa, California. "Why would you bring that capability into the US when the Chinese could manipulate the data we see to either include the things they want to present to our population — divisive material — or remove the things that paint them in a bad light, which they would not like to be exposed to the American people?"
Politicians and cybersecurity specialists have again and again voiced fears that TikTok's holding company is gaining too much access to the 150 million United states users that it interacts with on a monthly basis, and they claim that the moves the app has taken to different data are not sufficient for safeguarding the information from the prying eyes of the Beijing government.
Chew said during the trial this past week that TikTok did not pose a higher risk than media platforms powerhouses like Google's YouTube and Meta Platform Inc.'s Instagram, arguing that his firm has much more safety precautions in place than any of its Western rivals due to long-standing concerns.
Previously, On Sunday, U.S. House of Representatives Speaker, Kevin McCarthy said that legislators would move ahead with a bill that would tackle issues about TikTok's impact on the national defense, including accusations that the Chinese government has access to user data.
Congress is under growing pressure to pass legislation on both parties to give President Joe Biden's management the power to seek a limitation on TikTok, which is owned by the Chinese company ByteDance. The application was recently blocked from being installed on any hardware owned by the US government.
"The House will be moving forward with legislation to protect Americans from the technological tentacles of the Chinese Communist Party," McCarthy said on Twitter.
Comments
comments