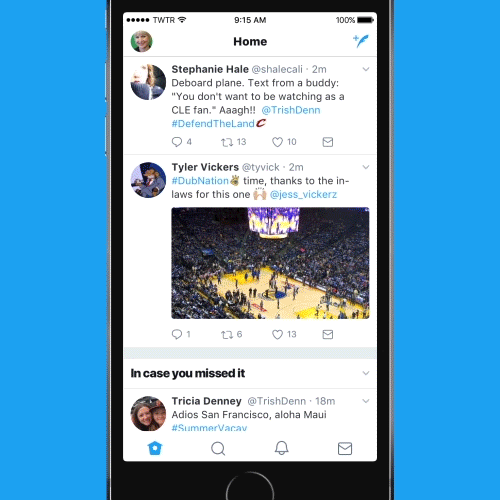 16 June 2017, India:
Twitter has made some changes in its design and interface but no there's no 'edit'button yet.
So now, Instead of tapping over to your profile, then to the gear icon, everything Settings-related has been moved over to a new left-side navigation menu. That means there's also no longer a "profile" button at the bottom of the app, which Twitter says reduces clutter. You'll now swipe right on the homescreen to reveal the new menu, where you'll find your profile, additional accounts, and other privacy options.
So fresh. So clean. So live.

Check out our new look. ??https://t.co/ClWbwi8CEH pic.twitter.com/nR27POQkEi

— Twitter (@Twitter) June 15, 2017
Grace Kim, VP of User Research & Design, Twitter stated the changes in a blog post,
Profile, additional accounts, settings, and privacy – all in one place! A new side navigation menu and fewer tabs at the bottom of our app = less clutter and easier browsing. You told us you loved this change on Android last year and we're excited to now bring it to iOS.
Links to articles and websites now open in Safari's viewer in the Twitter app so you can easily access accounts on websites you're already signed into.*
We've refined our typography to make it more consistent, and added bolder headlines to make it easier to focus on what's happening. Also, rounded profile photos make it clearer to see what's being said and who's saying it.
More intuitive icons make it easier to engage with Tweets – especially if you're coming to Twitter for the first time. For example, people thought the reply icon, an arrow, meant delete or go back to a previous page. We switched to a speech bubble, a symbol most know and love. We also made the icons lighter for more seamless interaction.
Tweets now update instantly with reply, Retweet, and like counts so you can see conversations as they're happening – live.
New Twitter Design Day is always a good time to look at the original Twitter design https://t.co/nHLvsU1vdm pic.twitter.com/WD1ziCOQFu

— Jason Kottke (@jkottke) June 15, 2017
everyone: an edit tweet button would be so nice!
twitter: right. so anyways, https://t.co/IqFG3kjzAI

— larry (nsfr) (@inkedhome) June 15, 2017
I have a feeling that any company that has a squarish logo will be having their social media people update their twitter profile photos pic.twitter.com/TmW8NiY4Di

— Greg Whitworth (@gregwhitworth) June 15, 2017
The new layout isn't out on Android yet, though beta users have already had some time with it. There's no mention of an update in the Google Play Store either, but Twitter has noted that it's in the process of rolling out. (Image- TechCrunch)
Comments
comments