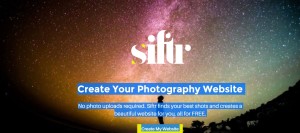 25 January, 2016, Mumbai: SIFTR Labs, a photography curation platform has managed to raise funding of US $150k from Venture Catalysts in its recent round of funding. The funding round was headed by angel investors Vishal Maheshwari, Vikas Kapoor, Daud Ali and Nitin Agarwal.
Founded in 2015 by Romil Mittal who was later joined by Mayank Bhagya, SIFTR helps the young dynamic photographers to curate their individual digital photography platform. The company claims that it has created the world's first self-updating photo website.
Commenting on the development, Romil Mittal saind, "The mobile revolution has led to more than a billion photos being uploaded everyday, making it difficult to find a 'great' photo when one's searching for it. We are an image analysis company and are building our technology stack further to provide very advanced photo search for different use cases."
The company also claims that it is world's first, zero maintenance, self- updating website. It continuously analyses photographer's all photos online using cutting-edge artificial intelligence to find his or her best shots.