Vimeo enters into the league of companies laying off their employees. The company's CEO, Anjali Sud stated in an email the reason for the layoff, "uncertain economic environment". The layoff affected around 11% of the workforce.
"This was a very hard decision that impacts each of us deeply. It is also the right thing to do to enable Vimeo to be a more focused and successful company … It positions us to both invest in our growth priorities and be sustainably profitable while continuing to innovate to bring the power of video to every business in the world," Sud wrote.
She further added that the employees were informed through personal emails to meet their team leader and a member of human resources.
The employees mostly affected were in the department of Sales and Research & Development.
However, the last round of layoffs of the company was in July 2022 which laid off 6% of its staff. Since the July layoffs, Vimeo has seen a "further deterioration in economic conditions, in the form of prolonged geopolitical conflict, rising interest rates, and global recession fears," Sud said.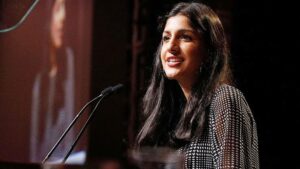 However, Sud is confident that Vimeo can make a comeback. "We are entering 2023 with a more focused strategy to simplify Vimeo, and ultimately, our team size and composition needs to reflect that focus," she wrote. "This reduction enables us to achieve our growth and profitability goals in a way that is far less dependent on the broader market, putting us in full control of our destiny."
The company was launched in 2004 with its first public appearance in May last year on the New York Stock Exchange. Vimeo claimed to have around 260 million users at the beginning.
The company reported a loss of about 100,000 subscribers in November which equals a loss of $22.9 million. 
Vimeo counts 1,219 full-time workers as of December 2021. With this layoff, the company joins other tech companies like Meta, Twitter, Salesforce, Amazon, and many more that laid off employees.
"This year's review has been more difficult given the uncertain economy and that we've hired rapidly over the last several years," Jassy wrote in a note to staff on Thursday. Amazon engages 1.5 million employees and this round of employment cuts is the biggest in the company's record.
"Companies that last a long time go through different phases. They're not in heavy people expansion mode every year," said Jassy in his note.
Salesforce, on the other hand, cut around 7,000 employees which is 10% of its strong workforce and even closed some offices to cover costs.
"The environment remains challenging and our customers are taking a more measured approach to their purchasing decisions," co-CEO Marc Benioff said in an email to staff.