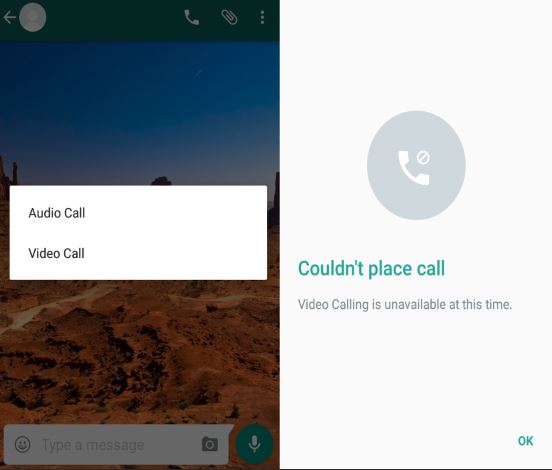 14 May 2016, CALIFORNIA: WhatsApp just released video calling option in its beta version for Android OS, indicating that the functioning of video calling to be released soon.
WhatsApp Beta users on Android received an updated today and were able to get the option to choose between audio call and video call once tapping on the call option. However, cannot place video calls to anyone, including video call to other Beta users. Currently, if the user selects the option for video calling, a message displays stating, "Couldn't place call. Video calling is unavailable at the time".
The beta testers can download the beta version of WhatsApp for Android just by clicking here. One will have to sign-in through their Gmail account and follow the instructions on the website to become a beta tester for Android and further, the user will be able to download Beta version from Google Play Store.
Over last few days, WhatsApp has been surfacing in the news after being rumoured that it is working on certain features such as video calling, group invite, zip file sharing and NFC tags.
WhatsApp which is currently acquired by Facebook has more than a billion users, circulates around 42 billion messages and 1.6 billion photos daily. It also shares 250 million videos, thus making it arguably the most popular chat application.
Also Read: WhatsApp Released Desktop Version Of Application For Windows And Mac
Comments
comments