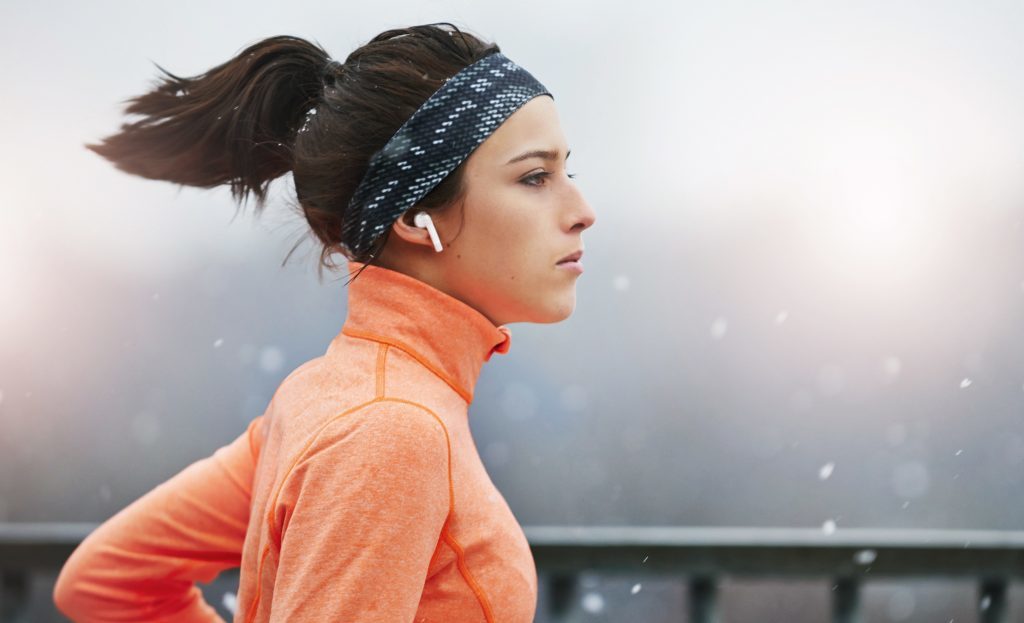 The global market for wireless earbuds is growing at an amazing speed and is expected to reach the value of $8 billion by 2023. We can already see the market being flooded by an array of products catering to different needs. Besides their sleek and sophisticated designs, wireless earbuds offer better hearing, better sound qualities, noise filtering, and much more without the hassle of wires.
Wireless earbuds for runners should be stable, have high battery life, and fit in properly to give the freedom to run without distractions. Many sports earbuds also come with heart rate monitors and AI personal trainers. However, the market for wireless earbuds is not free from some poor quality products. So, here we have listed the 10 best truly wireless earbuds for running to help you choose the right product.
Jabra Elite Active 65t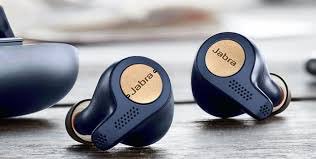 Jabra Elite Active 65t are sweat- and water-resistant earbuds designed to give a more secure fit and stability when you are active.
They come in 3 different sized eartips and stay in their place even though there are no fins or wings to secure them.
They offer excellent sound quality and a battery life of 5 hours with a quick charge feature that helps you get 1.5 hours with just 15-minute charge. The charging case gives an additional two charges.
The earbuds also feature an integrated motion sensor to track workout performance and voice command with one-touch access to Alexa, Siri, and Google Now. However, you won't find an inbuilt heart rate monitor in Jabra Elite Active 65t. But its omission has actually enabled Jabra to improve the product's battery life and streamline its functions.

Apple AirPods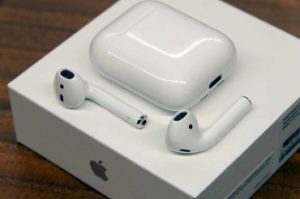 Apple is known for its excellent user-friendly products, and Apple AirPods live up to this reputation. This amazing product turns on and connects automatically to your Apple devices.
The earbuds come in a compact design and feature optical sensors and a motion accelerometer, which enable them to sense when they're in your ears.
The product offers excellent sound quality and filters out background noise. The battery life is 5 hours with a quick charge feature that can give 3 hours of additional listening time with just 15-minutes charge. Further, you can activate Siri by double tapping the AirPod and then use it to adjust volume, make calls, or to get directions.

Bose SoundSport Free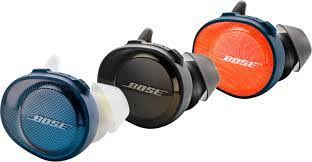 With superb sound quality, a more secure fit, and a decent battery life Bose SoundSport Free wireless earphones are one the best models out there.
The earbuds are water- and sweat-resistant and stay in their place while running or during intense exercise.
Bose SoundSport gives an average 5 hours of battery life with the charging case providing two additional full charges, i.e., up to 10 additional hours. Apart from this, you can keep an eye on the earbuds with the help of the "Find My Buds" feature of the Bose Connect App. It shows the time, as well as the place where the earbuds were used for the last time.

Jabra Elite Sport True Wireless Waterproof Fitness & Running Earbuds with Heart Rate and Activity Tracker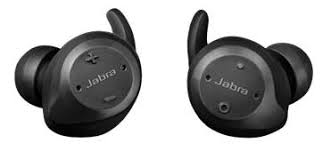 Manufactured by the reputed brand Jabra, Jabra Elite Sport Wireless earbuds are fully waterproof earbuds with 3 years warranty against sweat.
The product offers advanced wireless connectivity, a built-in heart monitor, a fitness analyzer, and a race pace calculator.
The earbuds come in a sleek and well-fitting design. They are comfortable to wear and lightweight. You can wear one or both the earbuds. The battery life is 4.5 hours, but the charging case can add another 9 hours. Overall, it is one the best earbuds in the completely wireless earbuds category.

Bragi Dash Pro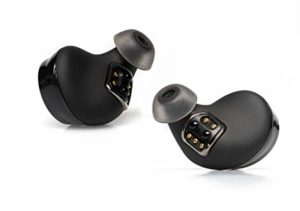 The original Bragi Dash earphones suffered from a number of issues, of which bad Bluetooth connection was the most important one.
The new Bragi Dash Pro not only addresses these issues, but also offers 4GB Internal storage for up to 1000 songs, and in-ear biometric sensors that can track your steps, movements, heart rate, and also cadence.
The earphones can also detect whether you are running, swimming, or cycling. Bragi Dash Pro uses AI activity tracking in order to measure your activities. The earphones are completely water-resistant with an award-winning waterproof IPX7 design.
Another attractive feature is iTranslate integration, which allows you to translate texts and carry out voice-to-voice conversations in over 40 languages by using the Bragi operating system and the iTranslate app. These earphones provide passive noise cancellation the moment you put them in your ears.

Jaybird RUN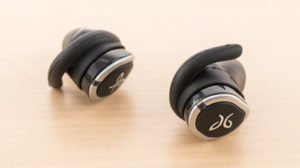 Jaybird Run True Wireless headphones offer good sound quality with noise-isolation, i.e., they seal out external sound.
They fit comfortably and stay in place even during high-intensity workout sessions, no matter what the shape of your ears.
The product comes with different sized fins and eartips designed to give a more secure fit. The Jaybird earbuds are water-resistant and sweat-proof.
You can find a button in each earbud, which can be used to answer calls and to pause, play, and skip tracks. It can also be used to gain access to Siri or Google's Voice Assistant. Moreover, you can customize sound and in case, you lose your earbuds, they can be tracked by using the Jaybird app.  It gives 4 hours of battery life, but the charging case can add another 8 hours.

Jabra Elite 65t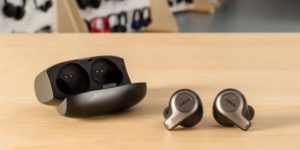 With Jabra Elite 65t, you can personalize the sound with its customizable equalizer, listen to your favorite music, and get access to Amazon Alexa and Siri with just one touch.
You can enjoy excellent call quality as each earpiece comes with two microphones. In fact, Jabra Elite 65t is known for providing top-notch call performance. The battery life is 5 hours with the charging case delivering two extra charges.
It is true that this model is not regarded as a sports model from the technical viewpoint. But it is water- and dust-resistant, it gives a more secure fit, and can track steps with its inbuilt motion sensor. It has received IP56 water resistant rating which implies it can tolerate saline water and sweat. So, these earbuds perform quite good when used during workouts and also while running.


Sony WF-SP700N Wireless In-Ear Sports Headphones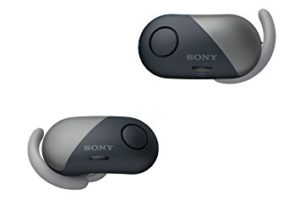 Sony WF-SP700N  is one the best sounding wireless sports headphones available in the market. It is lightweight and fits comfortably and securely in the ear.
Its digital noise canceling helps dampen the ambient sound and thus, allows you to listen without disturbances.
While the inbuilt microphones of the earbuds enable hands-free calls, their ambient sound mode can be used to hear essential sounds without taking them off. The model has received the splash-proof IPX4 rating for sports. The battery life is 3 hours, which is not so great, but with the charging case, you can get battery life up to 9 hours.

Samsung Gear IconX (2018 Edition)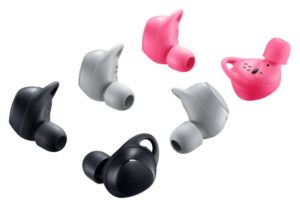 The new version of Samsung Gear IconX has made some really impressive advancements over the first-generation model, especially in the category of sound quality and battery life.
Even the wireless connection is very strong. It claims to provide 7 hours of continuous playback time for MP3 listening, 5 hours of Bluetooth streaming, and about 4 hours of talk time.  
You can access Bixby or Google Voice and keep a track of your speed, distance traversed, calories burned by using the Samsung S-Health app. You can also get voice guidance from the audio coach. The sweat-resistant earbuds fit snugly in the ears, while their noise-isolating design muffles the surrounding noise and helps enhance your listening experience. At the same time, the earbuds have the ambient sound mode that allows you to hear the essential sounds.

Sony WF-1000X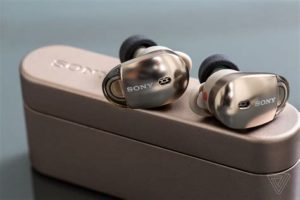 Sony WF-1000X is known as the first truly wireless earphones to offer active noise cancellation. With a comfortable and more secure fit, these earphones provide good noise isolation even without active noise cancellation.
However, you need the Sony Headphones Connect app in order to use the earphones. The Sony Headphones Connect App for iOS and Android allows you to customize your ambient sound to further enrich your listening experience. The ambient sound mode, on the other hand, enables you to hear the important sounds. The battery life is 9 hours with the charging case.

Image Credit: Yolo.style