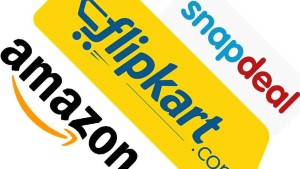 13 June 2016, USA :
Amazon followed by Flipkart and Snapdeal were the most preferred e-commerce websites among sellers, with highest top of the mind recall, a recent study has revealed.
The findings came as a result of a study by Nielsen for the January-March quarter, which surveyed 1,184 online sellers.
It revealed that 39 per cent of online sellers "explore two or more e-commerce websites as an option to sell products on and grow their business."
A high level of familiarity along with in-depth knowledge of an e-commerce website is the most important factor that drives brand equity, the report said.
While Amazon had the highest top of the mind recall with 25%, Flipkart stood second with 21% and Snapdeal with 20%, it added.
"With the e-commerce industry growing in double digits, there is surge in demand by customers, and an evolving online seller category that is fuelling supply on portals," said Dolly Jha, executive director of Nielsen India.
"To ensure the equilibrium of demand and supply, it is essential for e-commerce portals to focus on developing an inviting platform for online sellers in the country. Sellers are also increasingly discerning when it comes to reaching their customer and meeting business needs," Jha added.
Dolly Jha further told, "Considering the juncture at which the category is, it is now very critical for e-tailers to understand push and pull factors that make sellers pick one website over the other."
Other key factors that impact brand equity are certain perception of the e-retailers like they help the sellers stay relevant and ahead of competition, provide new market opportunity, and help minimise costs to reach out to more customers, it said.
Also Read- Amazon CEO Wants PM Modi to Allow Foreign Investment-Backed Companies
Read More- No Product Head For Snapdeal As Tech Chief Rajiv Mangla To Look After Both Functions
Read This- Flipkart Modifies Return Policy For Top-Selling Products