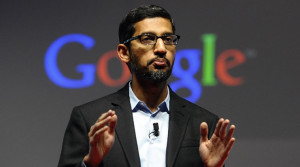 27 June 2016, USA :
OurMine struck again! this time Google CEO was at receiving end, his Quora account which was linked with Twitter was hacked.
OurMine previously hit Facebook Chief Executive and Co-Founder Mark Zuckerberg, when his Twitter and Pinterest accounts were hacked.
As Pichai's account was linked, the posts made by OurMine to Quora were published on Twitter for his 508,000 followers to see.
"We got access to Sundar Pichai accounts!" the group wrote in a blog post on Monday. "Today, we checked Sundar Pichai Security, and we got access to his Twitter and Quora accounts, his security was really weak. [sic]"
OurMine has been targeting major tech execs of late. The team has hijacked social media accounts of YouTube gamer PewDiePie, ex-Twitter CEOs Ev Williams and Dick Costolo, Hollywood actor Channing Tatum, Amazon Vice President and Chief Technology Officer Werner Vogels, Writer Matthew Yglesias, Spotify CEO Daniel Ek, Award winning American blogger Ree Drummond and Businesswoman Randi Zuckerberg.
It isn't clear how the group is gaining access to their accounts, but it likely doesn't involve system breaches of the social networks their targets have accounts with.
If you haven't changed your passwords yet, It's high time now!
Image Courtesy- 9to5google.com
Also read-
Zuckerberg Hacked on Twitter and Pinterest; His Password was 'dadada'