Recruitment is a 400 billion crowded market with largely an unsolved problem. The entire process of recruitment is broadly classified into 3 categories.
Sourcing
Screening
On-boarding
Sourcing candidates is not really a big challenge for the companies these days with the presence of AngelList, LinkedIn, several job sites and companies dedicated careers page.
Weeding Out The Bad Sources
An early stage company usually ends up getting over 50-60 applicants in a week through AngelList and if you happen to hire recruitment agency to source candidates then you will get 100s of candidates for the open position. While agencies in the range of 8 to 14% of the annual salary as commission for sourcing, recruitment process does not really end there.
To give you a better perspective of the hiring process, check the following funnel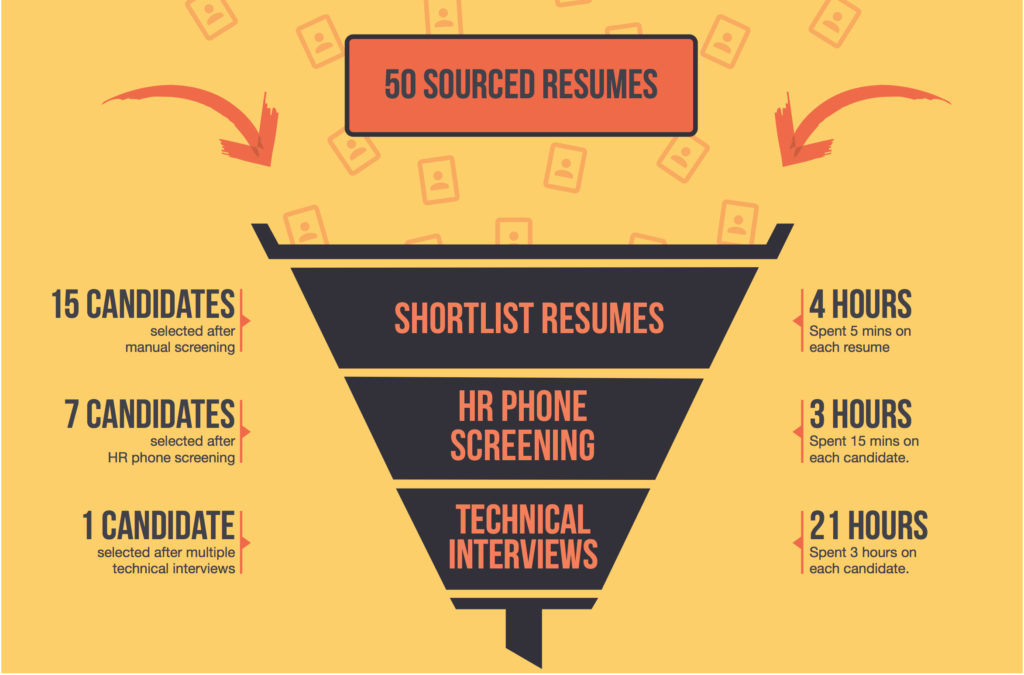 The major pain point for companies hiring comes in the screening phase, as hardly 2 or 3 candidates qualify from the hundreds of randomly sourced resumes.
There are players in the industry like Hackerrank, Hackerearth, Doselect and other who are looking to cater the screening phase of the hiring funnel through their coding assessment platforms. But there are two fundamental problems with this coding assessment platform,
It offers a long delay for the recruiter to wait for the candidate to finish to those tests.
There is a always chance of spoofing those tests.
This is where AirCTO's traditional way of vetting the candidates on 1:1 interviews leveraging technology works wonders. Launched in January 2016, AirCTO is a Human and AI powered hiring platform with a clear intent to help companies recruit top engineers.
Also Read: Building Your Most Important Growth Strategy – Hiring
AirCTO helps companies to know if the candidate is good fit or a bad fit technically by setting up interviews (usually remote) with hand-picked amazing technical experts instead of the companies spending time and effort of their engineers in weeding out the bad candidates.
There are a few players who are also trying to solve this problem with the interview approach like Eteki and Karat. On the AI Chatbot, there are a couple of competitors outside India like HireMya, Impress.ai et al.
The Background Story Of AirCTO
Atif Haider, the founder of AirCTO has worked with companies like Cleartrip, oCricket/Infinitely Beta, Studiomarch writing Common Lisp, Clojure, Scala, Python programs for them in his previous avatar.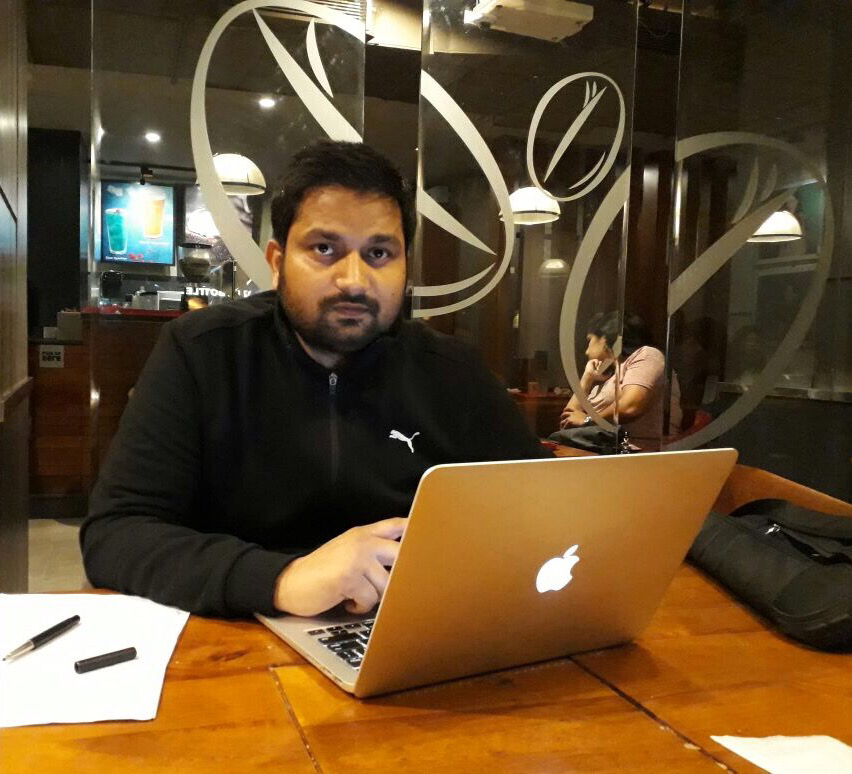 He started LaunchYard, a premier outsourcing company in 2013, and has worked with some of the famous Y Combinator backed companies like Plateiq.com and Automatic.com, and has helped more than a dozen of companies launch and grow their products.
"Building products with YC startups has taught us some important lessons. We learnt how to build products from scratch to serving massive requests especially with Automatic.com. We learnt to execute at the highest level with great code quality" shares Atif.
In the mid of 2015, when the team at LaunchYard were experimenting their in-house project management tool Delight for feedbacks from clients, they found that it wasn't the project management tool that was slowing down companies' growth, but the lack of right talent.
When they revisited the companies again, this time for a service that can help them vet the vet the technical talent of the candidates with a quick turnaround time, the answer was a resounding 'Yes'. Customer were not just happy to pay for the service, but were ready to pay for the service, which turned out to be market validation for AirCTO.
Growing In The Roller Coaster Ride
Like every startup, AirCTO's journey has been a roller coaster ride and extremely enlightening learning experience. In the initial days of the company, the team carried out everything manually from scheduling interviews to filing reports of each candidates so that they could learn first hand before building the product.
Also Read: "The Journey Till Acquisition Was Colorful With Many Lessons Learned" QuodeIt's Prasad Lingawar On Acquisition By SproutLogix
One of the apprehensions which a lot of customer showed in the early days was that candidates will find the experience of getting interviewed by some third party not acceptable. But as the AirCTO moved forward beyond the apprehension, they found out that the candidates are cool to have someone outside the companies interviewing them for the first round.
After taking their time to understand the process and market for a screening platform, the product, technology and the customer base evolved gradually. During the early days of customer acquisition the team started off with a couple of email campaigns everyone who was hiring.
But little did they know that it doesn't work like that and conversion was very poor. They started channelising their efforts on personalised e-mail campaigns and after initial stages of the customer acquisition their audience base grew through referrals from existing customers.
"We have figured out our beachhead market strategy which is basically to target all the tech companies based out of Bangalore with highly customized approach" adds Atif.
Besides offering good product, they focused on offering great customer service to retain customers. Most of their customers have become an AirCTO fan who refer AirCTO within their network very often.
Another exciting moment for the team was when they started rolling out the automated scheduling process. But, again, the feature was extremely smooth for all three, the company, candidate and the expert providing them with great experience.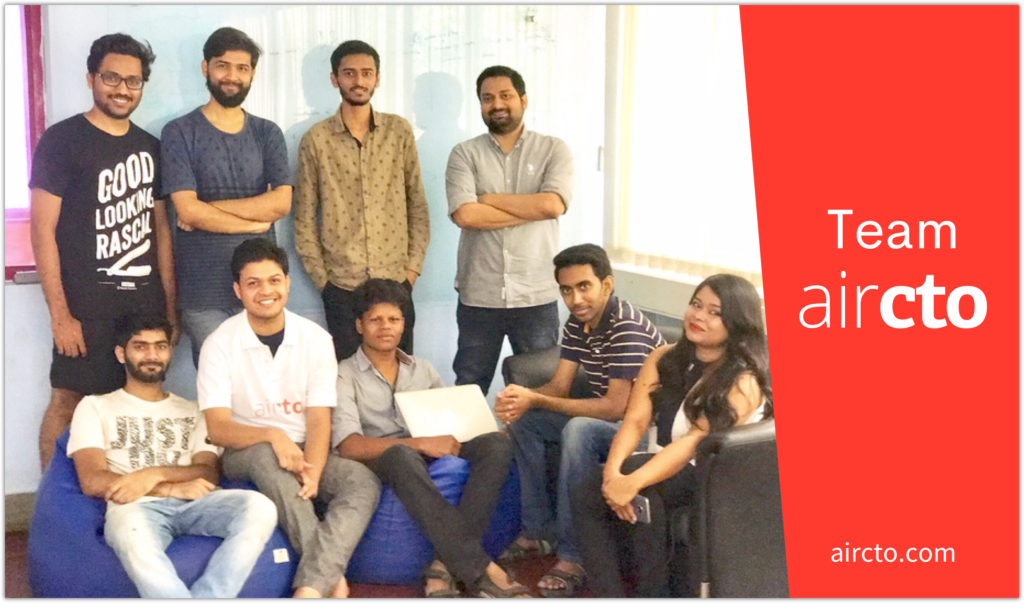 Today, the team of 12, which is continuously growing works with 75+ companies with the likes of Shaadi.com, Wingify, Toppr, Kuliza, Retailio etc. They have screened over 1600 candidates and with a conversion rate of over 20% for the companies. In this journey, they have helped companies save up to 4500 hours of engineer's time which would have otherwise been wasted in screening candidates.
Innovation For The Future
Recruitment is a long funnel and there are various stakeholders. Interview is one part of the screening problem, but there's a lot to the game like resume shortlisting, and coding test assignments. The problem of resume shortlisting could be addressed using automated filters and AI chatbots, and the solution is faster and scalable.
"Our focus would continue to constantly innovate in this domain by leveraging on deep technology and human skills" states Atif.
The team at AirCTO have recognised the AI wave as a serious and potential opportunity to disrupt the recruitment industry with AI. Their latest feature for resume shortlisting with Machine learning and Natural language processing searches for relevant skills within the resume of candidates based on the job description.
The system looks for digital footprints of the candidate on coding sites like StackOverflow, Github etc and many more data points which helps companies to easily shortlist resumes instead of doing it manually. More importantly, very few companies in India are trying to leverage AI in recruitment.
With 90% of internet users on chat apps, AirCTO is also working on AI Chatbots to remove the HR phone screening process expected to launch in a few weeks. Imagine a candidate gets screened through a bot (within a messenger app) while you're asleep as a recruiter. This is where the candidate screening and interviewing process is heading with deep technology.
Just to add it here: the last biggest innovation in recruitment industry from India was Naukri and it completely changed how the newspaper classified job ads used to work. Likewise, the team wants to create AirCTO as a powerful candidate screening platform built with deep technology which will change the way companies hire.
Apart that, the team is working on to open jobs from their system to the world. So, that candidates can directly apply through the system which will help companies to quickly source the candidates for the companies. The team at AirCTO is also launching community focused on interviews to help recruiters get their doubts/questions answered through experts.
AirCTO has evolved a lot in the last one year, starting from manual efforts in a small scale, the product is now a Human and AI powered hiring platform.
Also Read: 6 Advantages Of Using HR Software To Save Time In Startup Hiring
Comments
comments