In a jaw-dropping spectacle that could reshape our perceptions of life beyond Earth, Mexican politicians were recently treated to an otherworldly display: two alleged alien corpses, said to hail from the depths of Cusco, Peru, were presented in glass cases right in the heart of Mexico City's Congress. The event, orchestrated by the enigmatic journalist and self-professed ufologist, Jaime Maussan, has set the UFO conspiracy theory community abuzz with speculation and wonder.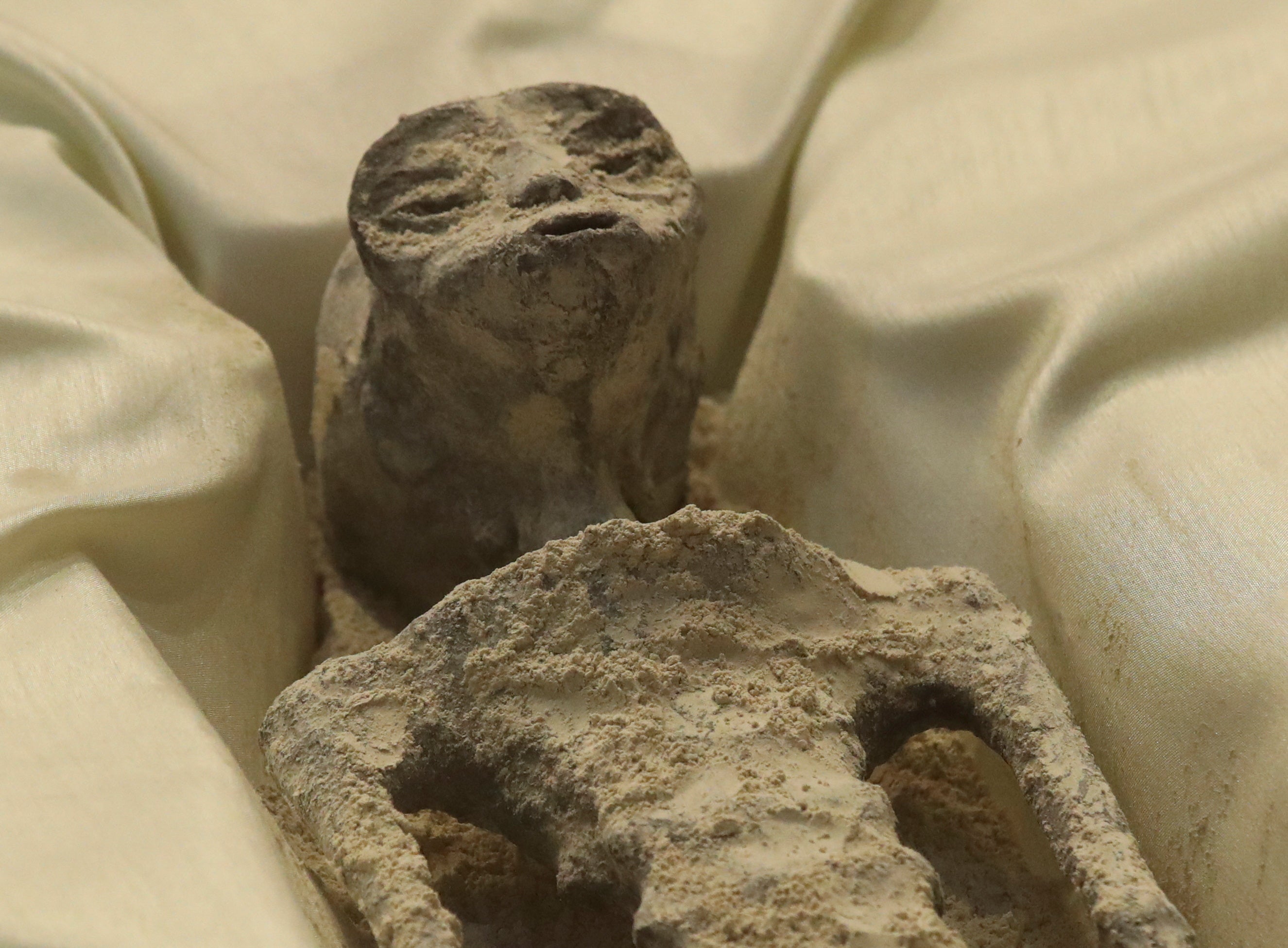 Credits: Independent UK
These are the actual slides shared at the Mexico UAP hearings today 😬#ufotwitter pic.twitter.com/Z81laHWfSr

— Mindfuloflight (@mindfuloflight) September 13, 2023
The Astonishing Claims:
What makes this revelation so electrifying is the testimony of Jaime Maussan himself. Under oath, he declared that these mummified specimens are not products of "our terrestrial evolution." According to Mexican media, nearly a third of their DNA remains a tantalizing mystery. However, we must tread carefully, as Maussan has been linked to previous claims that crumbled under scrutiny. Could this be different?
mexico just showed off physical corpses of aliens they have in possession. not a photo of them. not a video in a lab. REAL DEAD ALIEN BODIES. WHAT DOES THIS MEAN FOR US pic.twitter.com/ompf5qFbDv

— 🃏 (@reachthesun_) September 13, 2023
Unearthly Encounters:
Before the unveiling of the alleged alien corpses, attendees were treated to a spine-tingling series of videos capturing "UFOs and unidentified anomalous phenomena." Maussan asserted that these aren't beings unearthed after a UFO crash; rather, they were discovered in the depths of diatom (algae) mines, later petrified. The origin story alone is enough to pique anyone's curiosity.
Mexico unveiled alien skeletons that are believed to be 1,000 years old and almost no one cares.

Wild. pic.twitter.com/icRLt2zQVA

— Pomp 🌪 (@APompliano) September 13, 2023
A Scientific Odyssey:
Crucially, scientific investigation lies at the heart of this cosmic enigma. Maussan claims that researchers at the prestigious Autonomous National University of Mexico (UNAM) have been poring over these specimens. They've used radiocarbon dating to decipher the DNA, revealing an astonishing twist – over 30% of it is shrouded in uncertainty. This raises the possibility that these beings are not of our world, sparking speculation about their extraterrestrial origins.
X-Rays and Implants from the Stars:
During the riveting public hearing, X-rays of the specimens were projected for all to see, revealing even more tantalizing mysteries. Expert witnesses, under oath, stated that one of the bodies appeared to contain "eggs," while both had implants crafted from extraordinarily rare metals, including the likes of Osmium. These revelations, if substantiated, could be the smoking gun that blazes a trail toward uncovering life beyond our blue planet.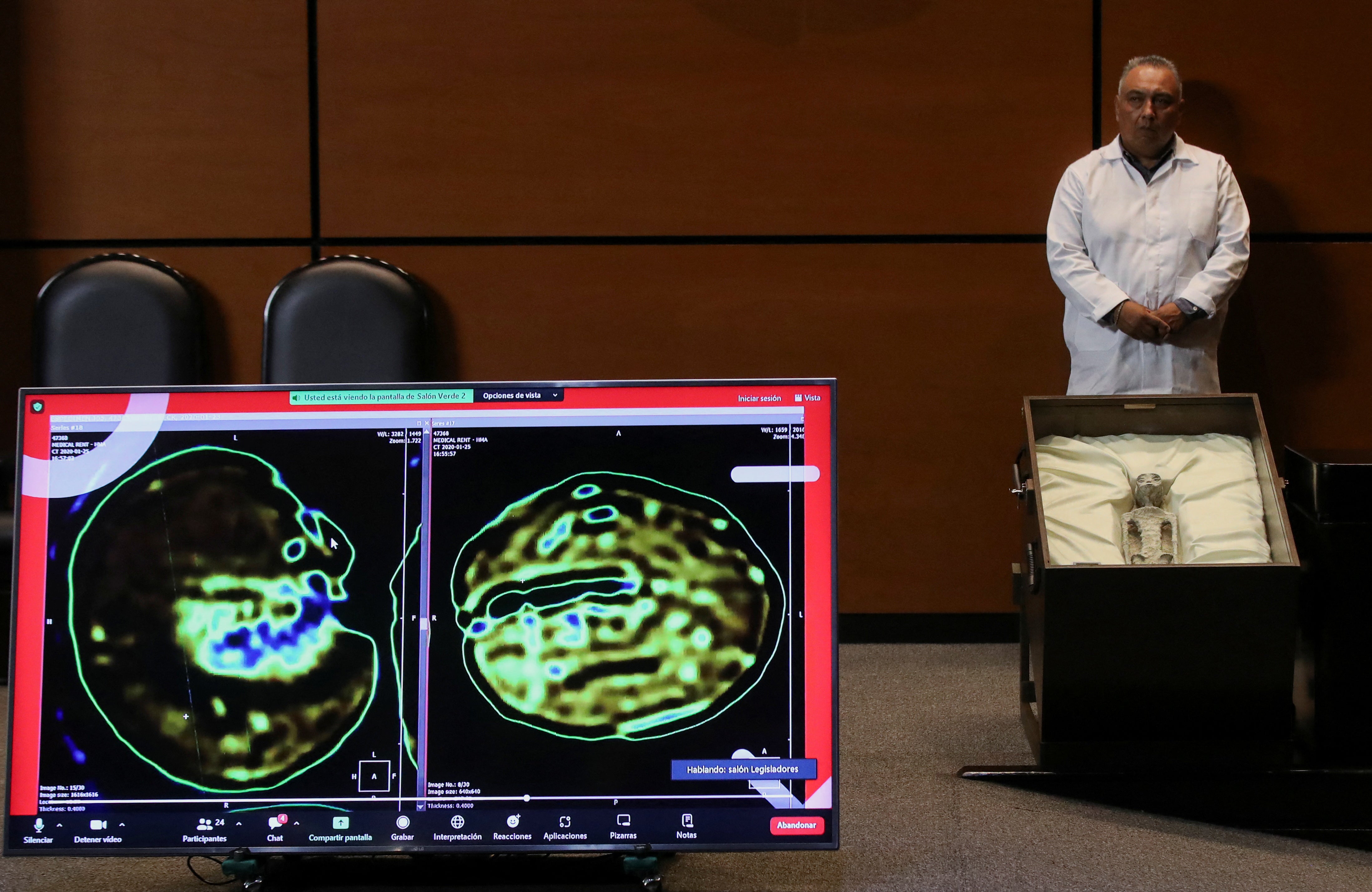 Credits: Reuters
Institutions in the Cosmic Spotlight:
The involvement of scientific institutions and experts adds an alluring layer of credibility to this otherworldly saga. The Autonomous National University of Mexico (UNAM) is no ordinary institution, and if their scientists are indeed delving into the study of these alleged alien corpses, it implies that the scientific community is taking this matter seriously.
Nonetheless, caution remains our guiding star. The scientific community must produce comprehensive documentation, peer-reviewed research, and meticulous methodology before we can confidently declare these specimens as otherworldly. Without such rigorous evidence, it's difficult to assert the truth about these creatures.
The Cosmic Impact:
The presentation of alleged alien corpses in a governmental setting has already had ripple effects across the world. Some other potential outcomes may include:
Scientific Renaissance: The involvement of UNAM scientists could encourage broader scientific examination. Validating these claims could unlock a Pandora's box of astrobiology discoveries.
UFO Buzz: The UFO conspiracy community is buzzing with newfound energy. While skepticism is essential, this event may propel further investigations and discussions.
Government Disclosure: Involvement of Mexican officials may push for more transparency regarding UFO-related matters, potentially fostering a shift in global government attitudes toward UFO disclosure.
Media Extravaganza: Expect an avalanche of UFO-related content in entertainment – from blockbuster movies to riveting documentaries. The appetite for all things alien has been awakened.
In conclusion, the presentation of alleged alien corpses in the Mexican Congress is nothing short of extraordinary. While it fuels excitement and wonder, we must tread cautiously, awaiting independent verification through rigorous scientific analysis. The involvement of respected institutions is encouraging, but until we have concrete evidence, the nature of these specimens remains a cosmic mystery. This event has ignited a new era of exploration and contemplation about UFOs and extraterrestrial life, promising an electrifying journey into the unknown.